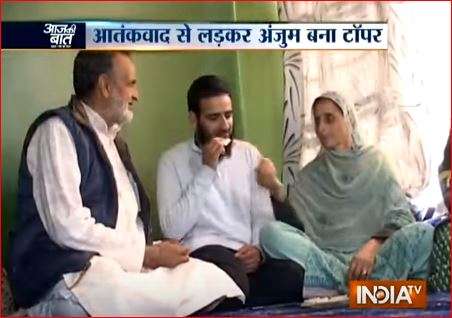 Overlooking threats from the Kashmiri terrorists, a youth of the state has proved his mettle by topping the examination for Kashmir Administration Services (KAS).
Anjum Bashir Khan, a resident of Surankote which is known as the den of terrorists, has proved that the youths of the state are no longer scared of the terrorists.
The terrorists had issued a diktat to the families of Surankote asking them to allow at least one of their boys to join militancy. 
However, the family of Anjum refused to follow the diktat. This decision of Anjum family infuriated the terrorists who put their house on fire. Not only that, the terrorists even grabbed the land of the Anjum family and murdered one of their relatives for "working as police informers".
However, Anjum's father Master Bashir did not give up and shifted to Jammu along with the family. Even in Jammu, the terrorists kept threatening the Ajnum family. Despite all this, Master Bashir ensured good education for both his son as well as the daughter. And the courage of Master Bashire has bore fruits.  
Anjum Bashir Khan has made his family proud by topping the Kashmir Administrative Services. He has also proved that the youths of Kashmir are no longer willing to allow the terrorists to spoil their career and dreams.
Anjum's father Master Bashir has said that it is impossible for Pakistan to snatch Kashmir from India. He also asserted that taking weapons against one's own country is against the spirit of Islam.