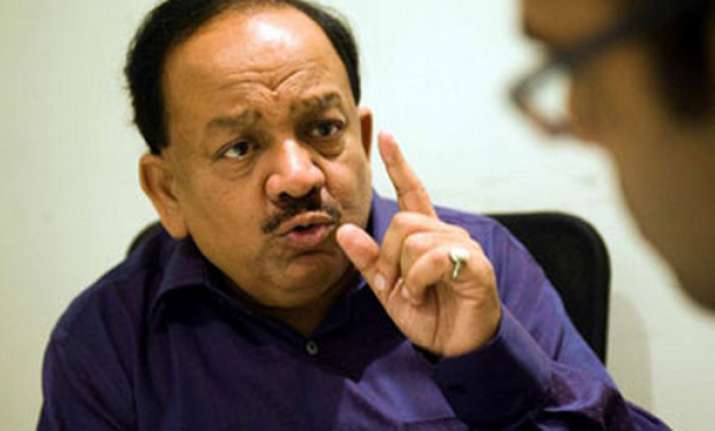 Union Environment Minister Harsh Vardhan on Tuesday said that the country will achieve all its environment-related targets within a year provided the states worked together.
Addressing a conference of state environment ministers in New Delhi, Harsh Vardhan said that an emotional attachment with the environment is imperative for its preservation.
"We mean business. If all the state environment ministers work together, the country will be at the top of achievements on various environmental parameters," the Environment Minister said. 
The environment minister also released 'State of Environment Report India 2015' at the conference.
Lauding the achievements of the Modi government towards achievements in the field of environment, he said the international community believes India will achieve all its targets before the stipulated time frame.
He also claimed that the ministry was delegating powers to states to enable them to work more efficiently for environment preservation and fight pollution. 
Executive Director, United Nations Environment Programme(UNEP), Erik Solheim was also present at the event. 
He said India was his choice to host this year's 'World Environment Day' due to a variety of reasons, including its vast population and fast economic growth.
Citing rapid urbanisation in India, Solheim said environment needs to be made a "citizens issue". 
Minister of State for Environment, Forest and Climate Change Mahesh Sharma called for action against plastic pollution. 
He pointed out that if steps are not taken to check it, future generations will bear its consequences.
 
"The cooperation of states is necessary for starting a campaign against plastic pollution," Sharma said. 
Vardhan also released a plastic cover free magazine of the National Geographic. 
Bihar Deputy Chief Minister Sushil Modi also addressed a session and highlighted issues related to states.
 
He demanded delegation of powers to states to combat pollution and preserve the environment.
(With IANS inputs)