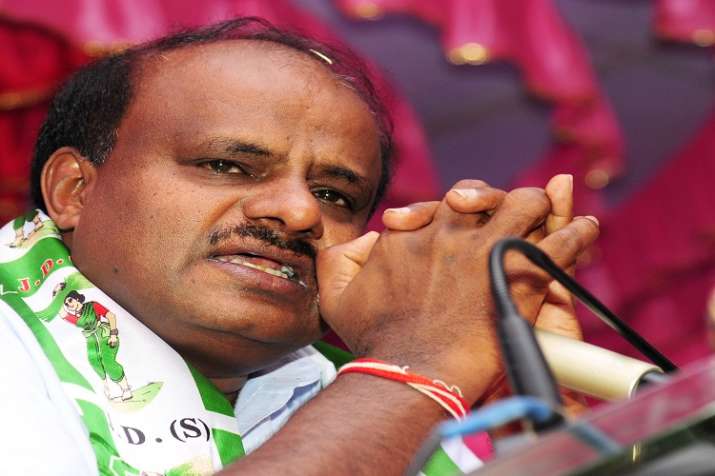 A day after the BJP took potshots at Karnataka Chief Minister H.D. Kumaraswamy, the JD-S leader denied on Tuesday that he had blamed the Congress or its leaders at a party event on July 14. He said he was misquoted on his statement about being unhappy heading the coalition government in the state.
"It was my party's event and I got emotional. My comments were misinterpreted. I did not say anything about Congress or any of its leaders," he told reporters.
Kumaraswamy broke down at a party event on Saturday, stating that he was "not happy" holding the top post and that he was swallowing the pain like 'Vishakantha' (Lord Shiva) who drank poison, triggering a political slug-fest. 
BJP was soon to hit out at the chief minister, calling him "a talented actor". "And the best acting award goes to… Our country has produced talented actors. Actors who have mesmerised the audience with their brilliant performance, here we have another legendary actor Mr Kumaraswamy, an actor who has constantly fooled common man with his amazing acting skills," BJP tweeted tagging a video clip of Kumaraswamy getting emotional.
Union Minister Arun Jaitley on Monday accused Congress of driving Kumaraswamy to desperation, saying it did the same to Charan Singh, Chandra Shekhar, H D Deve Gowda and I K Gujral when they were the prime ministers of governments backed by the party. 
"If this is the consequence of a two party coalition, what is it that a disparate group of parties with no ideological similarity offer to India?", Jaitley said. 
He further said that non-ideological opportunistic coalitions always get trapped within their own contradictions. 
Commenting on CM Kumaraswamy's emotional break down , veteran Congress leader Mallikarjun Kharge said that mere expressing won't give a good message to people who supported secular parties in the state.
"You've to face problems. Simply expressing won't give good message to people who supported secular parties. Kumaraswamy should be courageous to face such circumstances," news agency ANI quoted Kharge as saying on Sunday. 
The JD(S) and the Congress formed an alliance in the state after the BJP emerged the single largest party with 104 seats in the Karnataka Assembly Elections. The Congress, in a move to keep the BJP out of power, pledged unconditional support to the JD(S) to form the government. Kumaraswamy took oath as Chief Minister on May 23, 2018.