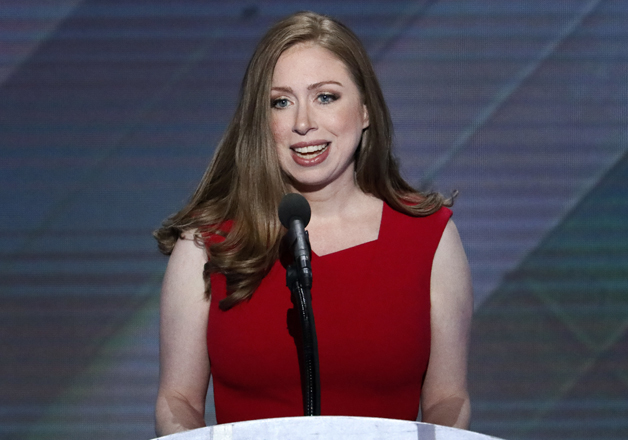 Chelsea Clinton beamed with pride as she introduced her mother Hillary Clinton on Thursday night at the Democratic National Convention (DNC) in Philadelphia where the former secretary of state will formally accept the presidential nomination.
"It is such an honour to be here tonight," she said. "I'm here as a proud American, a proud Democrat, a proud mother and, tonight, in particular, a very, very proud daughter," Politico reported.
Chelsea, 36, delivered a potent testimony of her mother, who will become the first woman in US history to accept the presidential nomination of a major political party.
She cast Hillary as a selfless wife, mother and grandmother who would drop everything for her family, and a woman who has a relentless passion to help those in need, Politico said.
Chelsea recalled her earliest memory, a time when her mom was not only there to pick her up after she had fallen, but embraced her with a warm hug and read her a bedtime story.
"From that moment, to this one, every single memory I have of my mom is that, regardless of what's happening in her life, she was always, always there for me," Politico quoted Chelsea as saying at the Wells Fargo Centre.
Chelsea has been largely absent from public view during her mother's presidential run.
Instead of joining Hillary on the trail, Chelsea, who gave birth to her second child last month, has campaigned for her - often participating in little-noticed organising and get-out-the-vote events around the country that warranted virtually no national press, Politico noted.
Chelsea, a vice chair of her family's Clinton Foundation, said she was open to meeting with Republican presidential nominee Donald Trump's children to address the rhetoric and tenor of their parents' campaigns.
In an interview with NBC on Wednesday night, Chelsea praised her longtime friend and Trumps eldest daughter, Ivanka for her speech at last week's Republican National Convention in Cleveland, Ohio.
"I think it was clear last week when Ivanka introduced her dad that she's so proud of him," she said, adding "I hope it will be kind of at least as clear why I'm so proud of my mom when I introduce her here in Philadelphia."