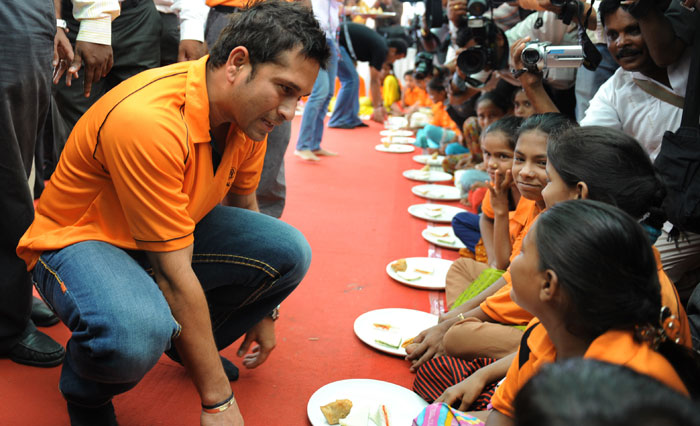 When Sachin Ramesh Tendulkar was playing for team India, he always lead the way for the rest of the team, similarly, the maverick cricketer, who has donned the hat of a parliamentarian,is again setting the bar higher for his fellow MPs.
Saansad Adarsh Gram Yojana (SAGY) was launched in October 2014 with an idea that each MP adopts one village to be developed – socially as well as economically-into a model one by 2016. It sought to extend the number of villages to three by 2019, before the Modi government ended its term.
Puttamraju Kandriga village in Nellore district of Andhra Pradesh has went through a miraculous change after it was adopted by Sachin Tendulkar and is well on its way to become the model village.
The village which was another a slum a few years back has now concrete roads with tiled pavements, an underground sewage network with a treatment plant, storm-water drains, 24-hour water and power supply, a playground, a community hall. The school in the village has an e-toilet -- a self-cleaning facility – and a separate restroom for girls. The village school has 32 students and they have their mid-day meal on the premises. 
Tendulkar has given a grant of around Rs 4 crore and Nellore administration matched his first contribution with Rs 2.90 crore aid, according to a report in The Hindustan Times.
"We had no roads, no toilets in our homes nor did we have running water and uninterrupted power supply till Sachin adopted our village. Today, we have all of those along with excellent roads," Bhaskar Rao, a chilli farmer-resident, told The Hindu.
P.R. Kandriga is one among the five villages in the country, which has been selected for case study by NDFC.
PM Modi has adopted the Nagepur village in Varanasi, while Congress chiefs Sonia Gandhi and Rahul Gandhi have adopted Udwa in Rae Bareli and Deeh in Amethi, Uttar Pradesh, respectively