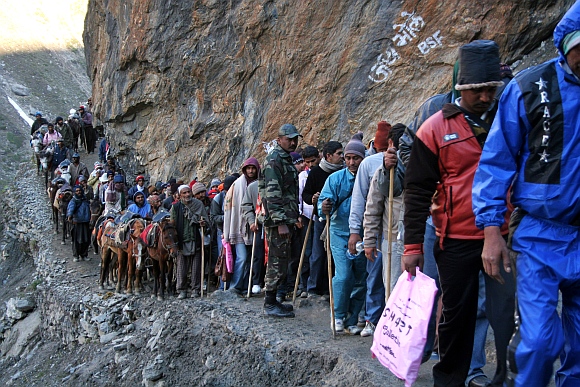 Unflinched by the dastardly terror attack in Anantnag which killed seven pilgrims on Monday, the Amarnath Yatra continued on Tuesday morning. A total of 3289 pilgrims, including two convoys from Baltal and Pahalgam, left from Jammu at 03:15 am today under the strict security of CRPF commandants. 
On Monday night, seven Amarnath pilgrims from Gujarat, including six women, were killed and 32 others injured as terrorists struck at a bus in Jammu and Kashmir's Anantnag district, in the worst attack on the annual pilgrimage since the year 2000.
The bus was not officially registered with the Amarnath Shrine Board for the pilgrimage and was without police escort.
The police and top government sources said the bus driver had violated rules for the pilgrimage, which state that no yatra vehicle should be on the highway after 7 pm as the security cover is withdrawn after that.
In the national capital, National Security Advisor Ajit Doval apprised Prime Minister Narendra Modi of the incident. Union Home and Defence Ministry officials were huddled in a meeting to take stock of the latest situation.
Prime Minister Modi tweeted: "Pained beyond words on the dastardly attack on peaceful Amarnath Yatris in J&K. The attack deserves strongest condemnation from everyone."
Congress chief Sonia Gandhi termed the attack on Amarnath pilgrims as "a crime against humanity" and called for decisive action against its perpetrators.
Sonia said the government should order a thorough probe into any security lapses.
Condemning the attack, Defence Minister called it the "most reprehensible act". "Terrorist attack on #AmarnathYatra is the most reprehensible act. My condolences to the bereaved families," Jaitley posted on his Twitter handle.
Jammu and Kashmir deputy chief minister Nirmal Singh said the Amarnath pilgrims injured in the terror attack at Anantnag district will be airlifted to Delhi today.
He informed that the dead and the injured pilgrims will be shifted to Srinagar, from where they will then be airlifted to New Delhi in a special BSF aircraft Tuesday morning.
Meanwhile, divisional commissioner Mandeep Bhandari said the Amarnath yatra will continue from Jammu.
The last known terror attack on the Amarnath Yatra was the killing of 30 persons, mostly pilgrims, in the base camp in Pahalgam in 2000.