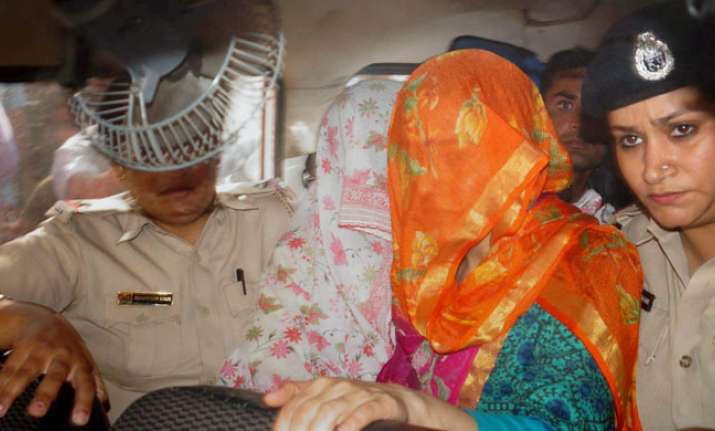 With the six-day police remand coming to an end, the Panchkula court on Tuesday further extended Honeypreet Insan's remand by three days. The Haryana Police had sought a nine-day remand to further interrogate Honeypreet. 
According to India TV sources, in the 144-hour long police interrogation by the Haryana Police, Honeypreet kept on circumventing most of the questions, and when forced to give answers, she gave excuses of her ill health and unstable mental condition.
Sources said that the police, trying to establish a connection between Honeypreet and the violence that took place in Panchkula following Dera chief Ram Rahim's conviction, has a list of around 300 questions that still need to be answered by the Dera chief's controversial adopted daughter. 
During the interrogation, Honeypreet revealed about a secret diary which contains all the information related to Dera Sacha Sauda's secret meetings and financial transactions. However, she did not divulge the details about where the diary is at present, said sources.
Honeypreet also admitted that following the Panchkula violence – the day she went into hiding – she was in touch with Dera Sacha functionaries Pawan Insan and Aditya Insan, who are still absconding and are in Haryana Police's 'wanted list'. 
She, however, did not disclose how the two fugitive accomplices of Ram Rahim helped her evade the arrest for 38 days she also admitted that in this period, she was constantly using mobile phones, but did not reveal about where those mobile phones and SIM cards are now.
Meanwhile, Ram Rahim's driver Iqbal's wife Sukhdeep kaur, who was arrested along with Honeypreet and is currently in police remand, revealed that the mobile phone which Honeypreet was using is currently in a village near Punajb's Tarn Taran. 
While Honeypreet admitted that crores were spent to incite the violence in Panchkula, she has not revealed anything about the CD the police have, and is believed to contain information about the illicit money owned by Ram Rahim, allegedly worth Rs 700 crore. 
Police is trying to find out the details of the sect's secret meeting that took place on August 17, where the Panchkula violence was reportedly planned. It is also trying to confirm if the violence, which claimed 38 lives, was incited on Honeypreet's direction. 
Honeypreet, along with Pawan Insan and Aditya Insan, were booked by the Haryana Police on charges of sedition, inciting violence and being involved in a conspiracy to help the Dera chief escape after his conviction by a Central Bureau of Investigation (CBI) court on August 25 on two counts of rape of female disciples in 1999.
The Haryana Police had sounded an international alert against all three. Honeypreet, in her mid-30s, has been the closest aide of Ram Rahim since 2009. Her ex-husband Vishwas Gupta had alleged illicit relations between the two.
However, Honeypreet, in interviews to two TV channels hours before her arrest on October 3, had claimed innocence saying that "truth will prevail and the world will see this".