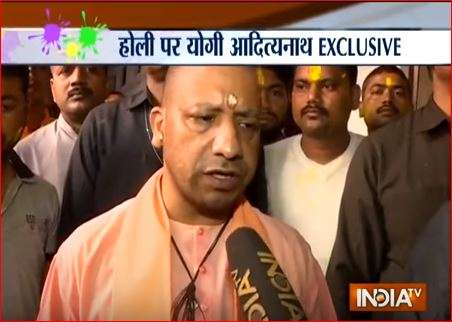 Uttar Pradesh Chief Minister Yogi Adityanath today greeted people on Holi, the festival of colour.
Talking to India TV in Gorakhpur, the chief minister said the festival of colour was a symbol of nationalism for him. He further said that the festival of colour was symbolic of the rich traditions, culture and heritage of the country.
The festival of Holi gave the message of victory of good over evil, he added.
He also urged people to take the vow to eradicate corruption from the country.
The chief minister directed police and district officials to ensure no untoward incident occurred during the festival, which will be celebrated across the country on Friday.
Watch Video: UP CM Yogi Adityanath greets people on Holi
​
Governor Ram Naik on Thursday also mingled with people from all walks of life, including schoolchildren, bureaucrats, police officials, journalists as Raj Bhavan opened its gates to the people to celebrate the festival. 
Bahujan Samaj Party chief Mayawati urged people to play Holi with communal harmony and simplicity. 
Akhilesh Yadav said the basic objective of the festival was to promote harmony among various communities and that people should follow that.
State Bharatiya Janata Party chief Mahendra Nath Pandey, Organisational Secretary Sunil Bansal and Health Minister Siddhartha Nath Singh also greeted the people on the occasion.