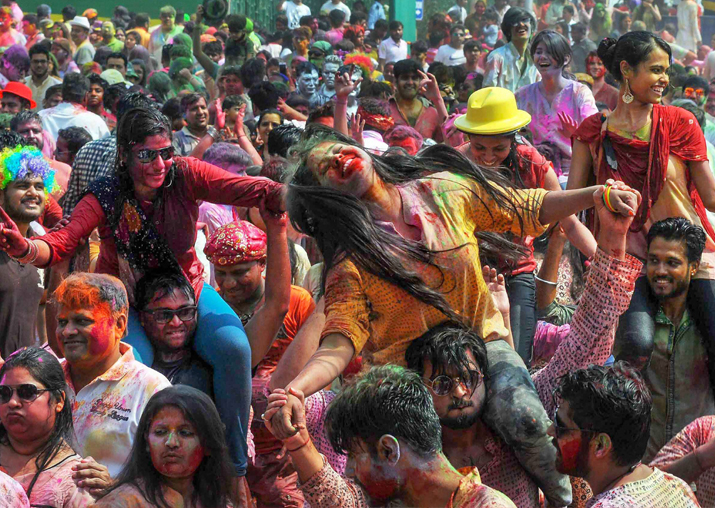 Holi, the festival of colours, was celebrated with mirth and gaiety across the country on Friday. Millions of young and old were seen smearing vibrant colours on each other and exchanging sweets to spread joy and welcome the beginning of spring.
Amid shouts of "Holi Hai" and roadside dances to the beat of drums, people -- rich and poor, Hindus and Muslims and from other religions -- swarmed into public spaces to splash powders of myriad colours on each other and celebrate the seasonal festival of colours, marking the end of winter.
The celebrations began early on Friday morning amid bright sunshine in many parts of the country. People came out of their houses to smear each other with coloured powder, coloured water and mud as well. Families prepared traditional delicacies like 'gujia', a sweet fried dumpling made with semolina.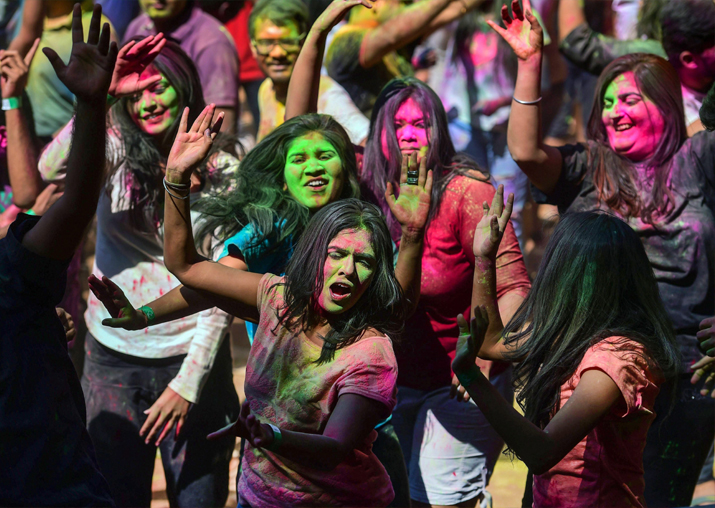 The festival which like many Indian festivals is embedded in a Hindu mythology -- that of the triumph of good over evil -- brings together people of all classes and religions who sing and dance, distribute sweets. 
Delhi
In Delhi, people were seen dancing to the beats of drums and smearing each others' faces with 'abir' and 'gulal', as colours traditionally used in Holi are known. Delhi Police said it had made proper arrangements in case of any hooliganism during the celebrations, requesting the people to obey rules for safe celebration and stay away from drunken driving.
Authorities said no untoward incident was reported from anywhere in the national capital where barricades had been set up at many places to check trouble as more than 2,500 traffic policemen were on duty to keep a close watch on those flouting road safety norms and creating problems, particularly for women.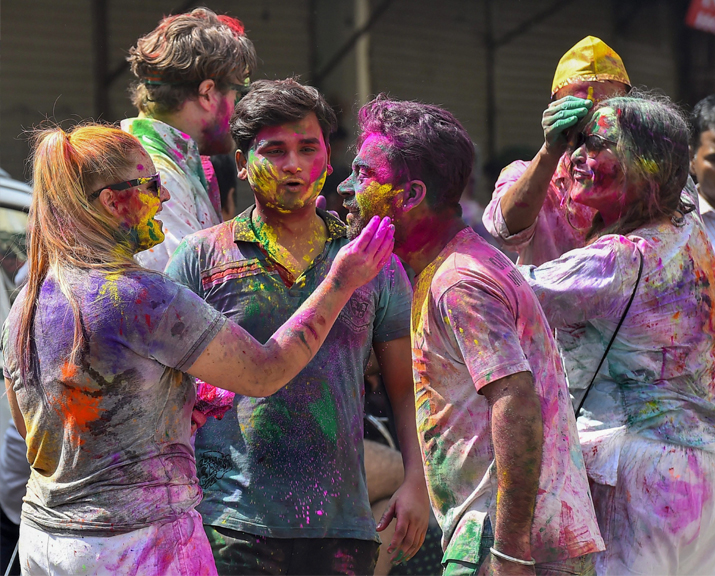 As the festival is associated with revelry and boisterous fun, many were seen consuming 'bhang' (an edible preparation of cannbis) to add zest to their celebrations. Youngsters rode motorbikes, throwing colours in the air and shouting 'Holi hai!'.
Similar celebrations were reported from other urban and rural pockets of the country. Children did what they do best - playing pranks by spraying coloured water with "pichkaris" or water guns and hurling water-filled balloons at passers-by from rooftops and balconies of their houses.
Even politicians and celebrities also did not remain far off from the revelry of the day.
President Ram Nath Kovind and Prime Minister Narendra Modi tweet greeted the countrymen. 
होली के पावन अवसर पर सभी देश-वासियों को बधाई और शुभकामनाएं! रंगों का यह त्यौहार हमारे समाज में आपसी सौहार्द का जश्न है। मेरी कामना है कि हर एक के जीवन में यह पर्व शांति, सुख और समृद्धि लाए – राष्ट्रपति कोविन्द

— President of India (@rashtrapatibhvn) March 2, 2018
Kovind prayed for peace, joy and prosperity in everyone's lives, remarking that "Holi is a celebration of harmony in our society.
The Prime Minister also wished everyone "happy Holi".
होली के पावन पर्व की सभी देशवासियों को ढेरों शुभकामनाएं।

Wishing everyone a Happy Holi!

— Narendra Modi (@narendramodi) March 2, 2018
Union Home Minister Rajnath Singh celebrated Holi with NSG commandos at his residence in New Delhi.
Wishing you a happy and colourful Holi. pic.twitter.com/5HMvI1jAri

— राजनाथ सिंह (@rajnathsingh) March 2, 2018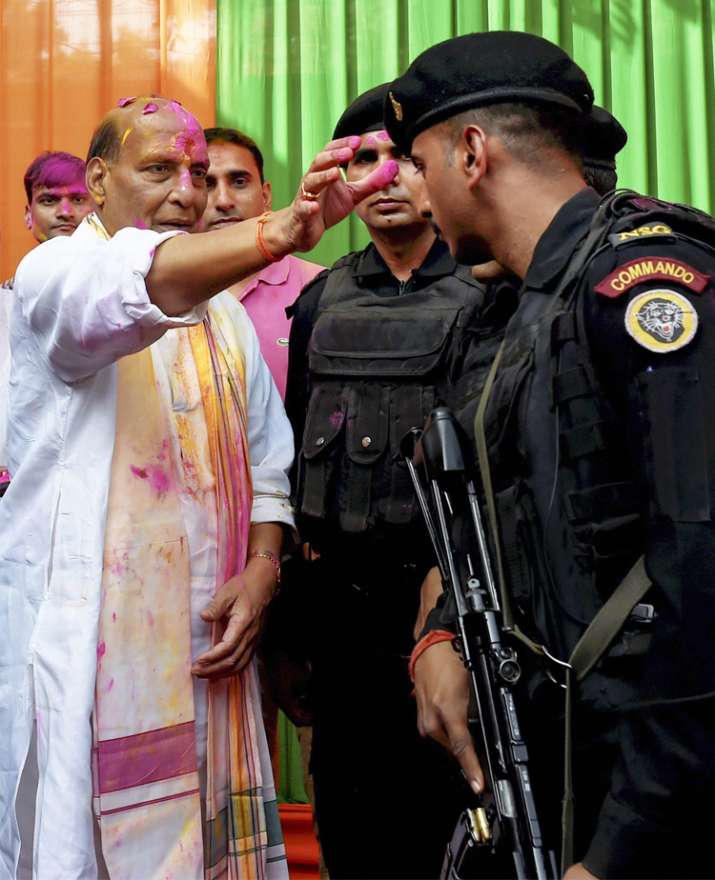 Uttar Pradesh
Uttar Pradesh Chief Minister Yogi Adityanath participated in the Falgun Mahotsav organised by the RSS and the Hindu Yuva Vahini in Gorakhpur. 
आज गोरखनाथ मंदिर, गोरखपुर में होली मिलन कार्यक्रम में। pic.twitter.com/jE7LnuzHEK

— Yogi Adityanath (@myogiadityanath) March 2, 2018
आज होली के शुभ अवसर पर गोरखपुर महानगर में। pic.twitter.com/KL3gRF8PbD

— Yogi Adityanath (@myogiadityanath) March 2, 2018
The CM, however, gave the traditional Narsingh Shobha Yatra a miss. Adityanath had been leading the yatra, taken out on the occasion of Holi, for the last 22 years.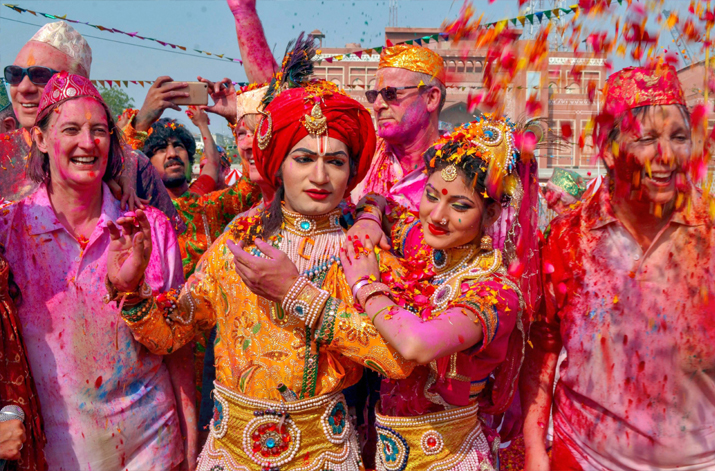 He wished people from the stage and asked them not to force colours on those who were unwilling.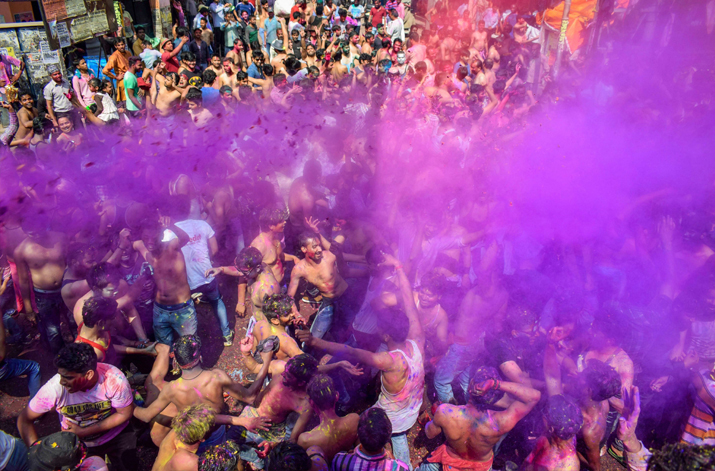 In Mathura, pilgrims played Holi at the Dwarkadhish and Behari Ji temple with herbal Tesu colours.
Punjab, Haryana 
In his message, he exhorted the people to celebrate the festival of love in a spirit of harmony, coupled with collective prayers for prosperity.
Holi was celebrated across Punjab and Haryana with traditional fanfare and gaiety. Colours of all hues, the smell of gulal and joyous spirit pervaded streets as people in the twin states and their common capital Chandigarh celebrated Holi.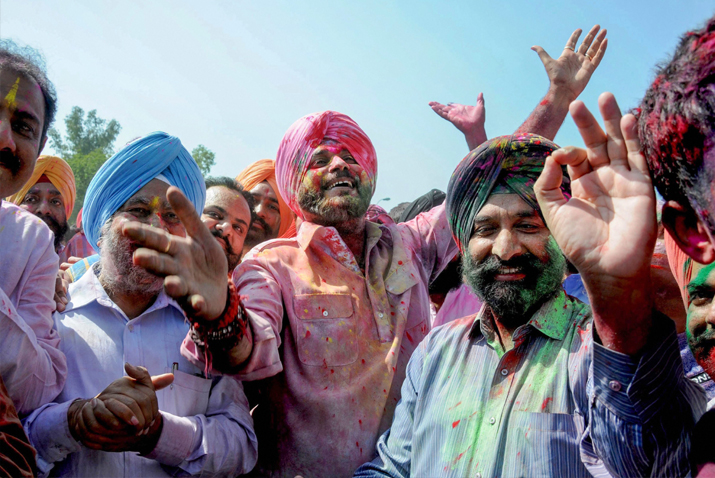 People exchanged greetings, visited friends and relatives, savoured the festive sweet gujia, and smeared gulal on each other's face. 
Punjab Chief Minister Amarinder Singh greeted the people with a call for celebrating the festival with the colours of unity, tolerance, brotherhood and compassion.
Himachal Pradesh
Himachal Pradesh Governor Acharya Devvrat and Chief Minister Jai Ram Thakur on Friday greeted people on the occasion of Holi festival.
The festival would strengthen the bonds of brotherhood and would go a long way in promoting unity and integrity, Devvrat said in a statement.
The Chief Minister said Holi, celebrated by the people of all faiths and religions, helped in strengthening the social fabric.
West Bengal 
In West Bengal, Holi was celebrated with mirth and gaiety as people participated in great numbers and swayed to popular beats.
While the Bengali community dominated the Dol (spring festival similar to Holi) celebrations on Thursday, it was the turn of the non-Bengali communities (predominantly Marwaris, Gujratis and Biharis) to splash colour on one another to soak in the Holi spirit on Friday.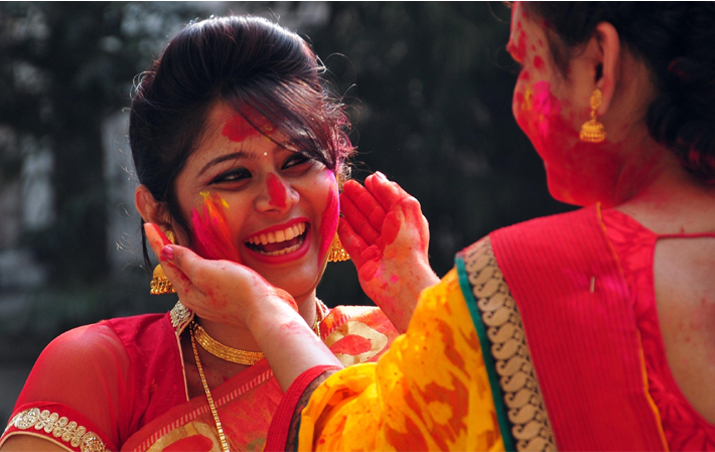 West Bengal Chief Minister Mamata Banerjee took to Twitter to wish the people on the occasion.
Wishing you a very #HappyHoli pic.twitter.com/tbsKszVZH4

— Mamata Banerjee (@MamataOfficial) March 1, 2018
"Heartiest greetings to all on the auspicious occasion of Holi. May the colours of peace and happiness fill your lives," she said.
Rajasthan
Holi was celebrated today with great enthusiasm in Rajasthan as people smeared each other with gulal and exchanged greetings. Amid tight security arrangement, people thronged streets and played colour. 
Clothes drenched, people visited their friends and relatives with 'gujia' to celebrate the festival of colour.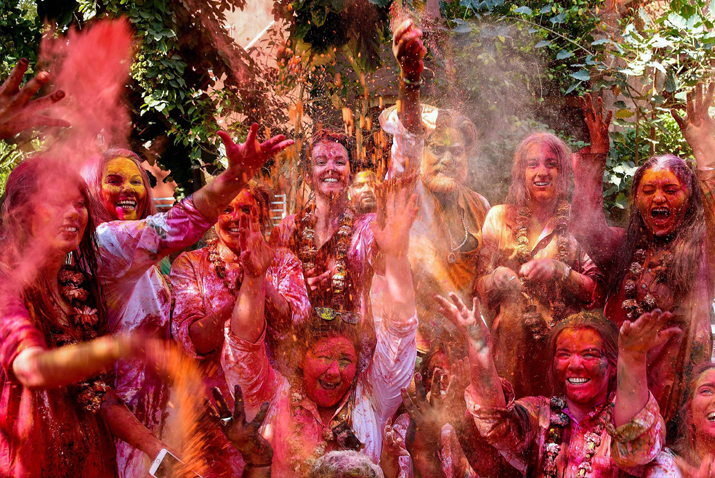 Chief Minister Vasundhara Raje greeted people on Holi. 
"This festival of excitement, enthusiasm and colours endorse mutual brotherhood, love, happiness and prosperity," she said in a statement. She called on people to overcome social evils and discrimination and pledge to live in harmony.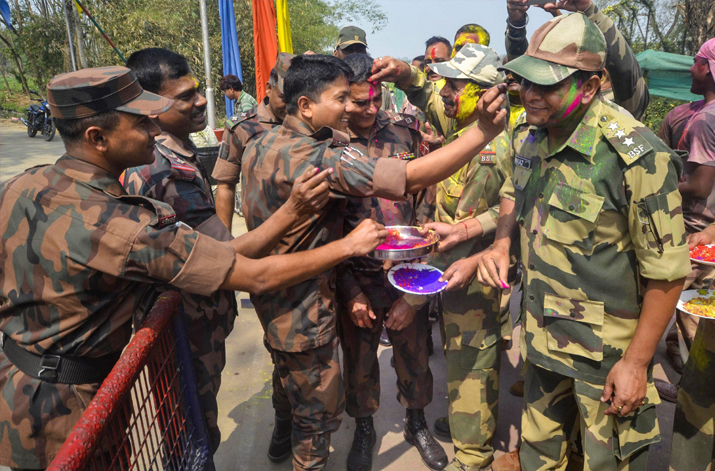 Speaker of Rajasthan Assembly Kailash Meghwal also congratulated people, saying the festival inspires everyone to maintain brotherhood and harmony in society. 
"It's a day to forget about mutual discrimination. The next generation should make persistent efforts to protect the cultural values," Meghwal said in a statement. 
J&K
In Srinagar, Border Security Force troopers celebrated the day with faces smeared with colour, dance during at a camp Humhama on the outskirts of city.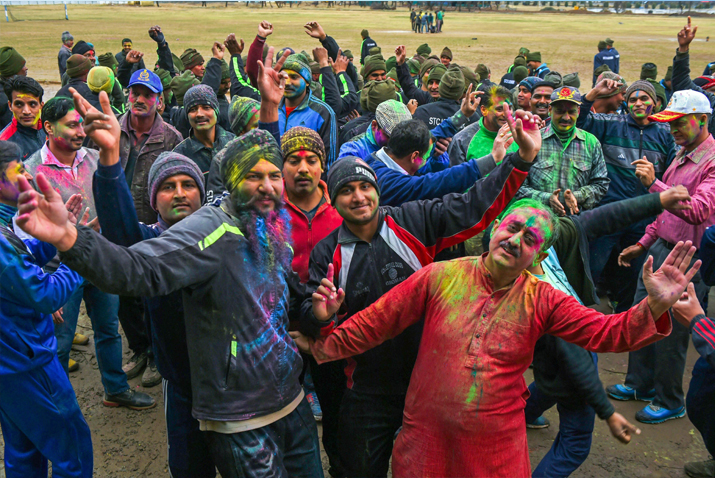 Bollywood stars like Amitabh Bachchan, Anupam Kher and Juhi Chawla sent out Holi wishes to their fans, urging them to enjoy a safe and happy festival of colours.
Abhishek Bachchan, Manoj Bajpayee, Divya Dutta, Riteish Deshmukh, Rannvijay Singh and Taapsee Pannu were among those who wished a simple "Happy Holi", some celebrities urged their fans to avoid wasting water and asked men to behave with women.