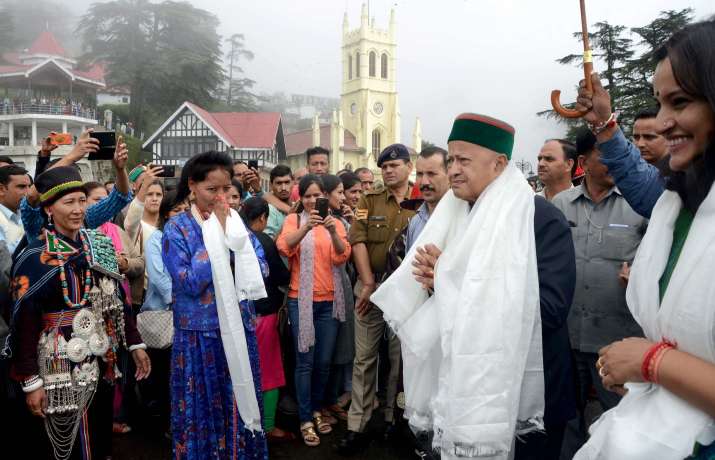 The Congress today announced its first list of 59 candidates for the November 9 Himachal Pradesh Assembly polls, with Chief Minister Virbhadra Singh being fielded from the Arki constituency in Solan district.
The list was finalised after a marathon meeting of the Congress central election committee chaired by party president Sonia Gandhi. Nominees for the remaining nine seats, including Shimla (Rural), would be announced later. 
According to media reports, Singh had earlier said that he wanted to contest the election from a seat which the Congress has not won in previous polls. Arki in Solan district was won by the BJP in the previous two Assembly polls. 
State Congress chief Sukhvinder Singh Sukkhu has been fielded from the Nadaun seat, which the latter had unsuccessfully contested in the previous election to the 68-member Assembly. 
The chief minister's son, Vikramaditya's name did not figure in the first list. Singh had two days ago had said that Vikramaditya will contest from his Shimla (Rural) seat.
Late Ayurveda Minister Karan Singh's son, Aditya Vikram, is in the race from Banjar constituency. Singh passed away in May this year. 
The Congress has fielded all its senior state leaders for the election. Rajya Sabha MP Viplove Thakur will contest the election from the Dehra Assembly segment, which she had lost in 2012. 
Other senior leaders including AICC secretary Asha Kumari, Kaul Singh Thakur, G S Bali, Mukesh Agnihotri and Gangu Ram Musafir will contest from Dalhousie, Darang, Nagrota, Haroli and Pachchad, respectively. 
The Congress has not declared candidates for the remaining nine Assembly constituencies given there are many aspirants, party sources said. The seats include Kullu, Palampur, Mandi and Theog. 
Party veteran Vidya Stokes was supposed to contest from Theog. But Stokes announced quitting politics today. Assembly Speaker Brij Behari Lal Butail is currently representing the Palampur seat. 
Former Union minister Sukh Ram's son Anil is currently representing Mandi. But he has quit the party and joined the BJP, which has already fielded him from the same seat. 
BJP announce list of candidates for Himachal polls
Former chief minister Prem Kumar Dhumal and Himachal Pradesh BJP chief Satpal Singh Satti are among the party candidates, a list for which was announced today, for the state Assembly polls. 
The BJP has declared its nominees for all the 68 seats in the state's Assembly. 
Dhumal, a two-time chief minister, will contest from Sujanpur instead of Hamirpur, which he represents in the outgoing Assembly. 
Dhumal and Union minister J P Nadda are seen as two most likely choices for the post of chief minister if the saffron party comes back to power in the Congress-ruled state. The BJP has not named its chief ministerial candidate. 
The BJP Central Election Committee had met last week to finalise their candidates in the state. The single-phase election will be held on November 9. 
The party has dropped from the list four sitting MLAs --Gobind Ram Sharma from Arki, Rikhi Ram Kaundal from Jhandutta, B K Chauhan from Chamba and Anil Dhiman, who won the bypoll to the Bhoranj seat in April this year. 
Vijay Jyoti Sen, sister-in-law of Chief Minister Virbhadra Singh's wife Pratibha, and former Congress leader Pawan Nayyar have been given tickets from Kusumpti and Chamba. Maheshwar Singh, who merged his Himachal Lokhit Party (HLP) with BJP has been fielded from Chopal. 
As many as 12 new faces and an equal number of former MLAs and ministers have got tickets. 
The party has fielded six women this time, one less than the 2012 polls. They are Sarveen Chowdhary (Shahpur constituency), Rita Dhiman (Indora), Indu Gauswamy (Palampur), Kamlesh Kumari (Bhoranj), Vijay Jyoti Sen (Kusumpti) and Shashi Bala (Rohroo). 
The new faces included former IAS officer J R Katwal from Jhanduta, Rajesh Kashyap from Solan, D S Thakur from Dalhousie, Rattan Singh Pal from Arki, Surendra Shourie from Banjar, Indu Gauswamy from Palampur and Ravinder Dhiman from Jaisinghpur.