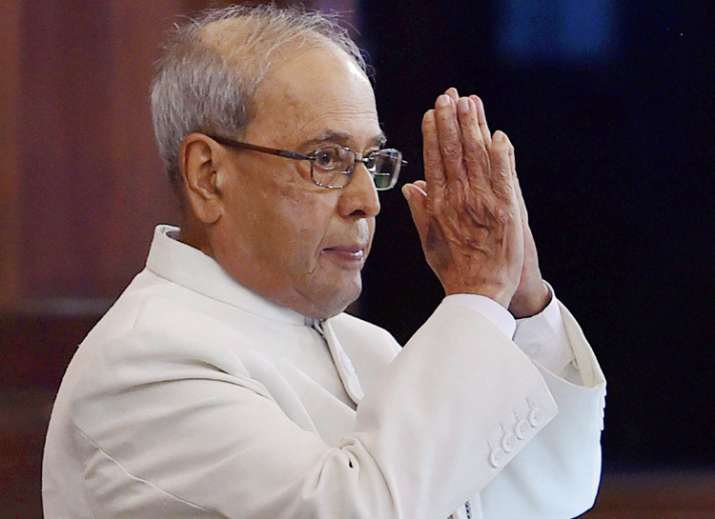 President Pranab Mukherjee on Sunday remembered his 37-year career as a Parliamentarian which he said was "no doubt mentored" by former Prime Minister Indira Gandhi as he advised the members of Parliament to avoid frequent disruptions in Parliament saying it hurt the opposition more. 
The President was speaking at a gala farewell ceremony in the Central Hall of Parliament which was attended by Vice President Hamid Ansari, Prime Minister Narendra Modi, Lok Sabha Speaker Sumitra Mahajan besides members of both the Rajya Sabha and the Lok Sabha. Mukherjee's term as the President of India expires tomorrow. Pranab Mukherjee's term as 13th President of India will expire tomorrow. Ram Nath Kovind will take oath as the 14th President of India on July 25. 
Here is the highlight of Pranab Mukherjee's speech, his last as the President: 
* I am a creation of this Parliament. It shaped by political outlook and persona.
* The Indian Constitution consisting of 395 Articles and 12 Schedules is not merely a legal document for administration but the Magna Carta of socio-economic transformation of the country. It represents the hopes and aspirations of the billion plus Indians.
* When I first entered the portals of this hallowed institution 48 years ago, I was only 34 years old. 
* My career as a Parliamentarian was no doubt mentored by Shrimati Indira Gandhi. Her steely determination, clarity of thought and decisive actions made her a towering personality. She never hesitated to call a spade a spade.
* I understood the real value of debate, discussion and dissent. I realized how disruption hurts the opposition more than the government as it denies them the opportunity to raise the concerns of the people. 
*  The recent passage of Goods and Services Tax and its launch on 1st July is a shining example of co-operative federalism and speaks volumes for the maturity of Indian Parliament. 
* I had the privilege of being a witness and a participant in the unfolding scenario of emergence of a great India. An India where 130 crore people belonging to three major ethnic groups – Aryans, Dravidians and Mongoloids – practicing 7 major religions and speaking 122 languages in daily lives live under one Constitution, one flag and one administrative system.
* It is unfortunate that the parliamentary time devoted to legislation has been declining. 
* When the Parliament fails to discharge its law-making role or enacts laws without discussion, I feel it breaches the trust reposed in it by the people of this great country.
* I am firm in the opinion that the Ordinance route should be used only in compelling circumstances and there should be no recourse to Ordinances on monetary matters. Ordinance route should not be taken on matters which are being considered or have been introduced in the House or a committee of the House.
* As I had said on oath, I strived to preserve, protect and defend our Constitution, not just in word but also in spirit.
* I will no longer be a part of the Parliament of India. It will be with a tinge of sadness and a rainbow of memories that I will be leaving this magnificent building today.
* Dear friends, with a sense of gratitude and a prayer in my heart, I take leave of you. I leave with a sense of fulfilment and happiness of having served the people of this great country through this institution- as their humble servant.