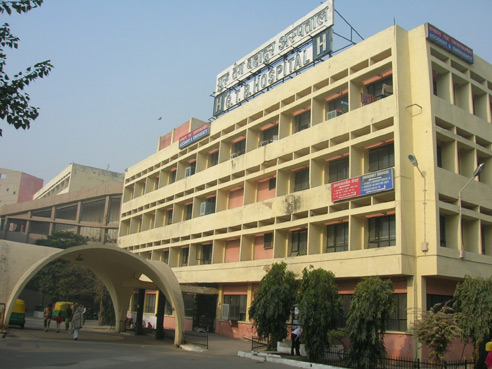 The Delhi High Court on Friday quashed the Aam Aadmi Party government's circular on giving preferential treatment to Delhi residents over non-residents at the GTB Hospital.
A bench of Chief Justice Rajendra Menon and Justice V K Rao had earlier reserved its verdict on the PIL filed by NGO Social Jurist challenging the Delhi government's pilot project.
The court was examining whether the AAP government's project at the GTB Hospital to give preferential treatment to city residents was violating the rights to equality and life enjoyed by others under the Constitution.
Earlier, the bench had said tha it has noted he AAP government's "difficulties" related to infrastructure, staff and facilities and had said that it will consider if these are valid grounds to deny others their rights under Article 14 and 21 of the Constitution.
At the previous hearing, the Delhi government's senior standing counsel Rahul Mehra had told the court that no individual has so far filed a complaint against its October 1 circular initiating the pilot project at the hospital.
Mehra had said that no one was being denied treatment, access to tests or outpatient (OPD) facilities and the hospital was only prioritising whom to treat first.
He had also said that the Delhi government took this policy decision as the huge influx of patients was putting a lot of strain on its infrastructure and staff, and it was also leading to manhandling of doctors by patients or their attendants.
The bench, however, was unimpressed by the contention and had asked, "Who is responsible for this? The courts? Or is it mismanagement? If you cannot manage then stop the facilities."
The bench had said that the government ought to have evaluated the shortcomings and taken steps to rectify them, instead of taking away the rights of others by changing the manner in which they are provided treatment.
The NGO, in its plea filed through advocate Ashok Agarwal, had opposed the pilot project initiated by the Delhi government at the Guru Teg Bahadur Hospital.
It had challenged the October 1 circular issued by the government, claiming that it denies treatment to non-residents at the GTB Hospital.
Agarwal argued before the court that thousands of patients coming from outside Delhi and those not possessing a voter ID card of Delhi were being denied treatment at the hospital subsequent to the issuance of the circular.
The NGO, in its plea, had said that the hospital cannot discriminate against patients based on their regional identity and added that such discrimination was not seen anywhere else in the country.
The proposal to give preference to residents of Delhi at the GTB Hospital in east Delhi's Dilshad Garden was approved in August by Chief Minister Arvind Kejriwal.
Under the pilot project, residents of Delhi get preference at registration counters, in-patient department, tests and medicine counter service and identification is done on the basis of voter identity card.