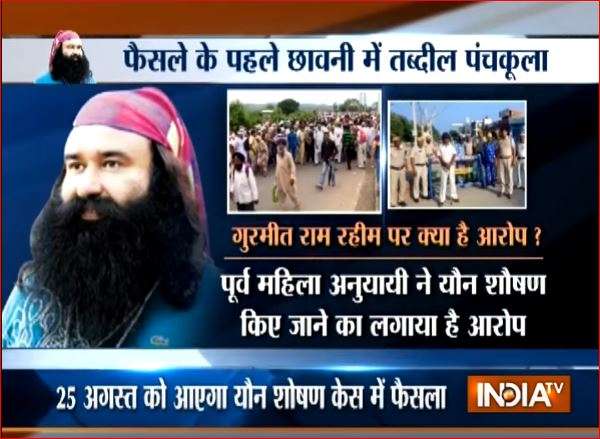 Authorities in Punjab and Haryana have been put on high alert ahead of the pronouncement of the verdict in a rape case against Dera Sacha Sauda chief Gurmeet Ram Rahim Singh. A special CBI court had on Aug 17 reserved its verdict in an alleged rape of a 'sadhvi' by the Dera Sacha Sauda sect chief. The court said that it will pronounce the judgment on August 25, besides directing Gurmeet Ram Rahim Singh to be present in the court on the verdict day. Authorities in the neighbouring states of Punjab and Haryana are taking all measures to ensure that there is no untoward incident.
Punjab Chief Minister Amarinder Singh on Wednesday said he won't let peace be disrupted at any cost and warned against any attempts to disrupt the state's law and order in view of the upcoming court verdict in the rape case against Dera Sacha Sauda chief Gurmeet Ram Rahim Singh.
The Chief Minister also directed police to thwart any attempt to disturb peace and also asked them to nip rumours in the bud. The DGP today undertook a review of the security situation in Bathinda on the directions of the CM. He will be personally monitoring the situation on ground.
The Haryana government, on the other hand, has imposed prohibitory orders in the state, Additional Chief Secretary Ram Niwas said on Tuesday.
"Security forces have been pressed into service in border areas and the central government has already been requested to provide 115 companies of paramilitary forces," the official said in a statement.
Anti-social elements or any other person who would try to disturb law and order would be arrested, he said.
Niwas said leave of police personnel has been cancelled and home guards would be called on duty.
"All borders of the state have been sealed and inter-state and inter-district activities of vehicles are being closely monitored," he said.
A Special Central Bureau of Investigation court in Panchkula in Haryana would pronounce its verdict in the rape case against Dera chief Gurmeet Ram Rahim Singh on August 25. The case hearing has been going on since 2007.
The sect chief, who has lakhs of followers in Punjab, Haryana, and other states, has been accused by a former female follower of raping her more than once inside the sprawling Dera campus on the outskirts of Sirsa town in Haryana, 260 km from Chandigarh.
An Ambala court of the special CBI judge in 2008 had framed charges against the Dera chief for alleged sexual exploitation. The Dera management has vehemently refuted all these charges.