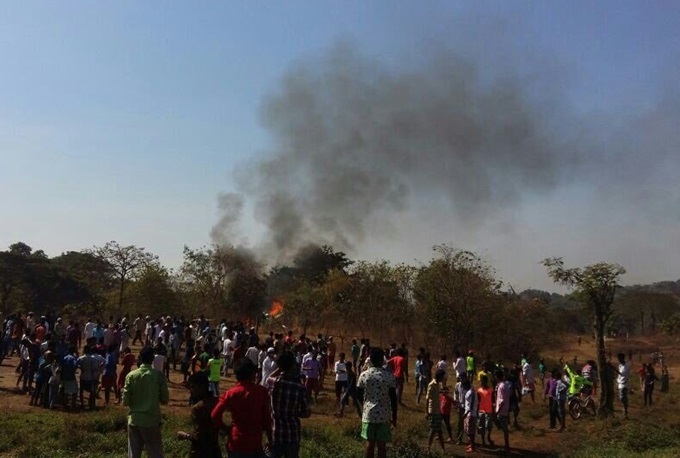 A private helicopter on a joyride crashed and erupted into a fireball, killing the pilot and injuring three others, at an isolated spot in the Mumbai suburb Goregaon on Sunday.
The helicopter, a Robinson R44 belonging to Aman Aviation Pvt Ltd, was on a sight-seeing flight over Mumbai when it suddenly crashed inside the forested Aarey Milk Colony and caught fire around 12.15 p.m., said the BMC Disaster Control.
#WATCH: Helicopter 'Robinson R44' crashed in Filter Pada area of Aarey Colony in Goregaon (Mumbai); 2 dead,2 injured (Source: Amateur video) pic.twitter.com/WuflKEcgJu

— ANI (@ANI) December 11, 2016
According to witnesses, hundreds of people from nearby tribal hamlets inside the Aarey Milk Colony and some other settlements rushed to help the victims even as fire tenders rushed to the spot.
1 dead, 3 injured in Goregaon helicopter crash. Injured being treated in hospital. Investigation underway, says Kiran Kumar Chavan (DCP) pic.twitter.com/Rtz2g0ksMF

— ANI (@ANI) December 11, 2016
People and police personnel extricated the victims from the burning chopper and rushed them to the Seven Hills Hospital in Andheri East.
#FLASH One pilot succumbs to injuries, taking Goregaon (Mumbai) Helicopter crash death toll to 2

— ANI (@ANI) December 11, 2016
Mumbai: Helicopter crashes in Aarey Colony (Goregaon) pic.twitter.com/F5nqgy4HGY

— ANI (@ANI) December 11, 2016
Mumbai: Four injured in helicopter crash in Aarey Colony (Goregaon), shifted to hospital for medical aid. pic.twitter.com/6mgyyC8li6

— ANI (@ANI) December 11, 2016
Mumbai: The helicopter 'Robinson R44' crashed in Filter Pada area of Aarey Colony in Goregaon

— ANI (@ANI) December 11, 2016
Goregaon helicopter crash: Fire extinguished with the efforts of 3 fire engines

— ANI (@ANI) December 11, 2016
#SpotVisuals: Four injured in helicopter crash in Filter Pada area of Aarey Colony in Goregaon in Mumbai. pic.twitter.com/SIdHr4RjIv

— ANI (@ANI) December 11, 2016