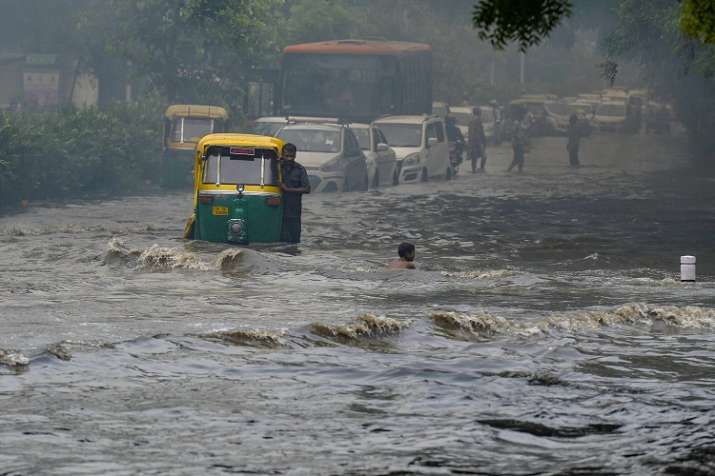 Heavy rains lashed various parts of India including Delhi, Gujarat, Maharashtra and Kerala on Monday causing traffic jams and waterlogging. While commuters in the national capital had a harrowing time on Monday due to severe waterlogging and traffic congestion, several districts of Gujarat received heavy rainfall resulting in four villages getting marooned in the worst affected Gir Somnath district, even as the NDRF had to be deployed to rescue 70 passengers of a metre gauge train and the Air Force was put on alert. Here's how rainfall fared all across India on Monday.
1. Incessant downpour results in waterlogging, traffic congestion in New Delhi
Commuters in the national capital had a harrowing time on Monday as heavy rain lashed parts of the city leading to waterlogging and traffic congestion. 
Several arterial roads and major intersections were submerged due to the heavy downpour since morning resulting in long traffic snarls.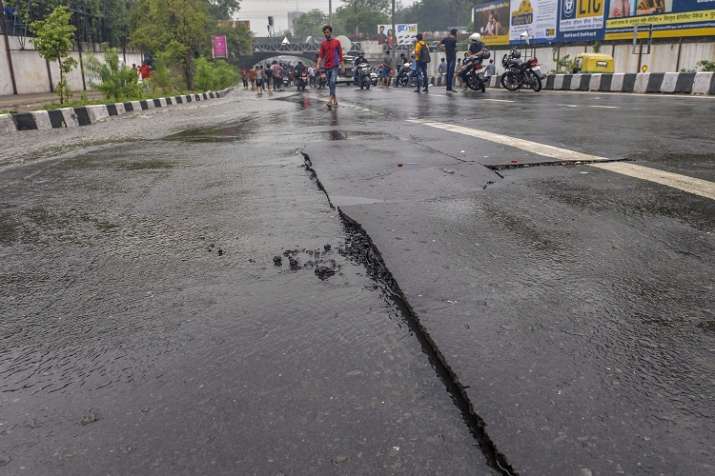 Severe waterlogging was reported under Moti Nagar flyover, Ranjit Singh footover bridge, Mayapuri Chowk, Zakhira underpass, Bhairon Enclave, Chhatta Rail bridge, Lala Lajpat Rai marg, Rohtak road, Rani Jhansi road, Azad Market and Zakhira flyover. 
Traffic congestion was also witnessed in the carriageway from Moti Nagar towards Raja Garden due to waterlogging. The breakdown of a bus in the same area added to the woes of the commuters on the stretch. 
Another bus got stuck under the flooded Minto Bridge in the heart of the city. However, the passengers were rescued safely.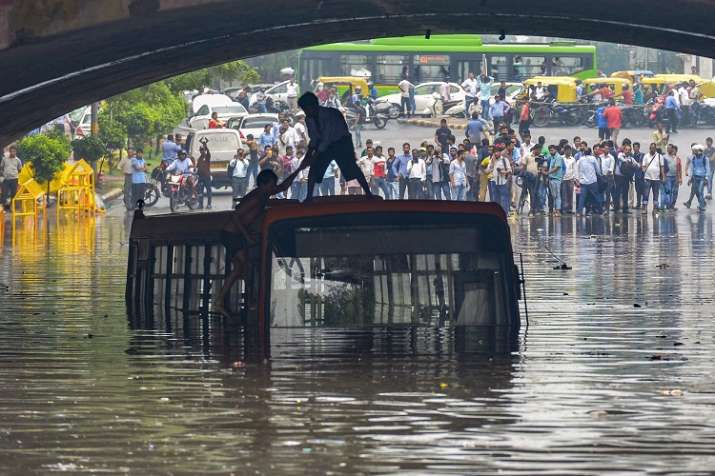 The Delhi Traffic Police Twitter handle was busy posting updates alerting commuters on congested roads around the city.
Delhi received 32 mm rainfall today between 8.30 am and 5.30 pm, according to the reading of the Safdarjung observatory. 
Areas under Palam, Lodhi Road, Ridge and Ayanagar recorded 25.2 mm, 30.8 mm, 38.6 mm, 1.7mm rains respectively during the same period. 
The Meteorological office has forecast overcast skies along with light rains on Tuesday.
2. NDRF, Air Force on alert as heavy rains lash Gujarat; more precipitation likely in next 5 days 
Several districts of Gujarat received heavy rainfall on Monday resulting in four villages getting marooned in the worst affected Gir Somnath district, even as the NDRF had to be deployed to rescue 70 passengers of a metre gauge train and the Air Force was put on alert, officials said. 
Chief Minister Vijay Rupani held an emergency meeting to assess the preparedness. He said that six to seven districts were affected due to the rains and 15 teams of National Disaster Response Force, as well as the Air Force, had been put on alert.
"We have sought five more NDRF teams. While the situation today is under control, the disaster management machinery has been asked to remain prepared as the forecast is of heavy rains in the next five days," Rupani told reporters.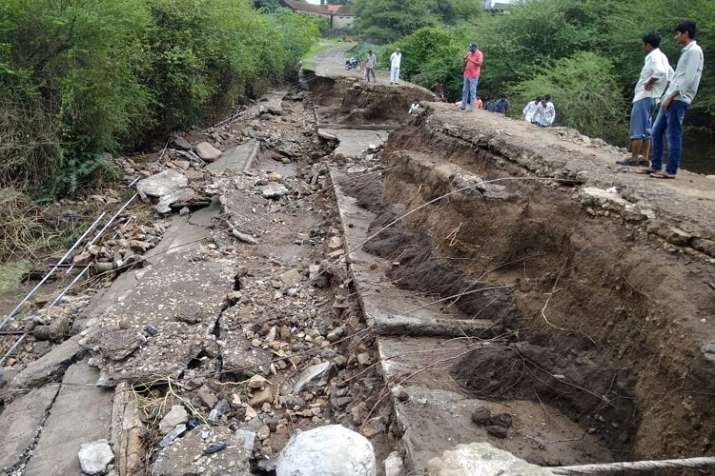 As many as 70 passengers of the Delvada-Veraval metre gauge line had to be rescued by the NDRF after the train got stranded due to waterlogging at Gir Gadhada railway station, a disaster management official said. 
Additional Chief Secretary Pankaj Kumar told reporters that the state government sought the help of the Air Force after four villages in Gir Gadhada taluka got cut off due to incessant rains. 
With several rivers overflowing, an NDRF team has been stationed at Una also and the situation was being monitored continuously, Gir Somnath Collector Ajay Prakash tweeted. 
Officials said that several districts in Saurashtra such as Gir Somnath, Amreli, Bhavnagar and Junagadh as well as districts of South Gujarat like Navsari and Valsad received heavy rainfall throughout last night and in the morning.
Hundreds of people in different districts were relocated to safer places, including 365 in Navsari, 50 in Amreli and 85 at Olpad in Surat, disaster management officials said. 
Several trains were short terminated, and all metre gauge trains in Bhavnagar division were cancelled starting tomorrow until further advice, a railway official said. 
In Amreli, local residents formed a human chain to rescue 35 passengers of a bus which got stranded on a flooded road near Rajula. The bus was on its way from Surat to Bhavnagar, officials added. 
A state highway was closed and Jafrabad town was flooded in Amreli, they said. 
Parts of Anand district in central Gujarat and Valsad and Navsari in south Gujarat also received heavy rainfall since morning today, data released by the state emergency operation centre stated. 
The data showed that, within six hours since morning, the Gir Gadhada Taluka of Gir Somnath district received 307 mm rainfall, the highest in the state, followed by Una, also in the district, at 258 mm. 
Waghai in Dangs received 159 mm rainfall, followed by Jafrabad in Amreli at 136 mm, Mahuva in Bhavnagar at 93 mm, Anand at 92 mm and Rajula in Amreli district with 83 mm.
3. Heavy Rain Hits Maharashtra's Hill Stations
After Mumbai and coastal districts, some of the most popular hill stations of Maharashtra were battered by heavy rains with Mahabaleshwar leading the list, according to weather agency IMD on Monday.
Mahabaleshwar was pounded by a staggering 300 mm, followed by Lonavala-Khandala twin hill stations in Pune, which recorded 290 mm.
Next on the list was the state's tiniest hillstion, Matheran in Raigad which received 260 mm, Igatpuri in Nashik recording 220 mm, and Palghar's prime resorts like Talasari, Mokhada and Jawhar getting 230mm, 200mm and 190 mm respectively.
Usually, July-September are peak monsoon tourism seasons for these hill stations where thousands of tourists from Mumbai, Pune, Nashik, Aurangabad, Kolhapur and other parts of India flock to enjoy the rainy and cloudy weather on the hilltops and valleys.
Besides being the source for many of the big and small perennial rivers in the states, these hills are the hot favourites of honeymooners, hikers and trekkers, who throng there all round the year with monsoon being a top favourite season.
Mumbai and coastal districts like Palghar, Thane, Raigad, Ratnagiri and Sindhudurg continued to experience intermittent rains on Monday, but there was no dislocation of any essential road-rail services.
However, massive traffic jams were witnessed in Mumbai, Thane, Navi Mumbai and other places in the morning and evening peak hours with vehicles crawling in view of the potholes that dot the main roads and even the highways.
The IMD has forecast more rains punctuated by very heavy spells in Mumbai over the next two days with temperatures ranging at a pleasant 24-29 degrees Celsius.
Nearly half a dozen districts in North and Central Maharashtra received a good spell of showers on Monday with authorities releasing water from the Gangapur dam into the Godavari river in Nashik. 
Parbhani, Ahmednagar, Nashik, Aurangabad and Nanded districts received bountiful rains. 
According to the MeT department data, Parbhani received 46 mm of rainfall followed by Nashik and Sangli (western Maharashtra) at 21 mm each. 
Nashik, in North Maharashtra, has been receiving heavy rains in the last two days. Incessant downpour in the catchment areas of the Gangapur dam has led to a significant rise in the dam's water level in Nashik district. 
According to MeT sources here, tribal-dominated Igatpuri tehsil recorded 216 mm of rainfall in the past 24 hour (ended 8.30 this morning). 
Tehsils of Peint, Trimbakeshwar and Surgana received 119.2, 88 and 73.3 mm of rainfall in the same period, they said, adding Nashik district has recorded 610 mm of rainfall. 
The irrigation department released 4,716 cusec of water from the Gangapur dam, where water level has crossed the 75 per cent mark of the storage capacity, into the Godavari river this afternoon, the District Disaster Management Cell said. 
The Darna dam, also in Nashik district, is filled up to 76 per cent of its storage capacity following incessant rains in its catchment areas, it said. This led the irrigation department to release 6,602 cusec of water from the dam into the river. 
"The river has not yet crossed the danger mark but (release of dam water) will benefit the command area in the downstream in the long term," said an official from the Nashik district collectorate. 
Kharif (summer) as well as rabi (winter) crops would benefit from it, he said. "The good showers will also fill the Jayakwadi dam on the Godavari near Aurangabad which will help the Marathwada region (which is drought-prone) meet its drinking water needs," an official from the water resources department said.
The Jayakwadi dam has a storage capacity of around 80 TMC. Districts such as Solapur, Hingoli, Washim, Latur, Osmanabad and Beed - known as the "rain-shadow" region of the state - are yet to receive good showers, said officials from the agriculture department. The region is a major producer of foodgrains and pulses. 
The coastal Konkan region has received excess showers (more than 2,000 mm) since the onset of the monsoon in the state. The western Maharashtra has received up to 2,000 mm of rainfall, while Vidarbha has received more than 1,000 mm of rainfall during the same period (till today). 
The Central Maharashtra and Marathwada, on the other hand, have received less than 500 mm of rainfall since June 1, said the official from the water resources department.
4. Heavy rains lash parts of Punjab, Haryana
Rains lashed several parts of Punjab and Haryana on Monday, bringing relief to people from humid weather conditions. Chandigarh, joint capital of both states, recorded the maximum of 29.7 degree Celsius, four notches below normal, as per the Meteorological (MeT) department report. 
The city received rainfall of 4.9 mm. 
In Haryana, Ambala and Bhiwani recorded their respective highs at 32.7 and 31.8 degrees Celsius. Hisar and Karnal recorded maximums at 36.7 and 32.2 degrees Celsius respectively. 
Ambala, Hisar and Karnal received rainfall of 5.2 mm, 12 mm and one mm respectively. 
Narnaul's maximum was 30.5 degrees Celsius, five degrees below the normal. 
In Punjab, Amritsar's maximum settled at 33.8 degrees Celsius, one degree below normal, while Ludhiana and Patiala recorded maximums at 30.2 and 29.2 degrees Celsius, up to five degrees below the normal. 
Ludhiana and Patiala received rainfall of 167 mm and 11 mm respectively. 
According to the Meteorological (MeT) forecast, light to moderate rains may occur at isolated places in Punjab and Haryana in the next 24 hours.
5. Rains lash several parts of Himachal Pradesh 
Light to moderate rain continued on Monday in several parts of Himachal Pradesh, with Sundernagar in Mandi district recording 76.8 millimetre of rainfall till this morning, the meteorological department said. 
According to the MeT data recorded till this morning Manali received 61.4 mm of rains, followed by Dharamshala (43.2 mm), Una (26.8 mm) and Bhuntar in Kullu district (22 mm). 
The highest temperature maximum temperature in the state since Sunday has been recorded at 34.6 degrees Celsius in Bhuntar. 
6. Heavy rains in Kerala, rail, road traffic hit, educational institutions in 8 districts shut, rains claim 12 lives in the last one week
Rail and road traffic were hit in various parts of Kerala today due to waterlogging as heavy rains continued to pound the state with the South West Monsoon becoming active again. In the second spell of rains due to the South West monsoon, 11 people have been killed since July 9, according to the state control room, which is monitoring rain-related incidents.
Several low-lying areas are inundated and roads are cut off, it said. Due to waterlogging on rail tracks, signalling system has been affected and at least eight passenger trains have been cancelled and some others are running late in the Ernakulam-Thiruvananthapuram route. Kerala State Road Transport Corporation bus station here is also waterlogged, disrupting services, it said.
Educational institutions in Thiruvananthapuram, Kollam, Pathnamthitta, Alapuzha, Kottayam, Idukki, Ernakulam and Thrissur districts are closed today as district collectors declared a holiday due to heavy rains. Kerala University has postponed all its examinations scheduled for tomorrow to July 21. A branch of a tree fell on the last bogey of Antodaya Express at Aroor near Kochi after hitting an electric line, leading to a delay.
In Alappuzha also a tree fell on to a track following which rail services were affected. Also in Alapuzha, flood waters entered several houses in the low-lying Kuttanad area. Around 2,000 families have been shifted to at least 46 relief camps in the state, officials in the state control room said.
In the hilly Idukki district, landslips occurred in one or two places. In the state's coastal areas, severe sea erosion has also been reported. In the second spell of rains, 614 houses have been partially damaged and 20 fully, the officials said.
A high-level meeting, chaired by Chief Minister Pinarayi Vijayan with District Collectors through video conference, reviewed the flood situation in the state. The Chief Minister asked district authorities to dispense the compensation to flood-affected people without any delay.
According to Indian Meterological Department sources, the rains would continue till July 19. 
WATCH VIDEO: