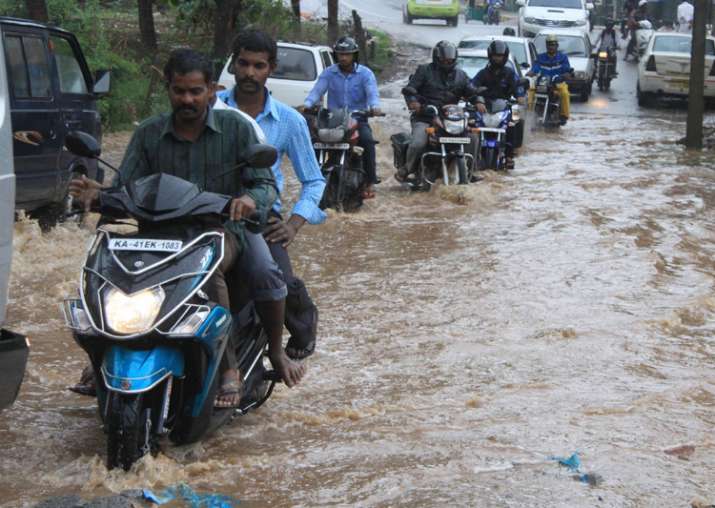 Heavy downpour in the early hours today led to flooding in several parts of the city. Roads were inundated and water gushed into many houses in low-lying areas such as Koramangala, HSR Layout and Anugraha Layout. However, there was no loss of human lives, officials said.
Many household items including electronic goods in the flooded areas were damaged. Cars and two-wheelers in the basement of apartments in low-lying areas were submerged. The embankment of Begur lake was destroyed leading to flooding in areas downstream, officials said.
Bengaluru Mayor G Padmavathi, who toured the rain affected areas, was flooded with complaints. Residents alleged that the snail's pace work of remodelling of stormwater drains by the municipal corporation engineers resulted in inundation.
Last fiscal, the state government had released Rs 800 crore for the remodelling of stormwater drains in the city. The project which is scheduled to be executed in two years is far from completion.
Officials said the meteorology department recorded 35 mm rainfall in the city during the last 12 hours. The department said that cyclonic circulation above the Gulf of Munnar caused rains in south Karnataka, especially around Bengaluru. The department has predicted heavy rains in the city in the next 48 hours. 
Meanwhile, India Meteorological Department's (IMD) Bengaluru chief has said that "it is dangerous to see a mere three cm of rainfall inundate the city".
"The rainfall received here yesterday was only a moderate one -- measuring upto maximum 3 cm in the city. But the fact that it could leave most of the city flooded, is dangerous," Sundar M Metri said.
"There is need for proper drainage system and channels for rain water to be directed towards the lakes and larger water bodies," Metri added.