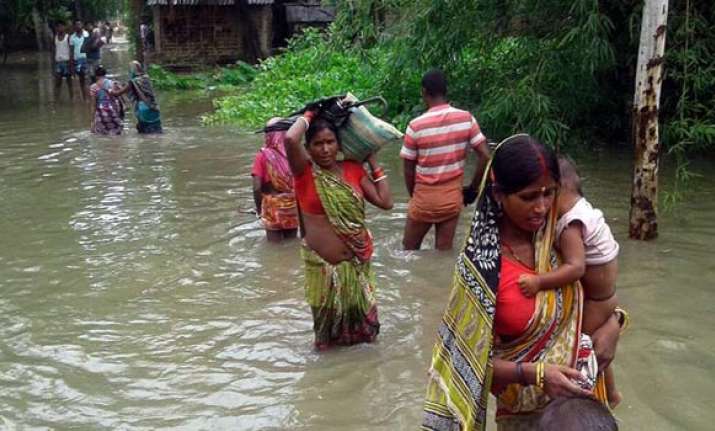 Heavy rainfall triggered landslides in Uttarakhand and Himachal Pradesh, where at least 46 people were killed, and caused floods in eastern and northeastern states, with 10 deaths being reported in Assam on Sunday. 
In Uttarakhand's Pithoragarh district, a girl was killed and her parents were missing following a landslide on Saturday that buried their house. 
A massive landslide, triggered by a cloudburst, in Himachal Pradesh on Saturday night, buried two state roadways buses, killing at least 46 people and injuring several others at Kotpuri near Padhar on the Mandi-Pathankot national highway. According to officials, the toll may cross 50. 
The highway have been closed stranding hundreds of vehicles, they said, adding the National Disaster Response Force (NDRF), the Army and the police were rushed to the spot. 
Chief Minister Virbhadra Singh, who visited the site, said the rescue operation would continue till all bodies were recovered. 
State Health Minister Kaul Singh Thakur announced financial assistance of Rs 4 lakh to the next of kin of the deceased while Transport minister G S Bali said announced that Rs 1 lakh would be given to each bereaved family by the HRTC. 
In eastern and northeastern states, rains caused havoc, triggering floods in Assam and parts of Bihar, West Bengal and neighbouring country Nepal also. 
Assam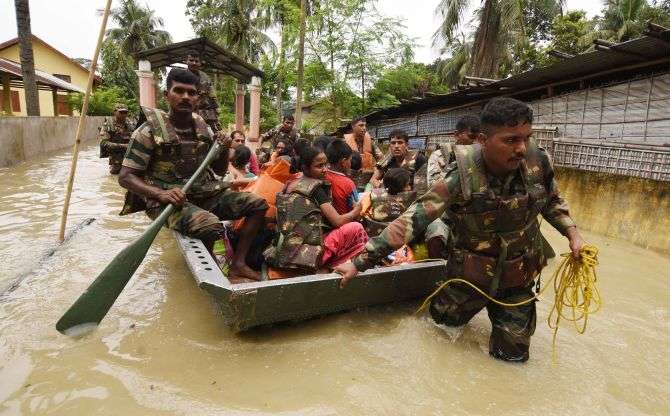 With Sunday's deaths in another wave of deluge in the state, the toll in this year's flood-related incidents has gone up to 99, Assam State Disaster Management Authority said, adding the situation is likely to worsen as waters of the Brahmaputra and 10 other rivers were flowing above the danger mark at 15 places. 
Most of the forest areas in Kaziranga National Park, Pobitora Wildlife Sanctuary and Lawkhua wildlife sanctuary were under flood waters.
Ten more people died as the flood situation deteriorated in Assam on Sunday, where 22.5 lakh people were affected in 21 districts and the Army has been called for rescue operations. 
The third wave of floods hit Assam on Friday, inundating over 700 villages in 15 districts and affecting over three lakh people.
The Assam State Disaster Management Authority (ASDMA) said Dhemaji, Lakhimpur, Biswanath, Baksa, Barpeta, Bongaigaon, Chirang, Kikrajhar, Dhubri, Jorhat, Majuli, Sivsagar, Charaideo, Tinsukia and Dibrugarh districts were affected.
"There have been incessant rains in the state for the last 24 hours and at least six rivers are in spate and flowing above danger levels," an ASDMA official said, adding 781 villages in the districts had been inundated.
The surging waters have inundated 19,481 hectares of agricultural land.
A total of 354,326 people have been affected in the 15 districts while close to 14,000 people have taken shelter in 45 relief camps opened by the authorities, the officials said.
Prime Minister Narendra Modi visited the state on August 1 and announced a package of Rs 2,350 crore for the entire northeast to deal with the flood situation.
While Modi announced Rs 2,000 crore to mitigate the flood damage, he also instituted a corpus of Rs 100 crore for setting up an expert committee to study the course of the Brahmaputra so that the recurring floods can be resolved.
He announced an additional Rs 250 crore for flood relief operations in Assam.
Nagaon Deputy Commissioner Shamsher Singh said the waters of the Brahmaputra river breached a crucial dyke at Hatimura inundating vast areas of the district. 
Dhubri was the worst-affected with 3.98 lakh people affected, followed by Morigaon with 3.14 lakh people. 
Chief Public Relations Officer of Northeast Frontier Railway Pranav Jyoti Sharma said 22 trains have been cancelled while 14 others were stranded at various places as the tracks are flooded at places across the northeast. 
Meghalaya
​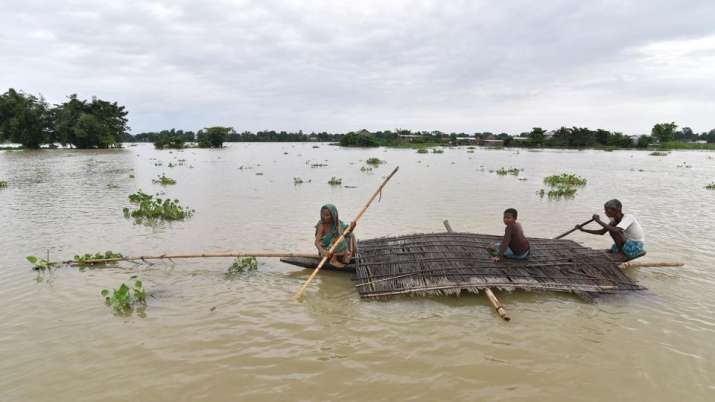 Incessant rain for the last five days has wreaked havoc in Meghalaya and claimed three lives, with two persons injured on Saturday, after a tree inside Raj Bhavan fell and crushed three vehicles, an official said.
Nearly 800 people were rendered homeless in South and West Garo Hills district in western Meghalaya as some villages were submerged under the rising flood waters, officials said.
Three persons, including a woman, were killed and two were injured here, when a eucalyptus tree, which had stood tall at Raj Bhavan for several decades now, came crashing down across the road.
"It took about 30 minutes to extricate the first three victims. The three dead persons are yet to be identified and the condition of the two injured is critical," Davies Marak, the district police chief of East Khasi Hills, told IANS.
Over 750 people in South Garo Hills district bordering Bangladesh and 63 people under Dalu Block in West Garo Hills district were rendered homeless following flash floods.
Though no loss of life has been reported, a government official said six relief camps have been set up in the flood-hit areas.
Bihar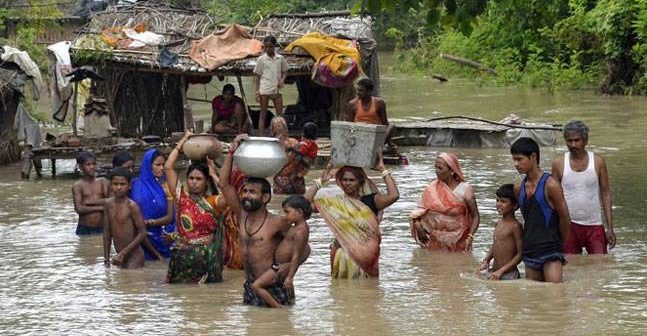 Nearly two million people have been affected by the floods in Bihar, including thousands who have been forced to evacuate from their homes, officials said on Monday.
Incessant rains in the past three days in Terai regions of Nepal coupled with heavy rainfall since Saturday in Seemanchal area have caused floods in Kishanganj, Purnea, Araria and Katihar districts of Bihar. 
Union Home Minister Rajnath Singh spoke to Bihar Chief Minister Nitish Kumar and discussed the flood situation in the state where nearly 320 NDRF personnel have been rushed. 
"The Centre is rushing additional NDRF teams to Bihar to help the ongoing rescue and relief operations in the flood-affected region of the state," Singh said in a tweet. 
Kishanganj district is the worst affected, Chief Minister Nitish Kumar said, adding that he has spoken to the prime minister, the union home minister and the defence minister over phone and requested them to help the state in dealing with the situation. 
A home ministry official said seven teams of the NDRF have already reached the affected areas in the state. 
Birpur in Supaul district received 45 cm rainfall, followed by Gaunaha and Bagaha in West Champaran 37 cm each and Bahadurganj in Kishanganj district 36 cm of precipitation. 
Sub-Himalayan districts of West Bengal also received heavy rains causing floods-like situation in the region. 
Due to the flood situation in Northeast Frontier Railway jurisdiction, many north Bengal-bound trains originating from Sealdah and Howrah that were delayed, have been terminated at various stations, the Eastern Railway said in a statement. 
Meanwhile, the national capital witnessed partly clear skies with no rains, though overcast conditions prevailed in some areas. 
The maximum and minimum temperatures were 34.9 degrees Celsius and 27.3 degrees Celsius respectively while relative humidity levels oscillated between 57 and 79 per cent.
West Bengal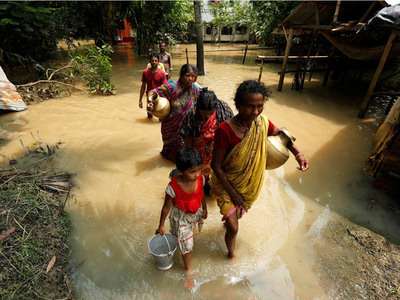 Rail and road communication was severely hit and over five lakh people affected in northern West Bengal with major rivers in spate as the flood fury triggered by heavy rains claimed three lives with one person missing, officials said on Sunday.
The deaths were reported from the worst-hit Cooch Behar district, where 100 out of 128 gram panchayats were inundated following incessant monsoon rains since Friday.
One person was missing in North Dinajpur district, with eyewitnesses saying the victim was drowned.
Around 2.87 lakh people were affected in the deluge in Cooch Behar, and another two lakh in Jalpaiguri and Alipurduar districts. Over 50,000 were hit in Malda, North Dinajpur, Darjeeling and South Dinajpur districts.
The district administrations have opened over 700 relief centres - 550 of them in Cooch Behar alone - to shelter the homeless.
Punjab and Haryana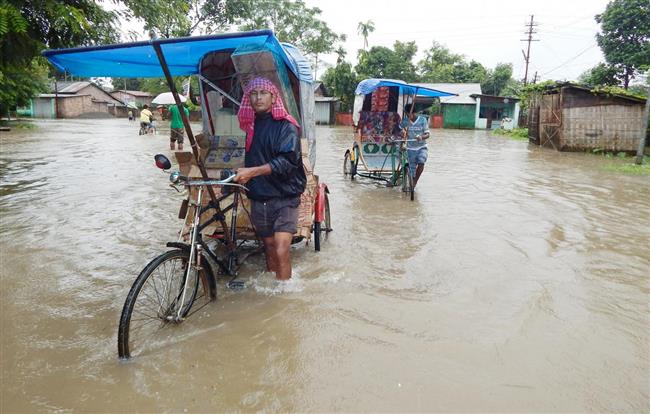 Humid conditions prevailed in most parts of Punjab and Haryana with maximum temperatures hovering around normal at most places in both the states. 
Chandigarh, the joint capital of the two states, recorded a maximum temperature of 34.4 degrees Celsius while Ambala in Haryana registered a high of 34.6 degrees Celsius and Hisar's maximum was 37.2 degrees Celsius. 
In Punjab, Amritsar and Ludhiana both recorded maximum temperatures of 35.8 degrees Celsius. 
Rainfall occurred in parts of Chhattisgarh, Madhya Pradesh and Vidarbha but there was no significant change in maximum and minimum temperatures. 
Yavatmal in Maharashtra's Vidarbha region recorded a maximum temperature of 34 degrees Celsius.
200 Indians stranded in Nepal 
Nearly 600 tourists, including 200 Indians, have been stranded in central Nepal's popular tourist district Chitwan due to flooding triggered by heavy rains that have claimed 49 lives, officials said today. 
Heavy rains have lashed Nepal for the past three days causing flooding and landslides at several places in the Himalayan country. 
The swollen Rapti river flooded several hotels in the Chitwan Valley, where the country's first national park is located. 
Chief District Officer Narayan Prasad Bhatta said four rubber rafts have been sought from neighbouring Devghat to carry out relief operations. 
List of trains cancelled due to flood 
Journey commencing on August 14:
15651 Guwahati – Jammu Tawi Lohit Express
15484 Delhi Jn. – Alipur Dwar Mahananda Express
12506 Anand Vihar Trml. – Guwahati North East Express
15708 Amritsar – Katihar Express
12488 Anand Vihar  Trm. – Radhikapur Seemanchal Express
12424 New Delhi – Dibrugarh Rajdhani Express
14020 Anand Vihar Trml. – Agartala
Agartala Sundri Express
14056 Delhi – Dibrugarh Brahmputra Mail
15601 Silchar – New Delhi Purovotar Sampark Kranti Express
15909 Dibrugarh – Lalgarh Awadh Assam Express
15716 Ajmer – Kishanganj Garib Nawaj Express
15652 Jammu Tawi – Guwahati Lohit Exp will remain cancelled 
Journey commencing on August 16:
15652 Jammu Tawi – Guwahati Lohit Exp.
"The Railway Board has decided to cancel all incoming trains from various parts of the country towards NE Region, which were to reach either Katihar or Malda town till 10 am of August 16, 2017," Northeast Frontier Railway chief public relations officer (CPRO) Pranav Jyoti Sharma said in a statement. 
"Heavy rainfall in the last 72 hours in West Bengal, Bihar, Assam and other NE states has resulted in railway operations being severely hampered as rain water has affected railway tracks at several places in Katihar and Alipurduar Division of NF Railway," Sharma said. 
In view of the flood situation, 11 outgoing trains have been cancelled by NF Railway today, Sharma said, adding four other trains have been short-terminated at various locations, he added. 
(With inputs from PTI, IANS)