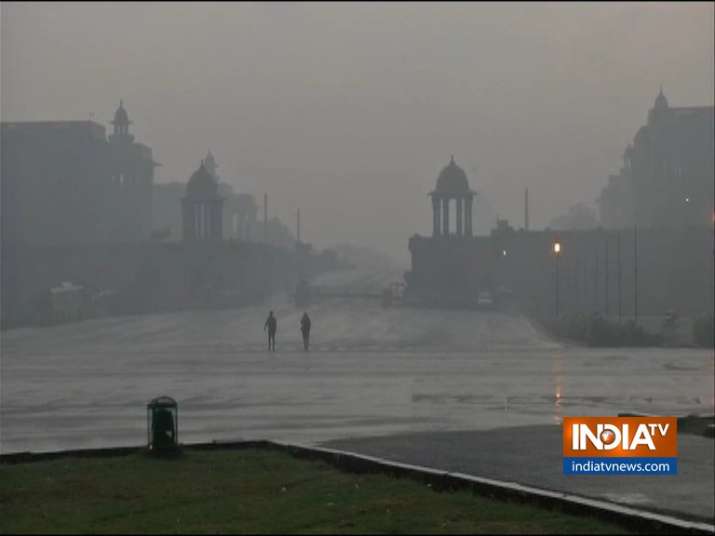 Heavy rain, accompanied by strong winds, lashed Delhi-NCR on Thursday morning, giving a soothing treat to the residents. Apart from the national capital, Noida too received fresh rains this morning. The conditions are expected to prevail over the national capital till Friday. 
According to IMD, a western disturbance accompanied by moist eastern winds from the Bay of Bengal was expected to hit the northwest plains of the country, including Delhi, from Wednesday night. There are chances of hailstorm activities over few parts of the national capital today.
The minimum temperature was also expected to rise by 3-4 degrees Celsius between Wednesday and Friday in northwest India. As per the IMD bulletin, the minimum temperature is expected to reach 13 degrees Celsius -- 4 notches above the season's normal -- during the period, while the maximum temperature is expected to hover around 21 degrees Celsius.
Owing to the recent spell of rain and heavy hailstorm on February 7, Delhi has been experiencing cold conditions with the minimum temperature dropping to 6 degrees Celsius, three notches below the normal, on February 10. After nearly a decade, a heavy hailstorm accompanied by rain lashed several parts of Delhi-NCR on February 7, providing the city with fresh air with pollution levels touching the moderate mark.
A partly cloudy morning was recorded on Wednesday in Delhi, with the minimum temperature settling one notch above the average for the season at 11.4 degrees Celsius. The relative humidity was 98 per cent at 8.30 AM.
On Tuesday, the minimum and maximum temperatures settled at 10.6 and 23.6 degrees Celsius respectively. 
FULL VIDEO: Rain lashes Delhi-NCR