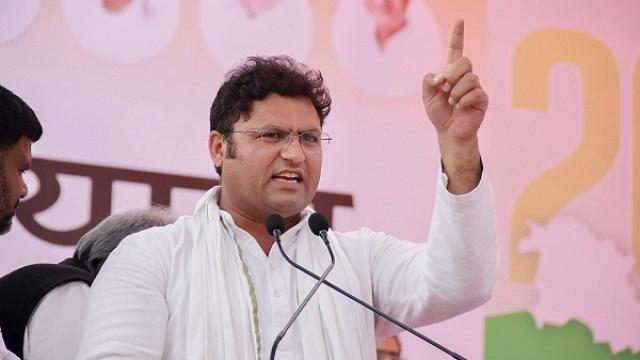 "If you want to finish me, then just shoot me," were the words of Congress Haryana chief Ashok Tanwar after he was blamed for the party's loss in all 10 Lok Sabha seats from the state.
According to the Indian Express, Ashok Tanwar made the statement in a state coordination committee meeting held on June 4, which lasted for about 35-40 minutes and ended without any result.
The meeting was chaired by All-India Congress Committee's Haryana in-charge Ghulam Nabi Azad to discuss the strategy for the Haryana assembly polls expected in October. But the proceedings soon spiralled out of control, a leader close to former chief minister Bhupinder Singh Hooda, said.
Those who attended the meeting said that Azad began by announcing that "certain organisational changes are going to happen soon, right from top till bottom".
He, as quoted by the Indian Express, said that he had prepared a "district-wise mass contact programme" for Haryana, which he circulated among those present and called for a detailed discussion.
Soon after, a leader claimed that "Hooda camp had come to attack Tanwar" an argument broke out between Jhajjar MLA Geeta Bhukkal, a Hooda loyalist, and legislature party leader Kiran Choudhry which was joined in by Congress Lok Sabha candidate from Karnal, Kuldeep Sharma.
When Kuldeep Sharma accused Tanwar of not calling him for an "introspection meeting" Tanwar hit back, claiming that Sharma did not answer his calls. This led to an intense exchange.
Narrating the whole incident, a leader told the Indian Express, that there were various issues that people raised in the meeting, including about the party's state leadership.
Tanwar lost his cool. He said, "I am alone but I will face you all. Mere ko agar khatam karna hai toh mujhe goli maar do'. Then, he walked out."
However, when asked later about Tanwar's reaction to Kuldeep Sharma, he said, "I don't know. He might have said that later, after I had left. I don't believe in violence. I am a Gandhian. If somebody says kill me, I can't help it. I didn't hear that.