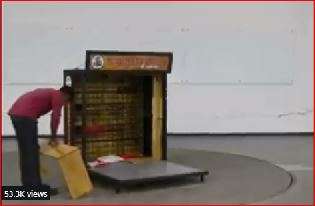 Haryana cobbler Narsi Ram has finally got a new kiosk that offers many facilities and is also suitable for all weather. And the credit goes to business tycoon Anand Mahindra.
Anand Mahindra recently shared a picture of Narsi Ram who was sitting in front of a billboard that claimed to be a hospital for 'wounded shoes'.
Anand Mahindra liked Narsi Ram's passion so much that he went on to say that the cobbler could teach marketing to management students.
Anand Mahindra's team tracked the cobbler and offered to provide help.
However, the cobbler refused monetary help and instead asked for a better kiosk.
Anand Mahindra obliged and asked his organisation's design team to work on the design of new kiosk.
 
The kiosk is now ready and Anand Mahindra tweeted a video of the kiosk on Wednesday.
Remember the cobbler Narsi Ram with the innovative banner 'Zakhmi Jooton Ka Hospital?' Our team had contacted him & conveyed my interest to invest in him.He said he wanted a good kiosk. This is what our Design studio in Mumbai came up with:Great work guys! Will be delivered soon pic.twitter.com/wDgKDPoeHr

— anand mahindra (@anandmahindra) August 1, 2018