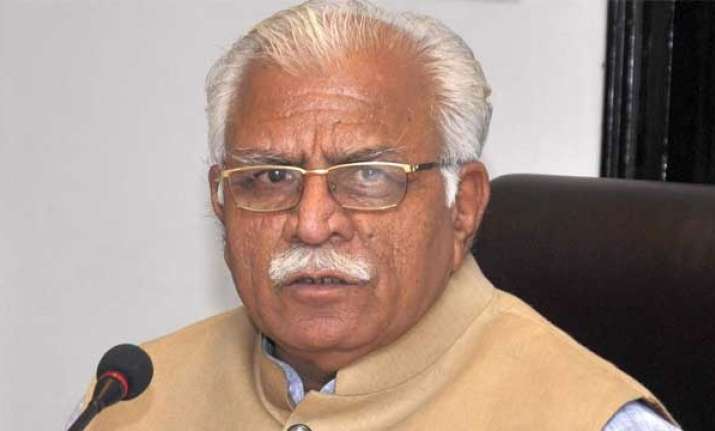 Haryana Chief Minister Manohar Lal Khattar Tuesday announced a sharp reduction in electricity tariff, a decision ahead of the Lok Sabha election year that provoked a noisy exchange in the state assembly.
"I am the chief minister of the state. I know what I can do," Khattar replied curtly to Leader of Opposition Abhay Singh Chautala later in the day when he challenged the CM's authority to fix power rates.
The chief minister announced varying slabs of rebates for households consuming up to 500 units of electricity per month.
Those who use up to 200 units will pay 2.50 per unit instead of Rs 4.69 from next month. Those consuming up to 500 units will pay Rs 4.68 per unit instead of Rs 5.55.
The subsidy will cost the state government Rs 677 crore per year.
Khattar called this a "historic decision" that would benefit 41.53 lakh domestic consumers.
The chief minister said he has now fulfilled his promise to reduce power tariffs in the state.
He also announced free electricity connections to 'dhanis' (hamlets) situated within one kilometre of the 'lal dora' village limits.
"The aim of the state government is to ensure that each household in the state has an electricity connection," he added.
Later, during Zero Hour, Indian National Lok Dal (INLD) leader Abhay Singh Chautala said it was the job of the Haryana Electricity Regulatory Commission (HERC) to fix power tariffs, and not that of the chief minister.
"Are you the chairman of the HERC," Chautala asked, reminding him that he had in the past told the INLD that only the regulatory authority could cut tariffs.
"I am the chief minister of the state," Khattar then told him.
"Mr Leader of Opposition, I know very well what I can do and what I cannot," he said.
Khattar said he knew it was the job of the HERC to fix power tariff.
"But if we want to give subsidy to the people out of the state exchequer, then we have the right do so. The rates which we have reduced today are not decided by HERC," he said.
Under the revised tariff, consumers using up to 50 units per month will Rs 2 per unit.
He also announced a scheme for the settlement of pending electricity bills. The surcharge amount would be waived subject to the payment of principal amount in instalments.
Earlier, the chief minister said the state government has signed an agreement with the Indian Oil Corporation for the setting up an ethanol plant at Bohli village in Panipat with a capacity of 100 kilolitres per day.
The move is meant to check air pollution as farmers in the area can sell their agriculture residue to the plant.