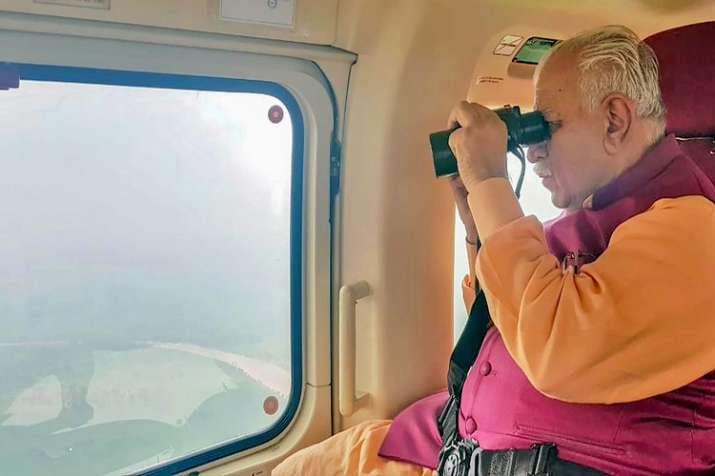 Haryana Chief Minister Manohar Lal Khattar on Sunday conducted an aerial survey of the affected areas as more than three dozen villages have been waterlogged in two districts of the state following overflowing of Yamuna. He has also instructed the concerned officers to conduct a revenue survey to assess the crop damage due to heavy rains.
Compensation will be provided by the state government to the farmers who have lost their crops to the flood. Several villagers took refuge on house rooftops to escape flooding.
At least 30 villages in Yamunanagar district and 10 villages in Karnal have been flooded following the release of over 600,000 cusecs from the Hathnikund barrage, said officials.
Authorities have issued a high alert in the districts of Yamunanagar, Karnal, Panipat and Sonipat as the Yamuna river continues to flow above the danger mark.
Yamunanagar Deputy Commissioner Girish Arora said that the Army and the National Disaster Response Force have been put on alert for rescue and relief operations.
The authorities began to evacuate hundreds of people living in the Yamuna catchment area following a sharp rise in the water level, the officials said.
Heavy rains continued to lash many parts of Himachal Pradesh and Uttarakhand while authorities released more water from the Hathnikund barrage during the day.
A flood control office has been set up by the Yamunanagar administration at the district headquarters for immediate response.
There was no report of loss of life in the state.