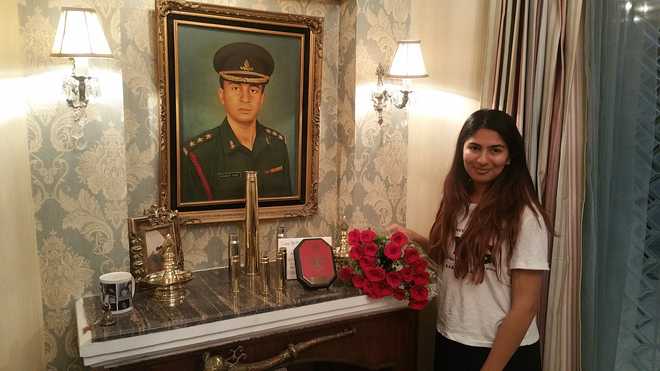 Contrary to the claims of 24-year-old Delhi University student Gurmehar Kaur who cooked up a storm with her online campaign against the ABVP over campus violence at the Ramjas College, reports suggest that her father Captain Madeep Mandeep Singh died defending a militant attack on a Rashtriya Rifles camp in August 1999, days after the Kargil war had ended.
In her viral Facebook post expressing her dissent against "violence by ABVP", Gurmehar had claimed that she was the daughter of martyr Captain Mandeep Singh, who died in the 1999 Kargil War. 
However, according to a report in The Indian Express, Gurmehar's father lost her life in a militant attack on a Rashtriya Rifles camp in August 1999. 
The Battle Casualty Report of Capt Mandeep Singh, accessed by The Indian Express, states that he was serving in the counter-insurgency operation, Rakshak, in Jammu and Kashmir.
Capt Singh was commissioned in the 49 Army Air Defence Regiment in 1991 and was serving with the 4 Rashtriya Rifles when he died fighting militants on August 6, 1999. His battalion was under the 7 Sector Rashtriya Rifles, which further came under the command of Victor Force. 
Capt Singh was martyred on August 6, 1999, whereas the Kargil war took place from May 3, 1999 to July 25, 1999.  
"Capt Mandeep Singh was commander of the company which came under anti-national elements' fire assault on the post. During encounter at approximately 1.15 am on August 6, 1999, he received splinter injury on left infraclavicular region and was declared dead on the spot," Indian Express reported quoting the Battle Casualty Report. 
Meanwhile, Brigadier Ashwini Kumar (retd), former Commanding Officer of 3 Rashtriya Rifles battalion, who was serving in the area when Capt Singh's headquarters came under militant attack, said he was closely associated with that unit as they were performing the task of providing security to Amarnath Yatra. 
"Two companies of 4 RR were under my command for this purpose, led by Lt Col D V Dey. Capt Singh and his men who fought against the militant attack on their base with great courage and tenacity. The attack was beaten back," he told the Indian Express.
Capt Singh's wife Rajvinder Kaur said that "she is upset at the manner in which her family has been thrown under the spotlight".
Kaur had last week changed her Facebook profile picture holding a placard reading, "I am a student from Delhi University. I am not afraid of ABVP. I am not alone. Every student of India is with me. #StudentsAgainstABVP."
Kaur today withdrew from the "Fightback DU" campaign, saying that "this is all she could take". 
"I have been through a lot and this is all that my 20-year-old self could take...I request to be left alone," she tweeted today.