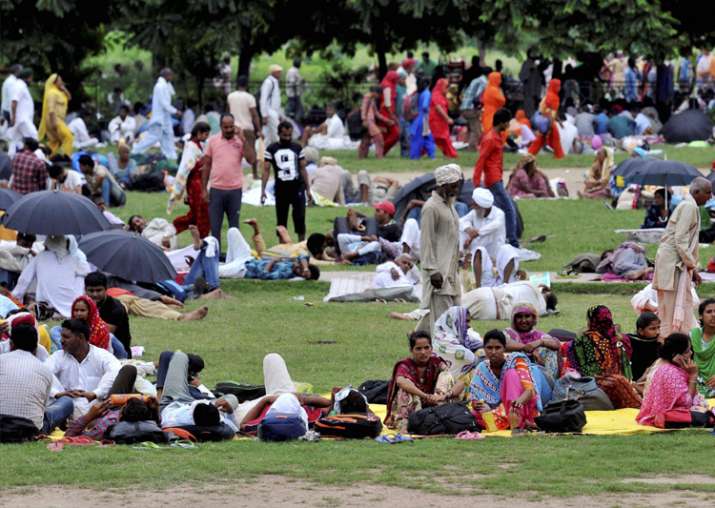 The Punjab and Haryana High Court today came down hard on the Centre and the BJP-led government in Haryana for its 'inability' to maintain law and order situation ahead of the verdict in a sexual exploitation case against Dera Sacha Sauda chief Gurmeet Ram Rahim Singh. 
The court asked the Centre to immediately provide forces, including paramilitary force.
Taking into consideration the sensitivity of the situation, the division bench of acting Chief Justice Surinder Singh Saron and Justice Avneesh Jhingan said that it 'did not want a situation similar to the Jat reservation stir'.
The bench also noted that it is expecting full cooperation from the Dera. Besides, it asked Haryana DGP why he shouldn't be suspended keeping gravity of the situation in view that over 1 lakh people have reached Panchkula where Section 144 is in place. According to Chandigarh DGP Tejinder Singh Luthra, one lakh followers have already arrived in Panchkula. He said elaborate security arrangements have been made with over 5,000 security personnel being deployed at sensitive and vulnerable points to maintain peace. 
The court further directed the Centre to make its own assessment and told Haryana government to monitor the situation closely and make all arrangements to deal with any situation.
Authorities imposed curfew-like restrictions in Chandigarh and at nearby Panchkula and shut mobile internet services in Haryana, Punjab and Chandigarh for three days from Thursday.
Haryana and Punjab have been put on high alert and prohibitory orders imposed ahead of the court verdict in the case involving Ram Rahim with authorities not ruling out taking Army's help to maintain law and order. 
Security forces were carrying out flag marches at many sensitive places in both the states. Paramilitary forces have already reached Punjab and Haryana and many more are on way to sensitive places there. 
The Centre has assured all possible help to the Punjab and Haryana governments to deal with any situation. "We are in regular touch with the governments of Punjab and Haryana. Whatever help is required, will be provided," a Home Ministry spokesperson said in Delhi. 
According to Haryana Additional Chief Secretary (Home) Ram Niwas, the state has got eight additional companies of paramilitary forces and an additional 2,500 police personnel from internal sources have also been mobilised for deployment in different parts of the state.
Dera followers have been assembling in large numbers at the sect's Sector 23 based "Naam Charcha Ghar" (congregation/prayer centre) in Panchkula to show their solidarity with the sect chief. With the arrival of Dera followers, including women, in Chandigarh's neighbouring city Panchkula, the Union Territory has been declared 'sensitive'. 
As a precautionary measure, educational institutes will remain closed in Panchkula district and its neighbouring city Chandigarh until Friday. The Haryana government said except for offices of essential services, August 24 and 25 would be observed as gazetted holidays in government offices, boards, corporations, and banks in Sectors 4, 5 and 6 of Panchkula only. Teaching work in all the universities and colleges in the state will remain suspended on August 25. According to officials, interviews to be conducted by the state's service selection board on August 24 and 25 have been rescheduled. 
In Punjab, all schools and colleges have been ordered to remain shut on Friday. A complete ban has been issued on carrying of firearms, with orders to shut down private gun houses selling arms and ammunition to license holders.
Chief Minister Amarinder Singh has ordered withdrawal of 1,000 police personnel from VVIP security for deployment on field duty to strengthen the security blanket in the state. State-owned Punjab Roadways will not run its buses towards Sirsa, where the headquarter of Dera is located, from today, while PRTC will stop plying of buses towards Haryana on Friday. 
The Haryana Roadways too have decided to suspend its bus service to Chandigarh and Panchkula depots for two days from today. 
The special CBI court in Panchkula is set to pronounce the judgment in sexual exploitation case against the Dera chief on Friday and he has also been asked to appear in person before the court on the same day. The case was registered in 2002 by the CBI on the directions of the Punjab and Haryana High Court after anonymous letters were circulated about the alleged sexual exploitation of two 'sadhvis' (female followers) by Gurmeet Ram Rahim Singh. However, the Dera chief has denied these charges.