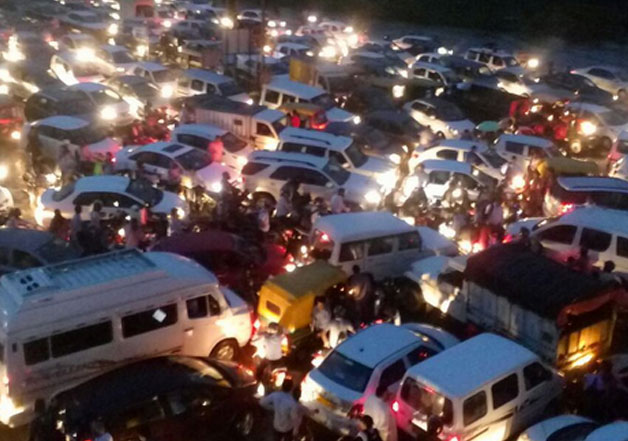 Repeated rains have worsened the traffic situation in Haryana's millennium city Gurugram. The roads are choked with knee-deep water creating a huge problem for commuters on the National Highway 8, with many being forced to brave 12-hour-long traffic jams.  
It started when heavy rainfall on Thursday left various roads flooded thus bringing traffic to a standstill. Offices and schools have been shut for two days seeing the traffic mess and flooding and officials are struggling to get the city back to normalcy.
Over four-feet-deep water was witnessed inundating some places near the expressway. Kanwarias (Lord Shiva's devotees bringing Gangajal from Uttarakhand), vehicles of NSG commandos, Central and state officials were also stuck in the rainwater under which the expressway and other arterial roads disappeared.
Meanwhile, a political blame game erupted with all parties blaming the government for the citizens' woes.
While the roads are flooded and blame game on in full swing, micro-blogging website Twitter saw the other side of frustration viz humour. Many netizens took to Twitter to post their hilarious tweets about the entire situation.
Here are few tweets which will crack you up:
Couples hanging out in #Gurugram right now pic.twitter.com/F87PP60vEV

— Sand-d Singh (@Sand_In_Deed) July 29, 2016
Film actor Aamir Khan trying to reach shooting location in #Gurugram floods pic.twitter.com/OMn49kIZsw

— Champ McStark (@BolshoyBooze) July 29, 2016
Kudos to #Gurugram City for successful test drives of the world's first Water Cars : pic.twitter.com/SDwlucDsUV

— Ye Koi ***** Hai Kya? (@intolerant_monk) July 29, 2016
Govt officials are planning to watch Mohenjo daro to learn better drain mgmt #Gurugram pic.twitter.com/zGG8qsmAKw

— ABHISHEK KUMAR (@abhinitrpr) July 29, 2016
Millennium city to #Gurgaon to #Gurugram now #Gurujam

— Brajesh Singh Rawat (@BrajeshRawat) July 29, 2016