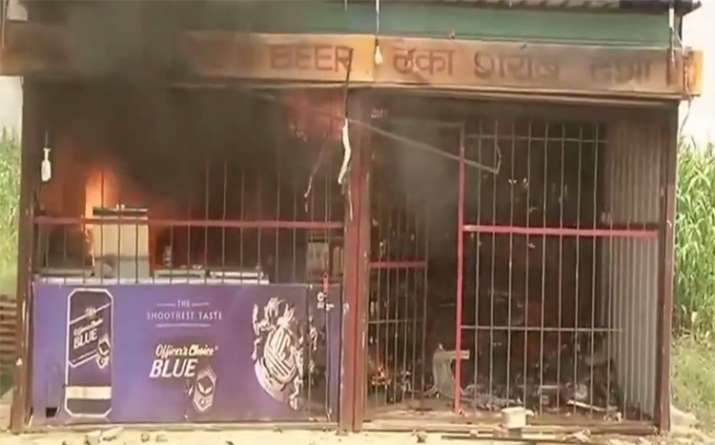 People protesting over the murder of a seven-year old child in a Gurgaon's Ryan International School turned violent on Sunday and torched a liquor shop near the school. Police used batons to quell the protest and detained 20 protestors that included parents and locals. Journalists covering the demonstration, including an India TV reporter, were also beaten up by the police. 
The protests were held over the gruesome murder of seven-year-old Pradyuman on Friday. Although the Gurgaon Police have arrested schoolbus conductor Ashok Kumar, people are demanding action against the school management. Protesters demanded that the school should be shut until a CBI probe is ordered into the incident. 
"The Gurgaon Police had to use mild lathicharge to disperse the agitators. The police detained over 20 protestors found agitating outside the school," Ravinder Kumar PRO Gurgaon Police said. 
Some of the demonstrators threw liquor bottles inside school premises to vent their ire against the school management, police said. The liquor shop is barely 50 metres away from the school. 
The protestors alleged that school drivers and conductors often consume alcohol from the liquor shop in their free time. 
Pradyuman Thakur was found murdered with his throat slit inside the toilet of Ryan International School on Friday, triggering public outrage. Gurgaon Police arrested school bus conductor Ashok Kumar in connection with the case. 
Kumar was inside the toilet, waiting for any student to come inside with the motive of sexual assault. The deceased was the first student who entered the toilet, the police said. 
Varun Thakur, the grieving father of Pradyuman appealed for calm saying the parents are not a mob. 
The Manohar Lal Khattar led Haryana government, meanwhile, has refused to withdraw recognition of the school saying it will affect the future of 1200 school children. 
"People have demanded that the recognition of the school should be withdrawn. But parents of the children have requested us that the move would jeopardize the future of 1200 students. Action will also be taken against management and owner of Ryan International School," Ram Bilas Sharma, Haryana's Education Minister, said. 
He also promised to hand over the probe to "any agency" if parents of the child are not satisfied with the Gurgaon Police investigations. 
The police on Saturday promised to conclude investigations and file a charge sheet within seven days.
The district authorities have also formed a three-member panel to find out if Ryan International School, Bhondsi, had followed security norms. The Central Board of Secondary Education (CBSE) also formed a two-member fact finding committee yesterday to probe the incident and sought a report from the school within two days.