Follow us on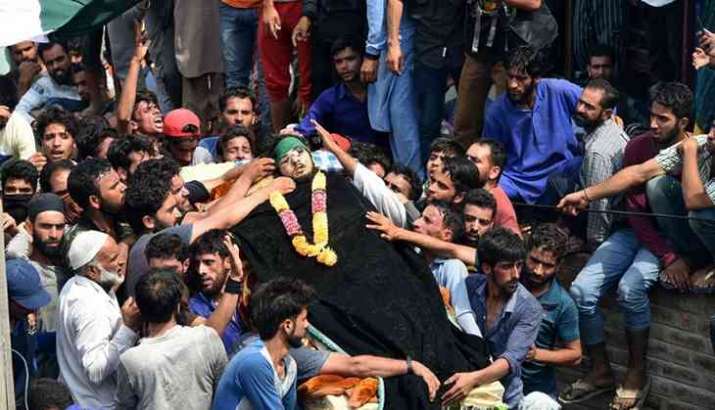 After giving the security forces a slip on several occasions, Lashkar-e-Taiba (LeT) divisional commander Abu Dujana was finally neutralised on Tuesday after a seven-hour gunfight in south Kashmir's Pulwama district. 
The mastermind behind the Pampore and Udhampur attacks, Dujana was killed after an intelligence tip-off that he was to visit Rukiya, allegedly his wife, in Hakripora village in Pulwama. 
Dujana's routine of meeting his wife, and sometimes other women, was known to the security forces. In fact, Kashmir zone IGP Munir Khan told the media that he had become an "eyesore" for many locals because he would "barge into any house and did whatever he wanted to", and that "he was a threat for the girls of the area". 
Addressing the media with Lt Gen J.S. Sandhu, General Officer Commanding of the Army's 15th Corps, Inspector General of Police Munir Khan said: "Dujana's killing is good riddance to a nuisance."
The intelligence agencies had reportedly informed the security forces that Dujana would visit his wife around July 3 to August 1. As expected, he arrived at the residential complex, but went to a different house in the neighbourhood. It was here that he was killed by the security forces along with his accomplice Arif Nabi Dar, alias Arif Lilhaari.
A joint cordon-and-search operation was launched at 4.30am and led by J&K police and its SOG and assisted by 182 battalion, 183 battalion, CRPF and 55 Rashtriya Rifles (RR). 
The inmates in the house, which included Dujana's wife and her parents, were told to leave. The family was then asked to persuade the Pakistani to surrender. He refused, triggering the gun battle.
Dujana was a category 'A++' militant and carried a reward of Rs 15 lakh on his head. He was a very close associate of Abdul Rehman alias Abu Qasim who was involved in an attack on a BSF convoy in Udhampur last year. Dujana was also involved in the killing of two CRPF personnel at Sangam in Anantnag district and in an attack on a police party at Gallander in Pampore area in which two constables were killed, says a PTI report.
The police said Dujana had broken loose from the LeT in last few months after which he established close proximity with Zakir Musa, who was recently appointed the head of Al Qaeda terror outfit in the Kashmir Valley.
Dujana was replaced by Abu Muhammad Ismail as the Divisional Commander of the LeT, a Pakistan-based group that masterminded the 2008 Mumbai terror attack that killed 166 Indians and foreigners.
Ismail had carried out the July 10 attack on an Amarnath Yatra bus in Anantnag district which killed eight pilgrims.
Khan added: "Whether or not there are protests and disruptions by protesters during our operations against militants, the security forces will continue their operations."
Both Khan and Lt Gen Sandhu said Dujana was now mostly indulging in "ayyashi" (debauchery) more than anything else.
6 more terrorists in hit list
After the killing of Dujana, the hit list of the security forces now includes names of Zakir Rashid Bhatt, alias Musa; Reyaz AH Naikoo alias Zubair; Zeenat-UL-Islam, alias Alkarna; Wasim AH, alias Osama; Abu Hamas; and Showkat AH Tak, alias Huzaifa, says an ANI report.
1. Zakir Rashid Bhatt: Also known as Zakir Musa, he was Hizbul Mujahideen's Divisional Commander in South Kashmir until recently. A resident of Noorpura, Awantipore, he joined the terror outfit in July 2013 and quit after Hizbul refused to endorse his statement threatening separatists for calling Kashmir struggle "political". Musa is listed under the category A++ and is now associated with al-Qaeda's cell Ansar Ghazwat-ul-Hind as its Chief Commander.
2. Reyaz AH Naikoo: Reyaz alias Zubair is the Divisional Commander of Hizbul Mujahideen in Kashmir. He was named a commander after the killing of Sabzar Ahmad Bhat. A resident of Tokun, Awantipore, he was recruited in December 2012 is listed under the category A++.
3. Zeenat-UL-Islam alias Alkama: He is associated with Pakistan-based terror outfit Lashkar-e-Taiba (LeT). A resident of Sugan Zanipura, Shopian, he was recruited on November 17, 2015.
4. Wasim AH alias Osama: LeT's Commander in Shopian, Osama is a resident of Hef Shirmal in the district. He was recruited on March 28, 2014 and became part of the Burhan Wani Group. He is listed under Category A++.
5. Abu Hamas: The Divisional Commander of Jaish-e-Mohammed, Pakistani-based Hamas has been active in the Valley since 2016. He is listed under the category A ++.
6. Showkat AH Tak alias Huzaifa: A category A++ militant, Showkat is the LeT's Pulwama District Commander. A resident of Panzgam in Awantipore, he was recruited on October 17, 2011.