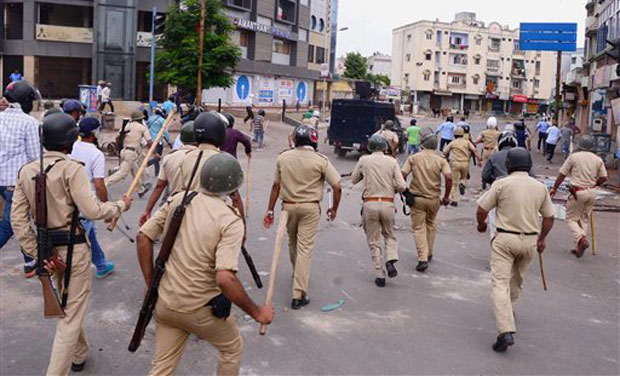 In the latest effort to get back migrants who left for their hometowns following a backlash, the state police and organisations for North Indians have requested non-Gujaratis to call up their friends and relatives who have fled the state.
The request came following a series of attacks on North Indians after a Bihar native raped a 14-month girl in Sabarkantha.
In an apparent attempt to make non-Gujaratis feel that the state belongs to them, the police said that they are not Bihari or UPite, but 'Indians'. 
Addressing a gathering, Additional Commissioner of Police Ashokkumar Yadav said; "Please stop thinking that you are from UP, MP, or Bihar. Think that you are Bharatiya. Ahmedabad is the city of all Indians".
"I request you to call your friends and relatives who have fled Gujarat to return and enjoy the festivities of Navratri and Diwali here. We have conducted 1,000 meetings with people. All people are safe in city. We are here to help you round the clock", he added.
"The entire North India cannot be held criminal for the crime of one person. We assure you that police will reach you in five minutes once you call us. There are 500 police vehicles posted in the city", he assured the migrants.
More than 400 arrests have been made so far from various parts of the state for allegedly attacking non-Gujaratis, especially those hailing from Uttar Pradesh and Bihar. Non-Gujaratis were targeted and hate messages circulated against them on social media after a native of Bihar was arrested for allegedly raping the toddler on September 28.