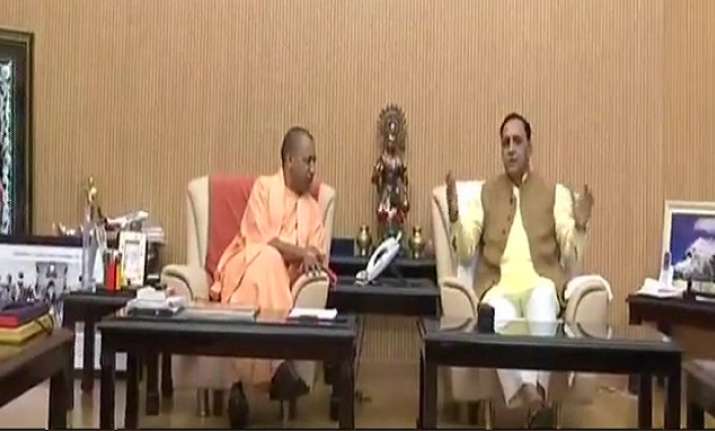 Gujarat Chief Minister Vijay Rupani held talks with his Uttar Pradesh counterpart Yogi Adityanath on Monday. Rupani, who is under severe backlash from all corners over the the recent attacks on the migrants from UP and Bihar in Gujarat following the rape of a 14-month-old in Sabarkantha reached met Adityanath at his official residence where the two leaders discussed on an array of issues concerning the security of the people in both the states.
Rupani has also formally invited  Adityanath to attend the  function to unveil the Statue of Unity, deemed to be the tallest statue, at Kavedia in Gujarat on October 31.
UP Chief Minister Yogi Adityanath had earlier released a statement on the incidents going on in Gujarat, asserting that he has personally spoken to Gujarat Chief Minister Vijay Rupani in the matter and no such incidents had taken place in Gujarat over the past three days, adding that people are spreading rumours.
Talking to the reporters after the meeting, Rupani said that the Gujarat government has taken adequate steps to ensure the safety and security of non-non-Gujaratis in the state.
Lauching a scathing attack on Congress and its president Rahul Gandhi, Rupani said that Opposition's efforts to incite violence in the state.
Meanwhile, Congress workers on Sunday tried to show black flags Rupani to protest attacks on Hindi-speaking migrants in the state.
Some party workers tried to show black flags to Mr Rupani when his cavalcade was passing through the VIP guest house area. They were, however, prevented by police.
Congress media coordinator Rajiv Bakshi claimed that black flags were shown to Mr Rupani by the party's youth wing workers, who also raised slogans against him.
More than 400 arrests have been made so far from various parts of the state for allegedly attacking non-Gujaratis, especially those hailing from Uttar Pradesh and Bihar. Non-Gujaratis were targeted and hate messages circulated against them on social media after a native of Bihar was arrested for allegedly raping the toddler on September 28.