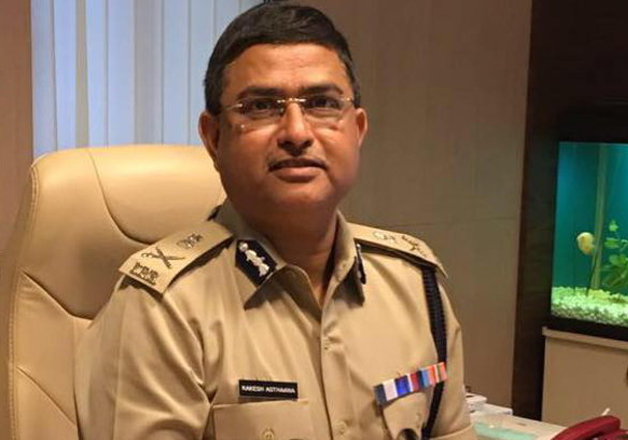 The prolonged secrecy maintained by the government on the appointment of the new Director of the Central Bureau of Investigation today ended, with outgoing chief Anil Sinha today handing over the baton to his second-in-command Rakesh Asthana.
Asthana, a Gujarat-cadre IPS officer of 1984-batch, succeed Sinha who retired from the service today after completing his two-year tenure.
Asthana was elevated as the second-in-command in CBI two days ago when Special Director R K Dutta, who was among the frontrunners for the top post, was shifted to the Home Ministry as a Special Secretary. The post of second Special Secretary was created for the first time in the ministry. 
"The competent authority has approved assignment of additional charge of the post of Director, CBI, to Rakesh Asthana, IPS (GJ: 1984), Additional Director, CBI with effect from the date of relinquishment of charge by Anil Kumar Sinha, IPS (BH:1979) on completion of his tenure with immediate effect and until further orders," an order issued by the Department of Personnel and Training, said. 
It is for the first time in the last 10 years that no new CBI chief has been named to succeed an incumbent. 
The CBI chief is selected through a collegium comprising the Prime Minister, the Leader of Opposition or largest party in opposition in Lok Sabha and the Chief Justice of India. The collegium has not been able to meet. 
60-year-old Sinha took charge of the agency when it was earning sobriquet of "caged parrot" and "closure bureau of investigation" and he managed to steady the ship by keeping away from media and ensuring a low profile with limited social circle. 
Sinha proved to be a soft-spoken yet assertive leader for the agency who guided investigation in a number of important cases like the Sheena Bora murder case and Vijay Mallya loan default case. 
In Mallya's case, Sinha ensured that a case is registered against the flamboyant liquor baron for his alleged default of loans extended to his now-defunct Kingfisher Airlines even though banks did not approach CBI with a complaint. 
He directed his teams to explore role of media baron Peter Mukerjea in the Sheena Bora murder case after the agency was handed over the investigation. 
Sinha ensured that CBI rigorously follows cases of piling of Non-performing Assets in public sector banks even though banks were reluctant to initiate a probe in these cases fearing loss of possible middle path which can be arrived at through discussions with defaulters. 
Sinha, an alumnus of Jawaharlal Nehru University where he studied during the first decade of its inception, follows his interests in psychology and economics and loves to spend a quiet time with his family.
With PTI Inputs