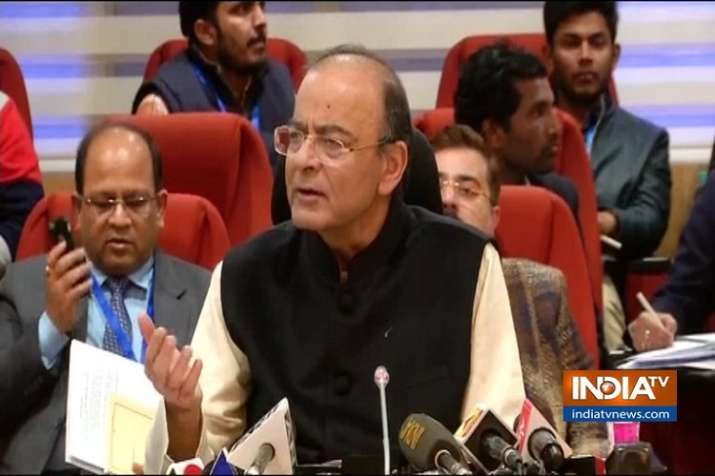 In a big relief for common man, the GST Council on Saturday decided to lower tax on 40 products. Talking to media persons after the GST Council meeting, Union Finance Minister Arun Jaitley said that out of these 40 products, 33 items have been placed into either 5 per cent or 12 per cent slab while  the remaining seven items have been brought under 18 per cent tax bracket (from 28 per cent slab).
Jaitley said that six items have been removed from the 28 per cent tax bracket under the GST regime. There were 34 items in the 28 per cent tax bracket which included luxury and 'sin goods' till now. However, the GST Council in its meeting on Saturday decided to take out 6 items from this list.
According to Jaitley, the fresh GST rate reduction will have an overall impact of Rs 5,500 crore on govt's revenue. The new GST rates will be effective from 1st January 2019, Jaitley added.
The Council also decided to remove all essential items used by the common man from the 28 per cent slab, Jaitley added.
Here are key decisions taken by GST Council:
28 items have been kept under 28 per cent slab, which are mainly luxury and sin products. Earlier, 34 items were under this slab
GST for cinema tickets less than Rs 100 reduced from 18% to 12%, for tickets above than Rs 100, GST reduced from 28% to 18%.
GST on third party insurance has been brought down to 12 per cent. 
GST rate on special flights for pilgrims lowered to 5% for economy class,  12 percent for business class.
3 items of automobile parts, 8 items of cement industry will remain under the 28 per cent.
Air conditioners, dishwashers largely used by upper segment of society, left at 28%.
Monitors and TV screens up to 32-inches and power banks will attract 18 per cent GST, as against 28 per cent earlier.
Watch: Arun Jaitley speaks after GST Council meeting