Follow us on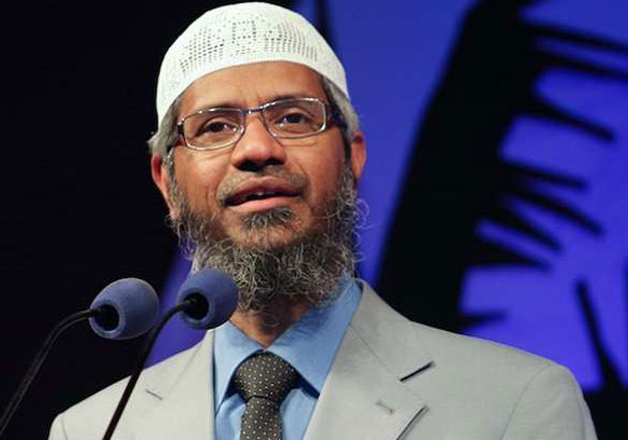 A Mumbai Police report indicting controversial Islamic preacher Zakir Naik for alleged provocative speeches and involvement in unlawful activities has been forwarded to the Centre.
According to a top Maharashtra government official, the report, which was submitted to Chief Minister Devendra Fadnavis, who also holds the Home portfolio, earlier this month, was forwarded to the Ministry of Home Affairs for further action.
There are also reports doing the rounds that the Centre is contemplating on slapping terror charges on Naik for motivating over 50 people accused in terrorism-related cases.
His Mumbai-based organisation Islamic Research Foundation (IRF) may also be declared an 'unlawful' organisation, Times of India reported.
An 'unlawful' association is different from a 'terrorist' organisation listed under Unlawful Activities Prevention Act (UAPA). The law deals with the activities that are punishable under Section 153A or 153B of the IPC (provisions dealing with threat to social and communal harmony).
The report, while quoting government sources, said that the two-pronged action plan against Naik has been worked out on the basis of scrutiny of his speeches. The Ministry of Home Affairs, which had sough legal opinion on registering a case against Naik, has now decided to book Naik under the UAPA for speeches.
Sources, the TOI mentioned, said that the Intelligence Bureau has already compiled a list of Naik's provocative speeches and submitted it to the MHA, which in turn forwarded this to NIA for action.
Fadnavis had earlier said that the police found Naik to be allegedly involved in unlawful activities and delivering provocative speeches.
"The primary ground for invoking terror charges against Naik are statements by those involved in past terror acts, conceding that they were motivated by his speeches," TOI report quoted an intelligence officer as saying.
Authorities have also decided to apply the UAPA to ban IRF on grounds of spreading hatred between religious communities through public speeches and 'forced conversions'.
Once IRF and its associate organisations are declared as 'unlawful', it will face closure of its offices across the country.
Apart from having its head office at Mumbai, IRF runs the Islamic International School in Mumbai and Chennai through the IRF Educational Trust and owns many properties in Mumbai.
The latest development comes after Fadnavis submitted the police report to the MHA.
Maharashtra Home Department's Additional Chief Secretary KP Bakshi yesterday informed that the report, which indicted Naik, submitted to the state government by Mumbai Police was in Marathi.
"We have translated the 71-page report into English and forwarded it to the Union Home Ministry two days ago," he told reporters in Mumbai.
He said the findings have also been sent to the state Law and Judiciary Department and its views are being sought on initiating action against the 50-year-old televangelist.
The police were asked to probe Naik's past speeches available online to see if any of them could have motivated youth to join terrorist outfits, a move which came in backdrop of reports that his preachings inspired some of the gunmen who attacked a Dhaka cafe on July 1, leaving 22 people dead.
The city police were also conducting an inquiry along with other probe agencies into the functioning of IRF and scrutinising its funds from various parts of the world.
Naik had a lengthy interaction with Indian media via Skype from Saudi Arabia on July 15 during which he rubbished the charge that his sermons had inspired terror activities.
Stating that he was a "messenger of peace", the physician-turned-preacher had accused the media of running a trial against him by highlighting "unverified" reports and "doctored" clippings.
Naik, who was abroad when the probe into the Dhaka attack turned him up as the man who inspired the jihadis, cancelled his plan to return to India. He is unlikely to return anytime soon.