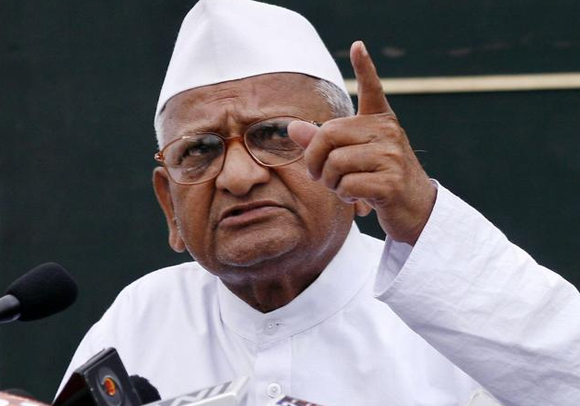 Anti-corruption crusader Anna Hazare alleged here today that the NDA government was more concerned about industrialists rather than farmers.
He also claimed that nearly 12 lakh farmers have committed suicide in the last 70 years in the country.
"The government is more concerned about the industrialists like Ambani, Adani, rather than farmers," he said while addressing a public meeting here.
"I had written a letter to Prime Minister Narendra Modi, in which I categorically stated that farmers were not getting adequate price for their produce and the government is directly responsible for this," he added.
The veteran social activist said that after coming to power, Modi had said that efforts would be initiated to rid the country of corruption, but it has not happened.
"Rather, only a lot of publicity was done on this.
The government lacks the will power (to make the country corruption-free)," he said.
Hazare recalled that whenever they held protests against the governments, they were put into jail.
He claimed that the Congress could not win the last elections due to their protest (over the Lokpal issue).
He said that for the protest he is going to launch from March 23 in New Delhi for a stringent Lokpal law and over farmers' issues, he has been touring the country since the last two months.
"We only want that common people get their dues and farmers get satisfactory price for their produce," he said.