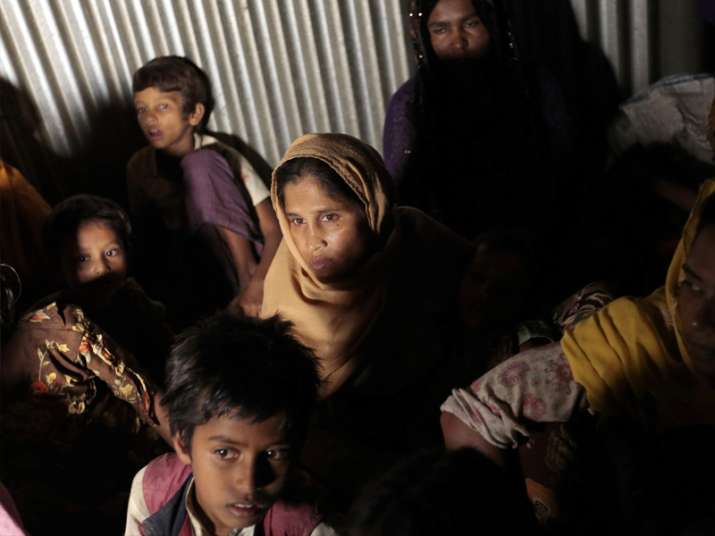 Illegal Rohingya Muslims who have taken refuge in Jammu and Kashmir may soon fall in the line of government action. According to news agency PTI, the government was mulling to identify, arrest and deport over 10,000 people who belong to Myanmar but have currently taken shelter in the border state.
According to the report, both the Centre and state governments have already started exploring ways to identify Rohingya Muslims and deport them.
The Rohingya Muslims are mostly living in Jammu and Samba districts and came to the state after entering India illegally either through the Indo-Bangladesh or the Indo-Myanmar border or travelling through the Bay of Bengal.
The issue of Rohingya Muslims, who are living illegally, was discussed at a high-level meeting convened by Union Home Secretary Rajiv Mehrishi and attended by Jammu and Kashmir Chief Secretary Braj Raj Sharma and Director General of Police SP Vaid.
"We are exploring ways on how to identify and deport the Rohingya Muslims," a Home Ministry official said.
As per the United Nations High Commissioner for Refugees, there are an estimated 14,000 Rohingya Muslims who have sought refuge in India. However, the MHA estimates that there are 50,000 illegal Rohingya migrants in India.
Although home to numerous refugees from across South Asia, India is not a signatory of the UN Refugee Convention and does not grant refugee status.
According to the Jammu and Kashmir government's estimate, Rohingya Muslims are numbered at around 5,700 but it could go up to 10,000. 
Some of the Rohingya Muslims were also found to be involved in petty crime but no one was found to be involved in any major crime nor anyone has been found to be radicalised, the official said.
Jammu and Kashmir Chief Minister Mehbooba Mufti had said in the state assembly on 20 January that some 'Madrasas' were associated with Rohingya Muslims in the state. 
She had also noted that no Rohingya Muslim has been found involved in militancy-related incidents but 17 FIRs have been registered against 38 Rohingyas for various offences including those related to illegal border crossing.
Some NGOs namely 'Shikawat' run by Mohammad-ul-Umar of Srinagar along with Rashid, SR Institute of Development of Rambagh (Srinagar) and Delhi-based NGO Daji were helping Rohingyas in cash and kind from time to time, Mehbooba had said.
Rohingyas originally belong to Rakhine province of Myanmar and many of them have left the country due to alleged persecution by the majority Buddhist community.
With PTI Inputs