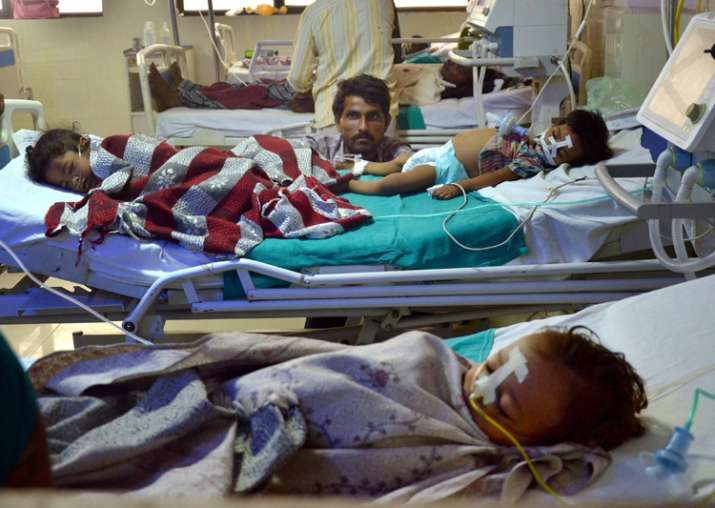 Taking suo motu cognizance of deaths of several children at a state-run hospital in Gorakhpur, the National Human Rights Commission (NHRC) has sent a notice to the Uttar Pradesh government over the tragedy, while observing that it amounted to "gross callousness" on part of the health administration of the state government. The notice, sent through UP Chief Secretary, has sought a detailed report in the matter along with the steps taken for relief and rehabilitation of the affected families as well as action taken against the guilty officers within four weeks.
"The Commission has observed that reported deaths, in such a large number in a government run hospital, amount to serious violation of Right to Life and Health of the innocent victims. This indicates towards gross callousness on part of the hospital administration and the Medical Education and Health Department of the Government of Uttar Pradesh. Earlier also, it has come across several instances of deaths in the hospitals due to Japanese Encephalitis," the NHRC said.
Over 60 children have reportedly died at Baba Raghav Das Medical College and Hospital since August 7, many allegedly for want of oxygen whose supply was disrupted after bills were not paid to the vendor.
The rights panel has taken suo motu cognisance of several media reports hinting at negligence in the supply of liquid oxygen at the hospital which resulted in the tragedy.
The report also cited the number of deaths due to Encephalitis in eastern Uttar Pradesh.
"In the last three decades, Japanese Encephalitis (JE) and Acute Encephalitis Syndrome (AES) have claimed over 50,000 lives in the eastern Uttar Pradesh, mostly in the Gorakhpur district. It is further mentioned that total 124 deaths were reported in the hospital till 8th August, 2017. 641 children died last year and 491 in the year 2015," the NHRC said.