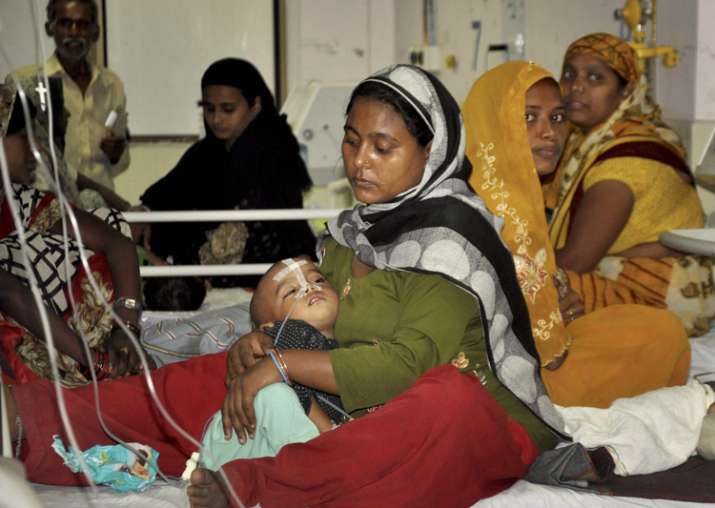 Thirty-three children, many of them new-borns, have died in the last 48 hours at the Baba Raghav Das (BRD) Medical College in Uttar Pradesh's Gorakhpur district due to alleged disruption of Oxygen supply. In the last five days, a total of sixty three children have lost their lives due to various reasons in the same hospital. The UP government, however, has denied that these deaths occurred due to disruption in Oxygen supply. 
Highlights:
* We are suspending BRD medical college principal with immediate effect for this negligent behaviour. High level probe to take place, headed by Principal Secy. Will wait for report, action will be taken. Till then suspending principal: Tandon: Minister for Medical Education A Tandon
​
* Children have not died due to disruption of gas supply: UP Health Minister Siddharth Nath Singh
* PM is constantly monitoring the situation in Gorakhpur. He is in constant touch with authorities from the Central & UP Governments. MoS Health Anupriya Patel & the Union Health Secretary will take stock of the situation from Gorakhpur: PMO 
PM Modi is extremely saddened. Will be reaching #Gorakhpur shortly so, I can get first hand information: A Patel MoS Health & Family Welfare pic.twitter.com/AHRNBS6bb5

— ANI UP (@ANINewsUP) August 12, 2017
01:30pm - Holding UP govt responsible for the Gorakhnath hospital tragedy, Congress demands resignations of UP CM Adityanath and state Health Minister Siddhartha Nath Singh
01:15pm - UP ministers Siddharth Nath Singh and Ashutosh Tandon hold meeting with Gorakhpur hospital authorities
01:12pm - Mayawati condemns BJP holding the party responsible for te death of 63 children at BRD hospital.
01:05pm - These letters reveal that Pushpa Sales, the agency which was supplying Oxygen to the hospital, had been writing letters to the District Magistrate for payment of pending bills and copies of these letters were marked to Principal Secretary and  Director General of UP Medical Education Department. The copies were also marked to the BRD Medical College Hospital.
01:00pm - 6 letters in possession of India TV prove negligence on part of the hospital.
12:58pm - Unnao MP Sakshi Maharaj terms Gorakhpur hospital tragedy as a massacre. He demands stringent action against the culprits saying 30 deaths is not a small incident.  
10:55am - Not a tragedy, it's a massacre: Kailash Satyarthi
10:50am – "We are looking into details of the matter from all angles -was there a shortage? Whether the authorities were aware of this? Was there any other issue? Who is responsible?," adds UP Health minister
10:49am – "No child died of shortage of oxygen in Gorakhpur hospital tragedy. Those behind any kind of laxity will not be spared," says Siddhartha Nath Singh 
10:41am - Parents of children who died must get compensation, free medicine must be provided to poor families across UP:  Ram Gopal Yadav
10:25am - Congress delegation, including Ghulam Nabi Azad and Raj Babbar, reaches BRD Medical College 
09:31am - Proper investigation to be done and quick action to be taken. It's serious issue, says Siddharth Nath Singh
09:29am – UP Health Minister  Siddharth Nath Singh and Ashutosh Tandon to visit Gorakhpur's BRD Medical College after meeting CM Yogi Adityanath.
It has been alleged that these deaths have been caused because of lack of supply of Oxygen to the hospital. It is being said that the deaths took place as  the agency responsible for the supply of oxygen stopped the supply through pipeline due to lack of payment of bills amounting to Rs 69 lakh. 
However, the government has refuted these allegations. 
The hospital has a special ward for patients of encephalitis. The children who died were admitted in three wards at the hospital. The incident comes barely two days after the visit of Uttar Pradesh Chief Minister Yogi Adityanath to the hospital to review its functioning. Gorakhpur, where the hospital is located, is the Lok Sabha constituency of the Chief Minister.
It has been alleged that repeated reminders were sent to the authorities at the government hospital and medical college in writing regarding shortage of Oxygen supply. They said the technician at the hospital had informed authorities of the shortage in oxygen levels, but wasn't paid heed to.