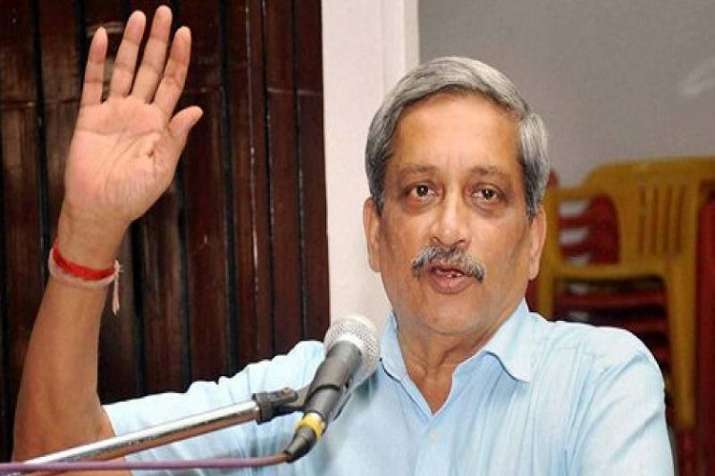 Amid reports regarding the presence of formalin in fish coming into Goa from other states, Chief Minister Manohar Parrikar on Sunday said that the people should realise that fake news or rumours can be damaging.
Speaking at the Goa IT event, Parrikar said that he had issued a statement to stop the circulation of rumours regarding the presence of unsafe fish in the coastal state.
Mobile phones have made a deeper penetration...However, there are also some drawbacks like fake news. According to a news (circulated) many times the cell phone connectivity is dangerous for humans. People want mobile phones but they don't want a (mobile phone signal) tower in their areas," he said. 
Parrikar said, "People should realise that fake news does more harm or a rumour can do more harm.....Yesterday, I was keeping quiet initially (on the unsafe fish issue) but finally I had to say that don't worry I am monitoring it. That (issuing a statement) was required because the people had stopped eating fish. How can Goans live without fish?"
Earlier on Saturday, Parrikar had tweeted that he was personally monitoring the issue of formalin in fish after 'spot analysis' of the Food and Drug Administration (FDA) had shown the presence of the organic compound.
A toxic chemical, formalin is used to preserve bodies and prevent its decay in mortuaries. However, the FDA later said that the formalin found in the sampled fish was 'on par' with its 'naturally occurring' levels and that there was no 'added amount' of it.
Talking about the IT policy, Parrikar said that Prime Minister Narendra Modi had told him that Goa could be the first place where "digital India" could become a reality. 
"As of now, though the IT sector has not been given a push by the government so far, I was surprised to know that there are 270 entrepreneurs that employ around 3,000 IT professionals," the former IITian said. 
Parrikar said he was under impression that most of the Goan IT professionals are employed outside the state."This came as a pleasant surprise for me yesterday when I realised that more than 3,000 IT professionals are employed in Goa," the CM said. 
Parrikar said Goa has always been a progressive state. "Goa was the first state to ensure that the class 11 students get laptops in 2003. Many people told me that you are spending so much money by giving support to students (but) you might not achieve what you have been trying to achieve," he added. 
Parrikar said the Goa government had ensured in 2012 that the practice to make cheque payment to the government be stopped. "Since December 2000, the Goa government has not issued any cheques (payment through cheques) and we have gone completely online with our payments. We have decided that all our transactions would be digitised by December this year," he added. 
The Goa Cabinet had last week approved Information Technology policy 2018 which focuses on reverse migration and creation of around 10,000 jobs in the next five years.