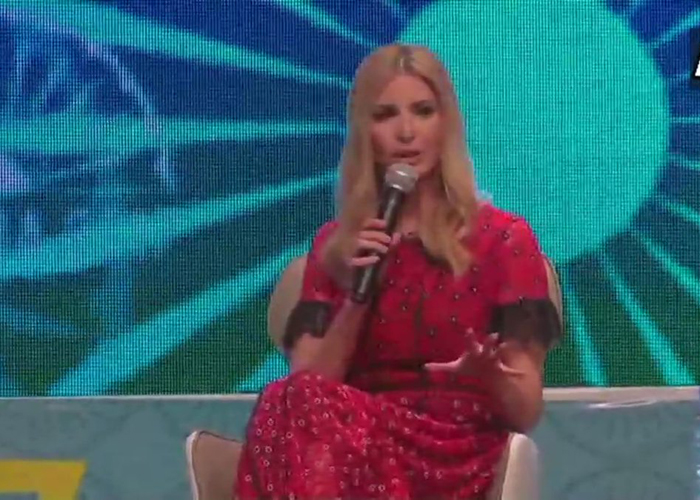 US President Donald Trump's daughter Ivanka, who is on three-day India trip to attend Global Entrepreneurship Summit (GES), on Wednesday attended a session on 'We can do it! Innovations in workforce development and skills training' with Cherie Blair Foundation for Women founder Cherie Blair and ICICI Bank Managing Director and CEO Chanda Kochhar.
Addressing the session, Ivanka said technology offers tremendous opportunity to women and women entrepreneurs.
"One thing I'd like to throw out there is that these aren't women's issues, we are half the population so we need to start thinking about them as critical issues", she said.
"Having equal gender representation is a financial positive to businesses today besides being a social responsibility," Ivanka added.
Speaking at the event, ICICI Bank Managing Director Chanda Kochhar said, "There is no other country in the world other than India where 40 per cent of the banking sector is headed by women."
Meanwhile, Ivanka will on Wednesday also visit the historic Golconda Fort. After visiting a session at the Global Entrepreneurship Summit (GES), she will leave for the fort, about 15 km from the Hyderabad International Convention Centre (HICC), the venue of the summit.
Later in the day, the Telangana government is also hosting a dinner for the guests at the Golconda Fort. However, she will not attend that dinner as she would be flying back on Wednesday evening.
The Golconda Fort on the fringes of the city was the capital of the Qutub Shahi kingdom from 1518 to 1687.
#WATCH Live: Ivanka Trump at #GES2017 in Hyderabad https://t.co/rzXldO3VWw

— ANI (@ANI) November 29, 2017