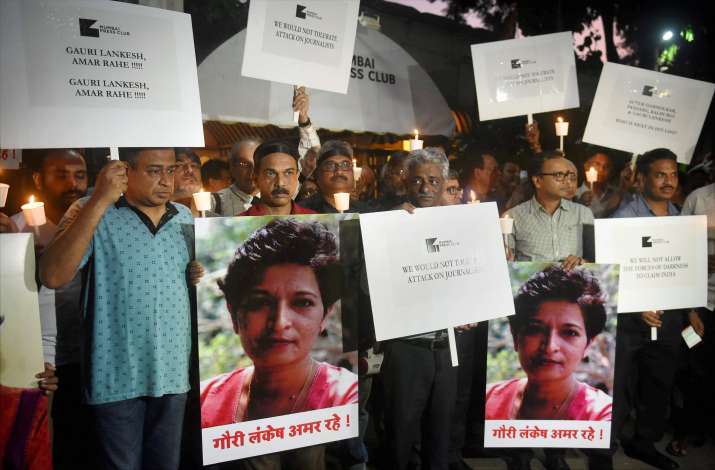 Karnataka Police's Special Investigating Team (SIT) has started its probe into the murder of journalist- activist Gauri Lankesh with the state government saying today it was hopeful of nabbing the assailants "as soon as possible."  The Congress government headed by Chief Minister Siddaramaiah had yesterday announced the formation of a 21-member SIT team headed by IGP (Intelligence) B K Singh with DCP (West) M N Anucheth as the Investigating Officer to probe the killing of Gauri that led to a wave of countrywide protests and condemnation across the political spectrum. 
"SIT members have started their investigation into the Gauri Lankesh murder case and the state government is hopeful of nabbing the assailants as soon as possible," state Home Minister Ramalinga Reddy told reporters here. 
Replying to a query, Reddy said the Inquiry Officer has been given full freedom to probe the matter and make public information as and when required. 
Asked whether police had given some hints on the ideological identity of the assailant based on prima facie evidence gathered by them, Reddy said, "The duty of SIT members is to investigate and nab the assailants. They may have some prima facie evidence, but they have the prerogative of not making it public." 
He said police are screening footage of the seized CCTV footage from the location where the 55-year-old outspoken journalist was gunned down. 
Also Read: Days after Gauri Lankesh's murder, another journalist shot at in Bihar's Arwal, condition critical 
Meanwhile, the family of slain journalist-activist today said they would wait for the SIT to find the culprits and would only approach the court if it fails.
"We will give all the cooperation the SIT needs," Gauri's brother Indrajit Lankesh told reporters here at a press conference. "We will wait for the SIT to give us information and clues on the killers." 
Lankesh, 55, editor of popular Kannada tabloid Gauri Lankesh Patrike, was shot dead at her Bengaluru home by three unidentified assailants on Tuesday night. Seven shots were fired at her, of which two hit her in the chest and one in the forehead.  She was known to be an anti-establishment voice with strident anti-right wing views.
Asked if there was any political compulsion for deciding against a CBI probe into the murder of Gauri Lankesh, Reddy said, "Who said this? We are open minded, and that is what Chief Minister Siddaramaiah said. If we feel the case is needed to be probed by CBI, we will hand over the case to it." 
Reddy said senior police officials are working on getting some more leads into the killing of progressive Kannada writer and rationalist Dr MM Kalburgi, 77, and that the government is hopeful of cracking this case as well. 
"The Kalburgi case has come to a certain stage, but we still need to gather evidence. Senior officials are working on it. I am hopeful that the government will solve this case as well as 99 per cent of such cases across the country have been solved and this will be no exception either," he said. 
Gauri's murder comes just days after the second anniversary of the killing of Kalburgi, who fell to bullets fired by two unidentified men at his residence at Dharwad in north Karnataka on August 30, 2015.
Her brother said Gauri had no personal enmities, "only ideological adversaries."  "She was condemning right-wing extremists through her publication, which might be the reason for her murder," Indrajit said. 
"However, other intentions cannot be ruled out," he said.
"People are branding her as a Naxalite, but she was only trying to bring them into the mainstream," he added.
(With agencies)