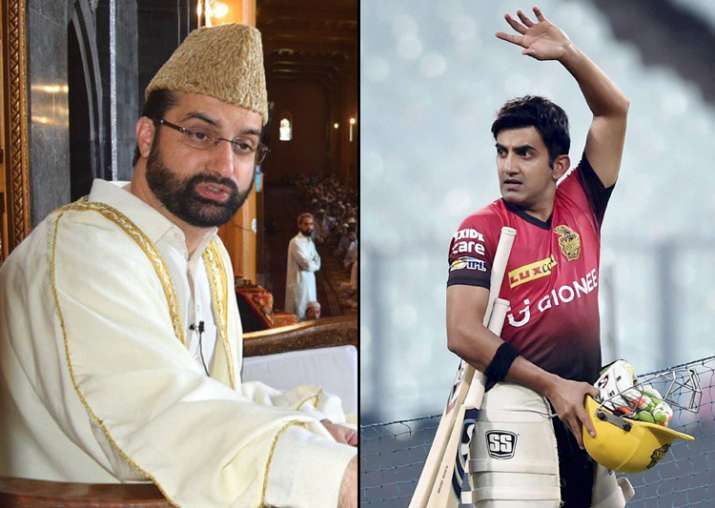 As the country reeled under the loss to Pakistan in the ICC Champions Trophy 2017 final on Sunday, people erupted in cheers in Kashmir Valley with some youths provoking security personnel by throwing firecrackers inside their camps. 
Pakistan beat India in a one-sided cricket final of the ICC Champions Trophy on Sunday.
Separatist leader Mirwaiz Umar Farooq attracted a barrage of angry tweets from Indian fans after he termed the celebrations as "early Eid."
"Fireworks all around, feels like an early Eid here. Better team took the day. Congratulations team #Pakistan," Mirwaiz tweeted. 
Former Indian opener Gautam Gambhi reacted sharply to the tweet and said, "A suggestion @MirwaizKashmir why don't u cross the border? U will get better fireworks (Chinese?), Eid celebs there.I can help u wid packing."
In Srinagar, celebrating youths burst crackers, waved Pakistani flags and raised pro-Pakistan and anti-India slogans, according to media reports. The situation was worse at Fatehkadal and Sakidafar in Srinagar and in Anantnag, where police and paramilitary personnel had to use teargas shells to disperse youths throwing firecrackers into their camps.
As youths were celebrating on the streets in Farah Kadal and Sekidafar areas of old city in Srinagar, some of them threw firecrackers inside a CRPF camp and the local police station. Reports said three youths were injured when security forces chased the miscreants away.
Reports from south Kashmir districts of Anantnag, Shopian, Kulgam and Pulwama as also from north Kashmir districts of Ganderbal, Bandipora and Kupwara indicated that the celebrations were widespread in the Valley.
Even women took to streets at many places in the Valley singing to express joy at Pakistan's victory against the defending champions. In villages where the youths could not lay their hands on firecrackers, they beat drums to express their joy.
The Indian Express reported a large number of men and women took out victory parades in most Tral villages. In the town, a huge gathered and raised anti-India slogans.
Unverified reports claimed that militants in Shopian and Khudwani in Kulgam fired in the air in celebration.
Celebrations were also reported from Sopore, Baramulla and other parts of north Kashmir.
The authorities did not interfere with these expressions of joy and celebrations and the security forces intervened only at places where the excited youths came close to security forces camps to throw firecrackers inside.