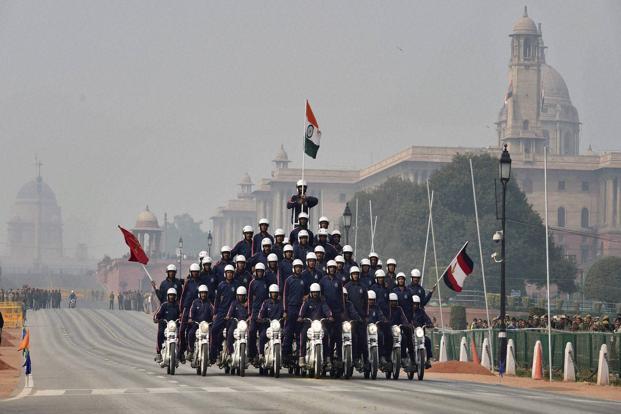 The country is all set to showcase its military might, culture and diversity on its 69th Republic Day on January 26, when 10 heads of Association of Southeast Asian Nations (ASEAN) attend the parade in an unprecedented event. 
Prime Minister Narendra Modi will host the Southeast Asian leaders as guests of honour at India's Republic Day celebrations, who attended the landmark India-ASEAN summit marking 25 years of ties on Thursday. The heads belong to Thailand, Vietnam, Indonesia, Malaysia, the Philippines, Singapore, Myanmar, Cambodia, Laos and Brunei.
Here are the highlights of the 69th R-Day parade
1.A tableau would be featuring Prime Minister Narendra Modi's Mann Ki Baat. Till date, 39 episodes of Mann Ki Baat have been aired since its inception in October 2014 and the show is aired (after the original broadcast in Hindi) in 18 languages and 33 dialects.
2. After a gap of 20 years, the Indo-Tibetan Border Police (ITBP) tableau will feature in the Republic Day Parade 2018. It will be showing 
troops patrolling the China border on their newly-inducted snow scooters. The ITBP is the only one among the multiple paramilitary and border guarding forces that will have a tableau in the parade. 
3. The ASEAN flag will fly in the sky over Rajpath for the first time. Five Mi-17 V5 helicopters of the Indian Air Force would precede the parade commander and the lead helicopter will carry the national flag.
4. The bikers from Jammu and Kashmir's Ladakh region, would be the first all-women contingent from any force to perform biking stunts at the annual event that displays a mix of India's military might and cultural prowess.
5. BSF's camel contingent and camel-mounted band, the glory of Republic Day parade will perform this year too. Camels have been provided a special diet and also made to exercise for 40 minutes.
6. An Income Tax Department float about special anti-black money drive launched post-demonetization will also be showcased.
7. The Navy will showcase a tableau in the Republic Day exhibition on Indigenous Aircraft Carrier (IAC) Vikrant, which will be commissioned in 2020. 
8. Indigenous Subsonic Cruise Missile 'Nirbhay' will be making its maiden appearence in the parade tomorrow. The Defence Development and Research Organization will exhibit both the missile and Ashwini radar system in R-Day Parade. 
9. India's indigenous weapon system, integrated helicopter Rudra - developed by Hindustan Aeronautics Limited— will make its debut at the Republic Day this year. Also, the 'eye in the sky' Airborne Early Warning and Control System (AEW&C) 'Netra' will fly over the Rajpath.
10. This year's parade will also see participation from over 770 students, who will perform Kathak and folk dances of Cambodia, Malaysia, Thailand and other countries.
23 floats will be on display in this year's Republic Day parade. Of these, 14 would be representing different states and Union Territories and the rest would be of ministries and departments of Government of India. Apart from this, around 61 tribal guests from various parts of the country have been invited to witness the Republic Day celebrations