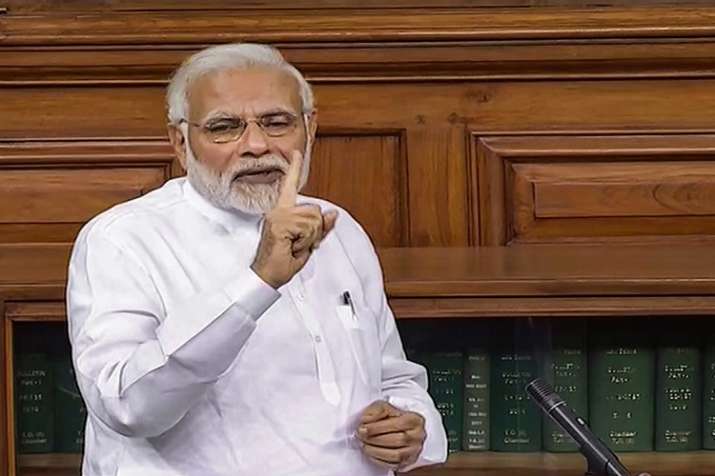 Prime Minister Narendra Modi on Friday gave a strong counter-reply to the no confidence motion against his government in the Lok Sabha. The Prime Minister did not mince his words in levelling harsh criticisms at the Congress party over their allegations.  Taking a dig at Congress President Rahul Gandhi's so called 'out-of-the-box' gesture of hugging and his 'wink' in the Parliament, he said that the entire nation witnessed what happened in the Lok Sabha. He also lashed out against the Congress over the allegations regarding lying about the Rafale jet deal. He also vehemently criticised Rahul Gandhi over his his 'jumla' strike remark. He also condemned the recent instances of mob violence and urged the state governments to punish those who indulge in violence.
Here are the some of the statements made by the charismatic leader:
1.  "Some people were asking that why was the motion even moved. But I think it has at least exposed the kind of opposition some people to have towards development. Today's debate showed how some people are surrounded by politics of negativity".
2.  "What we saw among members of the Opposition was sheer arrogance. The only thing they have to say was, remove Modi. Have some faith in the democracy, because in this House, nobody can unseat anyone. Only people elect their leaders".
3. "In the morning, the voting was not over, the debate was also not over one member comes running to me saying- Utho Utho Utho..What is his hurry to come to power? Let me tell this member it is the people who elected us. That is how we have come here. To remove one Modi, see who all they are trying to bring together".
4. "This is not a floor test for the government, it is a floor test for the Congress and its so-called friends and allies. No-confidence motion is a ruse to keep their flock together. The only aim is to remove a single person. At least trust your allies and friends just as much you distrust the government".
5. "We have the honour of working towards electrification of 18,000 villages that were in the dark for 70 years.Most of these villages were situated in Eastern India and the Northeast. But no one thought about them because they didn't fit into the math of vote bank politics".
6.  "The fight against Black Money is going to continue. I know I have made many enemies due to this but it is fine".
7.  "The Congress party has no faith in the Election Commission of India, they lack trust in the judiciary, the CJI and the RBI. They don't believe in the international agencies. They have confidence in nothing. The entire nation has faith, but they don't trust. This is because lack self-confidence".
8. "Just because of one careless allegation in the House on Rafale deal, both the nations had to release statements. We should not indulge in such childish behaviour. For how long will these people continue being immature. And this is the case when they have enjoyed power for so long".
9.  "You called the surgical strike a Jumla Strike. You can abuse me as much as you want but stop insulting the jawans of India. I will not tolerate this insult to our forces".
10. "A member said that I can't look them in the eye. He is right. He is a big  naamdaar, while I am a backward caste man from a poor household. I am a simple  kaamdaar. How can I dare to look them in the eye?"
11. " I had read a statement in the morning. 'Who says we don't have the numbers.' Look at the arrogance. When in 1999 someone stood outside Rashtrapati Bhavan and said we have 272 and more joining, then we saw what happened. Atal ji's govt was destabalised and they never formed the government".
12. "The Congress party has lost its touch from ground reality. They are cut off from their voter base. This is the reason they are being wiped off from state after state".
13. "Atal Bihari Vajpayee Ji created 3 states: Uttarakhand, Chhattisgarh and Jharkhand. It was done peacefully. These states are prospering. The Congress divided Andhra Pradesh behind shut doors and their conduct then was shameful".
14. "I remember a statement made by a TDP MP who had said that the special package is better than special status. State chief minister Chandrababu Naidu had also thanked the finance minister. But they did a U-turn".
15. "I want to tell you about the NPA problem. Much before Internet Banking, Congress Party invented phone banking and this caused the NPA mess. A phone call was sufficient to secure loans for their cronies and the nation suffered. To repay old new loans, new ones were issued. The web of NPAs was spread during this time".
16. "Any incident of violence brings shame to the nation. I will once again urge the state governments to punish those who indulge in violence".
17. "We will do everything for the people of the country. I once again ask them to bring another no-confidence motion in 2024".