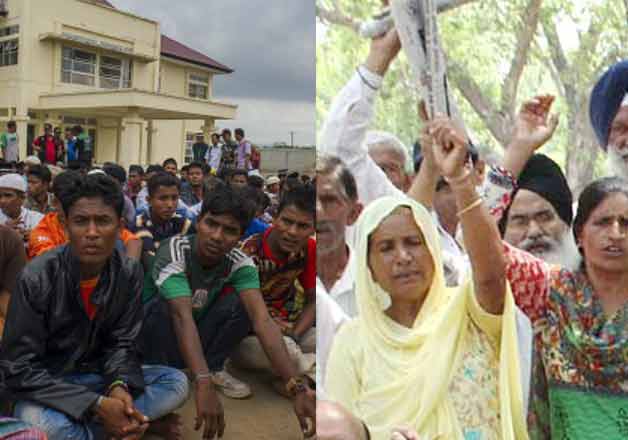 Both the Kashmir valley and Jammu have witnessed a spate of protests recently for reasons seen by residents as a threat to their regional and religious security.
While the separatists and opposition in Kashmir are lambasting the PDP-BJP government's move to issue identity certificates to West Pakistan refugees in Jammu and Kashmir calling it an attempt to dilute state subject laws, leaders in Jammu have raised the settlement of Rohingya Muslims in the region, terming it an attempt to change its demography.
The state government, however, has defended its decision to provide identity certificates to West Pakistanis, almost all Hindus, who came to the Valley at the time of partition.
"We are only issuing them identity certificates so as to help them get jobs in paramilitary forces and other central government establishments as citizens of India,"  state government spokesperson and Education minister Naeem Akhtar told The Indian Express.
The National Conference described the issue of certificates to the refugees as a "first step" towards getting them permanent resident status and property rights in the state, the IE reported.
Jammu and Kashmir government has already issued a clarification after protests against the move, saying it has decided to give only identity certificates to WPRs and the settlers were not being given "domicile certificates". 
However, such assurances have not appeased the residents of the Valley who see it as an attempt to dilute state subject laws. 
There were violent protests in Sopore town in Kashmir over the West Pakistan refugees after the prayers on Friday, with police lobbing teargas shells and using lathis to control the crowd, IE reported
Jammu Kashmir Liberation Front chairman Yasin Malik was detained in Srinagar, while Hurriyat leader Mirwaiz Umar Farooq led another protest in old Srinagar town.
BJP leaders, on the other hand, have said that they would raise the issue of the "increasing number" of Rohingya Muslim refugees in the state in the coming Budget Session of the Assembly. 
"There are no records regarding them, and their settlement in a sensitive border state is a great threat to national security as these people can be easily used by anti-national elements," said BJP Nowshera MLA Ravinder Raina.
Without naming the Rohingya Muslims, the Chamber of Commerce and Industry of Jammu has called the presence of "foreigners" in the city and its outskirts a "sinister campaign" to change the demography of the area by "unseen forces". Chamber president Rakesh Gupta urged the people of Jammu to get ready for a "final fight".