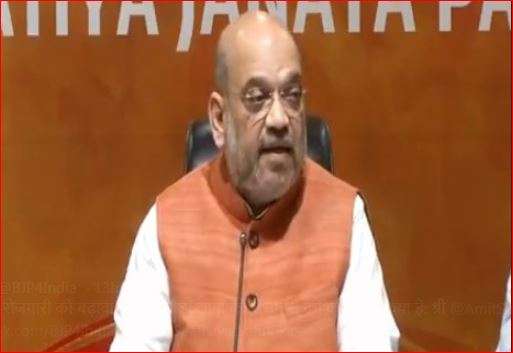 Narendra Modi-led BJP government completed four years at the Centre on Saturday. On this occasion, BJP is launching a fortnight-long programme to celebrate its achievements. Here are some of the achievements as listed by Prime Minister Narendra Modi, Amit Shah and the BJP.
1. Crackdown on black money and corruption
Narendra Modi government claims to have taken  stringent action against coruption and black money. Recalling his historic announcement on demonetisation of all 500 and 1000 rupee notes to crack down the flow of black money, PM Modi said that that at present the nation is going from 'Kala Dhan' to 'Jan Dhan' i.e. from bad governance to good governance.
"Three thousand raids were conducted by various agencies and undeclared income to the tune of Rs 73,000 crore was unearthed. Tough rules against black money have sent shivers down the spines of many who have come under one platform," Modi said in Cuttack.
The government also claimed that legislations such as the Black Money (Undisclosed Foreign Income and Assets) and Imposition of Tax Act and the Benami Property Act were brought in to avoid corruption. 
2. Transforming India into a Global Growth Engine
According to the statistics put out by the Bharatiya Janata Party, India's GDP growth has seen a stupendous growth of 31 per cent as compared to that of the world (four per cent) over the past years.
India becomes the global growth engine. https://t.co/IX22eHn3s6 #SaafNiyatSahiVikas pic.twitter.com/GbeUdev3ri

— BJP (@BJP4India) May 26, 2018
3. Jan Dhan Yojana
Prime Minister Narendra Modi annonced his ambitious Pradhan Mantri Jan Dhan Yojana or the prime Minister's People's Welfare Scheme on his first independence speech on 15 August 2014. Four years later, the Prime Minister took immense pride in his government for opening 31.52 crore Jan Dhan accounts over the past four years to serve the banking needs of the poor.
4. Pradhan Mantri Ujjwala Yojana (PMUY) 
Under this scheme more tham 3.8 crore Below Poverty Line  (BPL) families were given free LPG connections. 
5.  Electrification of villages
The government launched the Deen Dayal Upadhyaya Gram Yojana (DDUGJV) on July 25, 2015. Today, thanks to the successful implementation of the scheme, no village in India is in darkness. Also the SAUBHAGYA scheme launched by the government ensured that every household is electrified.
No village in India is now in darkness. DDUGJY ensured every village is electrified. SAUBHAGYA ensuring every household is electrified, targeting 4 crore un-electrified households. https://t.co/Vb2FwWxTsU #SaafNiyatSahiVikas pic.twitter.com/Jy75SJD4Ny

— BJP (@BJP4India) May 26, 2018
6. Sanitisation facilities
Heralding a revolution in sanitisation- this was a prime motive of the Modi governement when it ascended to power in 2014.  Under the Swachh Bharat Mission, over 7.25 crore toilets were built. During the past four years the sanitation coverage in the country went up from 38% in 2014 to 83% in 2018.
"Till 2014 39% of the population had access to sanitation facilities, today the figure is over 80%. From independence till 2014 there were around 6 crore toilets in the country but in last four years 7.5 crore toilets have been made", said PM Modi during his address in Cuttack.
7.  Welfare of farmers
For the welfare of the farmers, the government implemented a "mutli-faceted focus" on doubling farmers' income, besides distributing 12.5 crore soil health cards and insurance under the PM Fasal Bima Yojana at nominal rates, according to the BJP
8. Improved infrastructure, transport facilities
In the area of infrastructure, BJP chief Amit Shah said projects worth lakhs of crores of rupees were implemented "without a scam". This includes 53,000 km road worth Rs 5.35 lakh crore under the Bharat Mala initiative. The largest tunnel and the largest bridge in the country were built by the Modi government, which has also initiated bullet train project on Mumbai-Ahemdabad route, he said. 
9. Surgical strikes
Addressing reporters on the occasion of the Modi government's fourth anniversary, BJP president Amit Shah said that through the 2016 surgical strikes conducted by the Indian Army across the Line of Control (LoC), the government exhibited its political willingness to take on the country's adversaries. "In a historic first, India carried out surgical strikes showing a new mettle", he said.
10. Better health facilities
According to amit Shah, ensuring affordable and quality healthcare across the country has been one of the campaign promises of the BJP government. Under Ayushman Bharat scheme, the government intends to provide health insurance to 10 crore families. The government also launched Pradhan Mantri Surakshit Matritva Abhiyan scheme to ensure the good health of mother and child.
ALSO READ: Four Years of Modi Government: From job crisis to rising fuel prices, here's how opposition slammed BJP regime