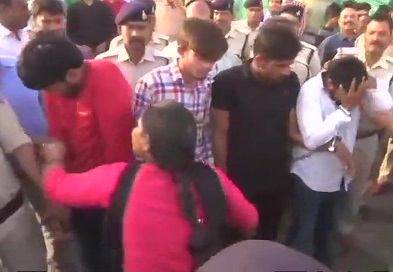 Four men were arrested by Madhya Pradesh police on Sunday for allegedly gang-raping a girl in Bhopal. The accused were paraded in public and were made to face the wrath for the heinous act. 
A police official, Rahul Kumar Lodha, confirmed the arrests made in the case. 
"All four involved arrested. One of the accused who used to be her friend, tried to contact her, invited her to meet her at some place to sort out issues. He then took her to his friend's house & called other friends to the place, where she was raped," he said. 
The state police paraded all the four accused in public, who were made to face the angst of the people. All of them were slapped by women in the area and were also made to do sit-ups in public. 
Bhopal: Police made four accused of gang-rape of a girl parade in the city. The accused were slapped by women and made to do sit-ups in public. pic.twitter.com/2QTCacDksU

— ANI (@ANI) March 25, 2018