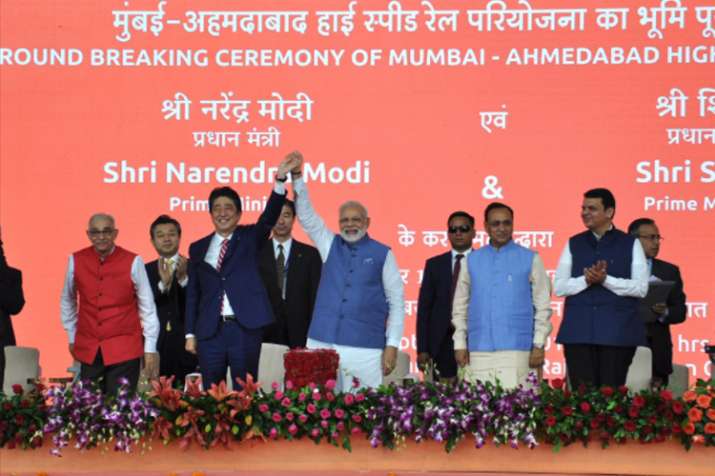 Prime Minister Narendra Modi's dream of high-speed bullet train running on Indian tracks achieved a landmark on Thursday as he, along with his Japanese counterpart Shinzo Abe, laid the foundation of the Rs 1.08 lakh crore ambitious project in Ahmedabad today.
Addressing people in his home state, PM Modi said that the bullet train would go from "my Gujarat to my Mumbai". 
India's first bullet train, which is expected to hit tracks by 2022, will connect Ahmedabad to Mumbai, bringing the travel time down from seven hours to less than three. 
The project which was launched in Ahmedabad today by PM Modi and Shinzo Abe in the packed Athletics Stadium, is expected to bring in employment, revenue and even international trade to both the cities.
The project, based on Japan's Shinkansen super speed train technology, is also likely to give the fast-growing India-Japan business ties a major fillip. The Rs 1.08 lakh crore ($17 billion) 508-km Ahmedabad-Mumbai line adds to the growing list of major India-Japan infrastructure cooperation projects.
Addressing the large crowd, PM Modi made it a point to bring in the flavour of Gujarat, where elections are due in the next few months. 
"It will not just reduce distance but also bring the people closer. The train will go from my Gujarat to my Mumbai. It will mean less cars on roads, it will mean a cleaner environment and also bring in revenue," he said.
He said that no country can grow if they don't dream big, adding that one needs to expand his dreams and decide his strength to grow.
The area between Mumbai and Ahmedabad would become a Shinkansen economic zone where trade will get a push, he added to roaring applause. 
Modi, sometimes breaking into Gujarati during his Hindi speech, addressed his constituency by praising their art of bargaining.
Japan has extended a soft loan for the ambitious Rs 1.10 lakh crore project, conceptualised by Modi. It is a joint venture between Indian Railways and Japan's Shinkansen Technology.
 
Lauding Japan, he said the country was such a friend that it gave a loan of Rs 88,000 crore at 0.1 per cent interest for the project.
"The bullet train is in a way a big gift from Japan to India. It is in a way a project being constructed for free," said PM Modi.
The high-speed rail project between the two cities, about 500 km from each other, is expected to be completed by 2022.
PM Modi said that this is not the time to develop slowly and that the priority is high speed. He asserted that the bullet train will increase the speed and decrease the distance, which will open up new economic opportunities.
Allaying fears that the new technology is for the rich only, Modi said it can also be used for empowerment of the poor. 
The prime minister also said the high speed training institute for the bullet train coming up in Vadodara, the foundation for which was also laid today, is "many times more important". 
The Japanese prime minister said a strong India is in Japan's interest, and vice versa, and left no stone unturned to praise Modi and even Gujarat.
"My good friend prime minister Narendra Modi is a farsighted leader. And he took a decision two years ago to bring high speed rail in India and to create a New India," he said, adding that his country had decided to fully support Modi's vision, culminating in the progress of the project. 
For the opposition, Abe's visit to Gujarat and the bullet train project in particular is setting the stage for the BJP's high voltage campaign in the state.
The Congress raised questions over Abe's visit to Ahmedabad and Gandhinagar and not the country's national capital.   
(With inputs from agencies)