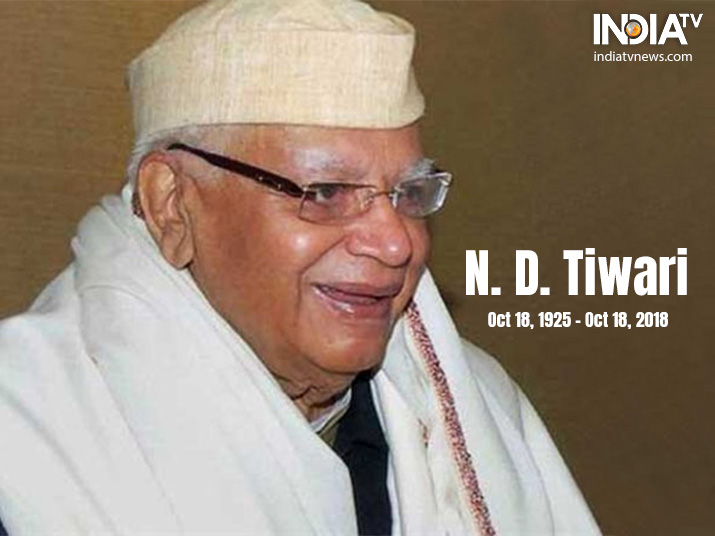 Former Uttar Pradesh and Uttarakhand Chief Minister ND Tiwari passed away at Max Hospital in Saket here on Thursday, on the day of his birthday. He was 93-year-old and was suffering from renal and other old age related problems. He passed away at 3 p.m. Since July, he was in the Intensive Care Unit (ICU) of the hospital. 
Tiwari was formerly in Praja Socialist Party and later joined the Congress.
Uttarakhand Chief Minister Trivendra Singh Rawat condoled Tiwari's death and tweeted, "Tiwari's death is a personal loss for me." 
"He played an important role in Indian politics. He will be remembered as an able administrator, diplomat and for working towards progress of Uttarakhand just after the state was formed," Rawat added.
"I am saddened by the untimely demise of former UP and Uttarakhand Chief Minister ND Tiwari. I offer my deepest condolences to his family and pray that his soul rests in peace. He will always be remembered as an able administrator," said Uttar Pradesh CM Yogi Adityanath.
"He will always live in the hearts of people for the works he has done," said BJP president Amit Shah.
Congress president Rahul Gandhi and former PM Manmohan Singh also condoled Tiwari's death.
Meanwhile, Uttarakhand Government announced three day mourning in the state and during this period the national flag will be flown at half mast in all government offices throughout the state. No official function will be organised in the state during this period.
WATCH VIDEO: Former UP and Uttarakhand CM ND Tiwari passes away in Delhi
(With inputs from agencies)