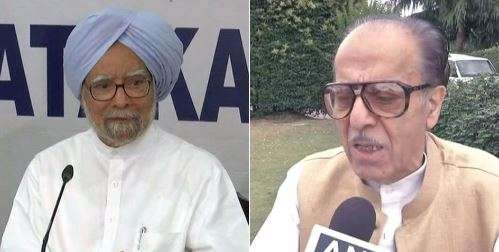 Former Prime Minister Manmohan Singh will not attend Congress leader Saifuddin Soz's book launch in Delhi on Monday, said sources. The grand old party on Friday distanced itself from the controversial statement of its veteran leader Soz in which he said that "independence" is the first choice of Kashmiris. The party has termed Soz's statement as a 'cheap trick' to sell his latest book.
"We have nothing to do with his statement. Kashmir is an integral part of India and this fact can never be changed," said Congress spokesperson Randeep Singh Surjewala. "This was a cheap trick by him to sell his book," Surjewala further added.
However, commenting on Soz's remark Union Minister Jitendra Singh said, "This has been a trend for Kashmir centric politicians. When they're in power they swear by Kashmir being an integral part of India. The moment they're thrown out of power they start using this separatist or semi-separatist jargon."
Taking strong objection to Soz's statement, Shiv Sena's Manisha Kayande said that Congress leader should "consider migrating to Pakistan". 
"Congress president needs to reply on Saifuddin Soz's statement and if Congress vouches for his statement. If he (Saifuddin Soz) has so much affection for Pakistan and Musharraf then he should consider migrating to Pakistan and become his servant," Manisha Kayande said.
Making a controversial statement Soz, a former Union minister had said, "Musharraf said Kashmiris don't want to merge with Pakistan, their first choice is independence. The statement was true then and remains true now also. I say the same but I know that it is not possible." 
Soz's statement has come at a time when the tension in the Valley has increased many folds. The BJP government also recently pulled out of an alliance with PDP alleging that the state government failed to control the law and order in the bordering state.
(WATCH VIDEO) BJP leaders slam Congress leader Saifuddin Soz over his controversial statement on Kashmir
(WATCH VIDEO) Congress distances itself from Saifuddin Soz's controversial remark on Kashmir