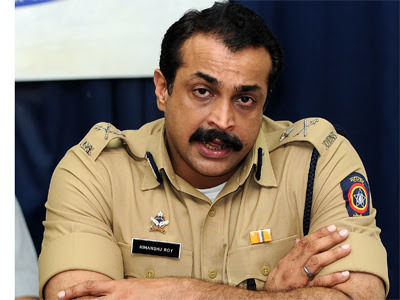 Former Maharashtra Anti-Terrorism Squad (ATS) chief Himanshu Roy allegedly committed suicide by shooting himself at his residence in South Mumbai today. The 1988-batch IPS officer allegedly shot himself at his residence with his service revolver. Roy, who also served as Additional Director General of Police (Establishment), was rushed to Bombay Hospital, where he was declared dead. Roy, who was joint commissioner of police (Crime) from 2012-2014, is credited with leading the investigation into the IPL betting scandal. He was then transferred to the state ATS. During his tenure as the agency's chief, software engineer Anees Ansari was arrested for allegedly planning to blow up the American school at the Bandra Kurla complex. Reports say that the supercop was battling cancer and was on a long medical leave. 
Police officers in field jobs need to be given proper rest: Ex-Mumbai police commissioner
Talking to reporters, former Mumbai Police Commissioner MN Singh said that the police officers in field jobs have to face tremendous pressure and need to be given proper rest and leave. "It is a loss to the government and society," he added. 
"He was not meeting a lot of people because he was seriously ill. But suddenly this incident took place. It is very shocking," the former police commissioner said. 
Himanshu Roy death: Tributes pour in for the Supercop
Maharashtra Governor Ch Vidyasagar Rao, Chief Minister Devendra Fadnavis, opposition leaders as well as the prosecutors who had worked with senior IPS officer Himanshu Roy today condoled his death, calling it a loss for the state police. 
"Himanshu Roy was a dedicated police officer. He was an asset for the police force. Roy was known for his remarkable investigation skills....His demise is a great loss for the state police force," the governor said in his message.
Chief minister Fadnavis noted that Roy successfully handled several important cases. "In his sudden death, we have lost a dedicated officer. I share the grief of his family members," Fadnavis said.
Former state home minister and Maharashtra NCP chief Jayant Patil told PTI that he had met Roy at a gym only yesterday.
"We spoke for about 20 minutes. When I told him that his skin had darkened, he said it was effect of chemotherapy. There is a limit to (efficacy of) chemotherapy. It's unending and not easy," Patil said.
Roy was a good officer who never compromised on work, he added. He often ran into Roy at the gym in the morning and chatted with him, the former minister said.
"When he was diagnosed with cancer, he told me he is quitting his job. I suggested instead he should go on a long leave, and he did so. "We would speak about his health. He would say sometimes it's good, and sometimes there is pain," Patil said.
Leader of Opposition in the Assembly and Congress leader Radhakrishna Vikhe Patil described Roy's death as shocking.
"He was an upright officer and a close friend. His untimely exit is a personal loss to me," Vikhe Patil said. Former chief minister Ashok Chavan said Roy was known for his bravery and integrity, and his contribution to maintaining law and order in the state will always be remembered. 
#HimanshuRoy you were the #Dabang of @MumbaiPolice... the news of your suicide is heart breaking. U gave strength and confidence to the city of #Mumbai in your lifetime. Mumbai will miss you forever...may you find peace in your second innings and be the Dabang that u always were.

— Ashoke Pandit (@ashokepandit) May 11, 2018
In a big tragedy, we lost one of our very bright officers Sri Himanshu Roy, IPS of 1988 batch #Maharashtra, today. A fierceley brave officer, his loss is irreparable. Our condolences & prayers to friends & family.@HMOIndia @Dev_Fadnavis @MumbaiPolice pic.twitter.com/47nVDVoXIG

— IPS Association (@IPS_Association) May 11, 2018
​
The loss of Supercop Himanshu Roy is a shock for us. He had an unmatched track record during his Crime Branch and ATS positions as an @IPS_Association officer. May the departed soul Rest in Peace. 🙏🕉️ pic.twitter.com/dmcTSpzP2e

— Dr Kumar Vishvas (@DrKumarVishwas) May 11, 2018
​
Saddened to hear of #HimanshuRoy committing suicide. Deepest condolences to his family and all his colleagues in the Police department.

— Farhan Akhtar (@FarOutAkhtar) May 11, 2018
@NashikNews @justnashik @minashikkar @nashiktoday #Himanshu Roy, former Mumbai top cop, commits suicide. One of the top cops , very approachable and had done wonderful work in nashik in early 2005 . Shanti Shanti

— sriram (@vishnu801) May 11, 2018
​
​
Heart breaking news #topcop #maharashtrapolice ADGP himanshu roy commits suicide. He was one of most super strong, fittest and dynamic cop of #Maharashtra #mumbai #police.

— Yogesh R Sawant (@Yogesh99Sawant) May 11, 2018
Very sad to hear abt #HimanshuRoy Sir, strong people like you cannot and should not take such an extreme step!
May your soul RIP

— Sajay S Shetty (@ShettySajay) May 11, 2018
​
Can't get over the news of the death of Top Cop Himanshu Roy. Suicide for that kind of a tough mind. Shaking.

— anuraadha tewari (@anuraadhatewari) May 11, 2018
​
Shocked by the suicide of supercop Himanshu Roy. RIP sir. Thank you for your remarkable service 🙏🙏🙏

— Renuka Shahane (@renukash) May 11, 2018