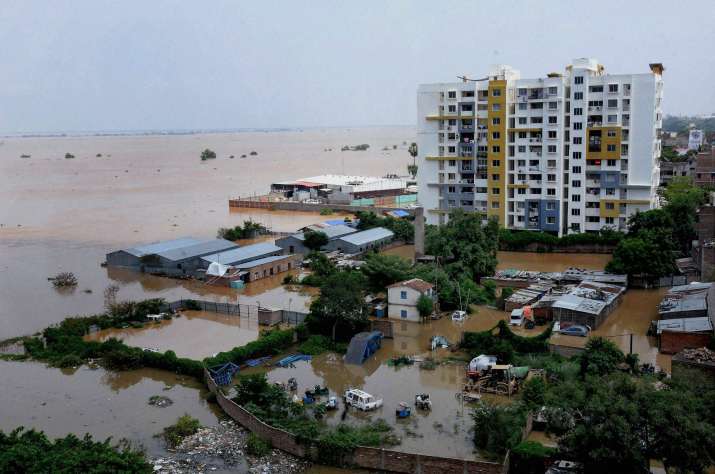 Prime Minister Narendra Modi on Monday assured full support from the Centre to five flood-hit states in rescue and relief operations. 
Hoping that the situation in the affected areas normalises at the earliest, PM said that Home Minister Rajnath Singh is closely monitoring the situation and has spoken to chief ministers of affected states of UP, Bihar, Uttarakhand, Rajasthan and Madhya Pradesh to take stock of the situation. 
"Centre assures total support in the rescue & relief operations. I hope the situation in the affected areas normalises at the earliest," he said in a tweet. 
"HM @rajnathsinghji is closely monitoring the situation. He has spoken to the CMs & taken stock of rescue & relief operations," he said. 
"I pray for the safety & wellbeing of those in areas affected by floods in parts UP, Bihar, Uttarakhand, Rajasthan & MP: PM @narendramodi," he said. 
Bihar
The Ganga yesterday crossed the danger mark in West Bengal, Bihar and neighbouring districts of Uttar Pradesh where Yamuna river is also in spate, while heavy rainfall has created a flood-like situation in some parts of Rajasthan where six persons have died so far.
With the rise in level of the Ganga, Bihar Chief Minister Nitish Kumar on Sunday expressed apprehension of further rise in water level by tomorrow in view of release of water from Bansagar dam as flood-like situation prevailed in state.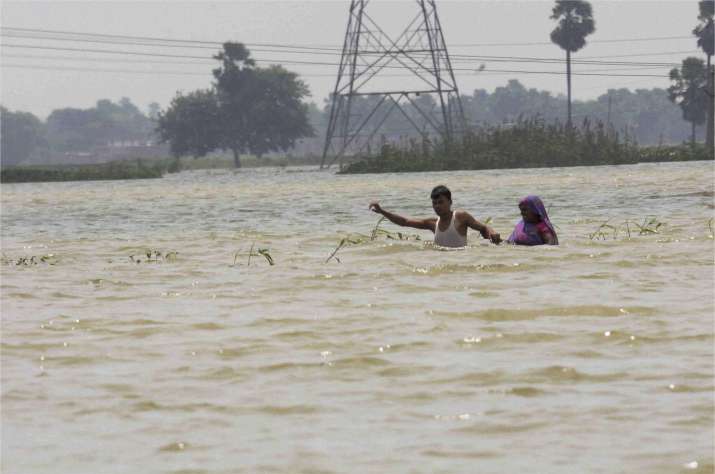 Kumar, who held a high-level meeting to assess the situation, later went on an aerial survey of Patna, Bhojpur, Saran, Vaishali, Begusarai and Khagaria. 
He told reporters there is at the moment no possibility of flood waters entering into Patna city. 
Meanwhile, the rising water level of Ganga has more or less created flood-like situation in all the districts situated along the banks of the river in Bihar. 
Ganga and six other rivers were flowing above danger mark in Patna, Bhagalpur, Khagaria, Katihar, Siwan, Bhojpur, Buxar and Hajipur districts, a disaster management department statement said. 
Ganga was flowing above danger mark at six places in various parts of three districts - Digha ghat, Gandhi ghat, Hathidah in Patna, Bhagalpur and Kahalgaon in Bhagalpur district, Munger district and Buxar district.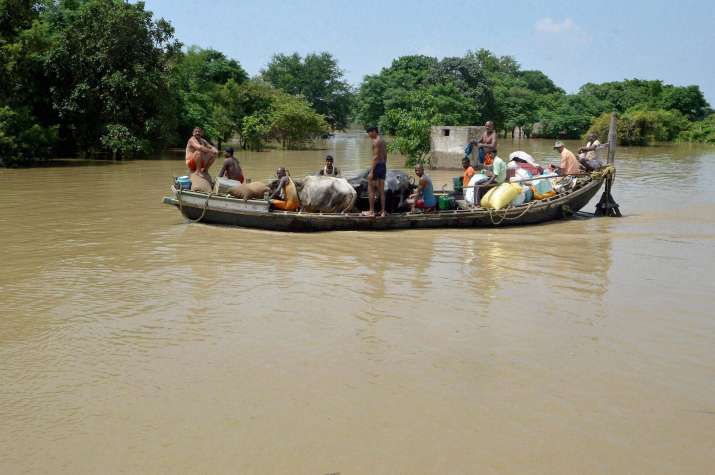 The districts which are witnessing flood-like situation included - Patna, Vaishali, Buxar, Bhojpur, Saran, Begusarai, Samastipur, Lakhisarai, Khagaria, Munger, Bhagalpur and Katihar, the department statement said. 
Around 15,000 people are sheltered in 82 relief camps after being evacuated from flood affected areas, it said adding that all camps have the facilities of medical team with medicines. 
National and State Disaster Response Force have already been deployed in the affected districts, Kumar said and added that apart from taking help of big boats meant to ferry sand to evacuate people and animals, the government has made all preparations to airlift the people if needed. 
Besides, Army has been put on alert to help the people out from the flood affected areas, Kumar added.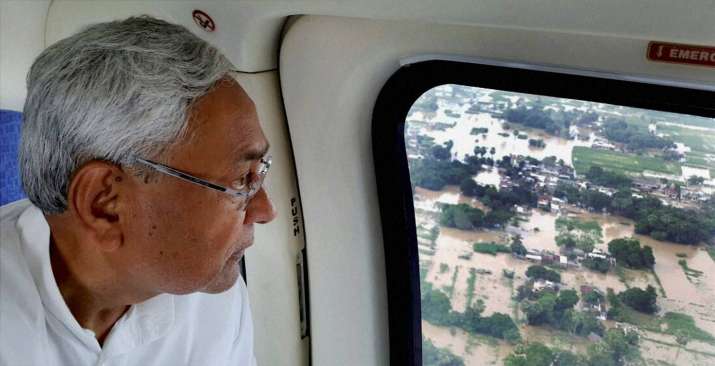 "We want to assure the people that we are alert... People should not get panicky and should tackle the situation bravely," Kumar said adding that government is taking every necessary step to provide relief to the people as "victims of disaster have the first right on state's coffers." 
A disaster management department statement said altogether 1,326 boats are being plied by the government to evacuate the affected people to safer places. 
The statement said several other rivers, apart from Ganga, were too flowing above danger mark and they were Sone at Koilwar (Bhojpur) and Maner (Patna), Punpun Sripalpur (in Patna), Ghaghra at Gangpur-Siswan in Siwan and Saran districts, Gandak in Hajipur, Kosi at Baltara and Kursela in Katihar district and Burhi Gandak in Khagaria. 
Rajasthan
Torrential rains triggered by the South West monsoon have created flood-like situation in four districts of Rajasthan where six persons have been killed and over 70 airlifted, officials said today.
The Met department has issued a warning of heavy to very heavy rainfall for isolated places in Eastern parts and heavy rainfall for isolated areas in Western parts of the state in the next 24 hours.
Baran, Pratapgarh, Chittogarh and Jhalawar are the worst affected districts.
Army, NDRF (National Disaster Response Force (NDRF) and RAC (Rajasthan Armed Constabulary) have been deployed in the affected areas and several people have been shifted to safer places.
Army has been deployed in Baran while many people were airlifted by Air Force from different locations in Baran and Pratapgarh district since yesterday, Relief Secretary Rohit Kumar told PTI.
He said Army, NDRF and RAC were deployed in Baran while NDRF and RAC teams were in Chittorgarh and NDRF in Jhalawar and Pratapgarh was having RAC teams doing the rescue work. 
Defence Spokesperson Lt Col Manish Ojha said that a total of 72 people have been airlifted since yesterday. 
"34 people were airlifted in Baran district yesterday and 38 were airlifted today in Pratapgarh. More airlifting is also likely," Ojha said.
Six persons of a family died when a portion of their house collapsed in Baran district yesterday.
The house collapsed leaving Laxmi Narayan (72), his wife Shanti Bai (70) and four others of their family members namely Deepu (18), Anita Bai (26), Aishwarya (10) and Suraj (9) dead, police said.
Four others were also injured in the incident and are admitted at the district hospital, police added.
The South West Monsoon has been vigorous for the last two days, triggering torrential rains at isolated places in Udaipur division, heavy to very heavy in Kota and Udaipur divisions and light to moderate at many places.
According to Met department, Danpur (Banswara), Arnod Sr (Pratapgarh), Badesar and Nimbahera (both in Chittorgarh) each have received 23 cm rainfall since yesterday.
Badi Sadri (Chittorgarh) and Pipalkhunt (Pratapgarh) recorded 22 cm and many other places received below 22 cm rain during the same period.
Dabok, Barmer, Kota, Jaipur and Ajmer have also recorded 56.2, 30.59, 2.6 and 0.3 mm of rainfall respectively, it said.
Meanwhile, water level in Chambal river in Dholpur today crossed the danger mark.
The water level is posing threat of flood-like situation in more than two dozen villages near the river.
Madhya Pradesh
In Madhya Pradesh, torrential rains have lashed western parts even as relief works have gained momentum in Bundelkhand and Vindhya regions.
Normal life has been affected in Guna, Rajgarh, Shivpuri, Mandsour, Ujjain and other parts of western Madhya Pradesh. Major rivers, including Retam, Chambal, Shivna, Kshipra and Sindh are in spate.
At least fifteen deaths in rain-related mishaps have been reported in the state.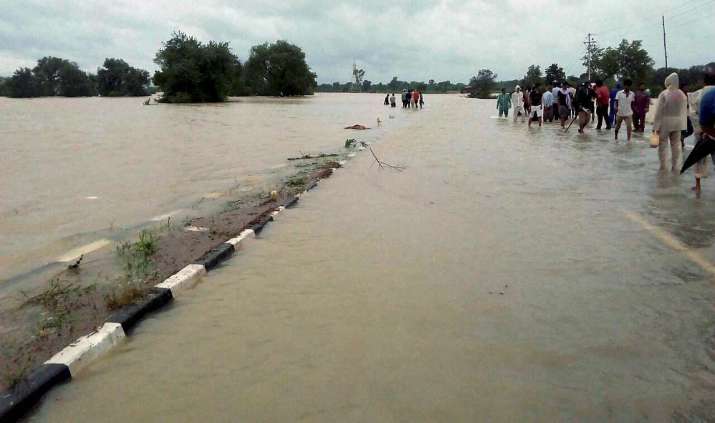 Three Indian Air Force aircraft dropped food packets and medicines in flooded areas of Rewa district, collector Rahul Jain said, adding that there was no casualty and the district was limping back to normalcy following a pause in the rains.
Seven persons, including a woman and four minors, were killed and three others injured when a house collapsed early on Saturday in Rahatgarh area of Sagar district. 
Two people including an elderly woman were killed and seven injured this noon when a newly-constructed building collapsed amid incessant rains at Maihar, Satna district.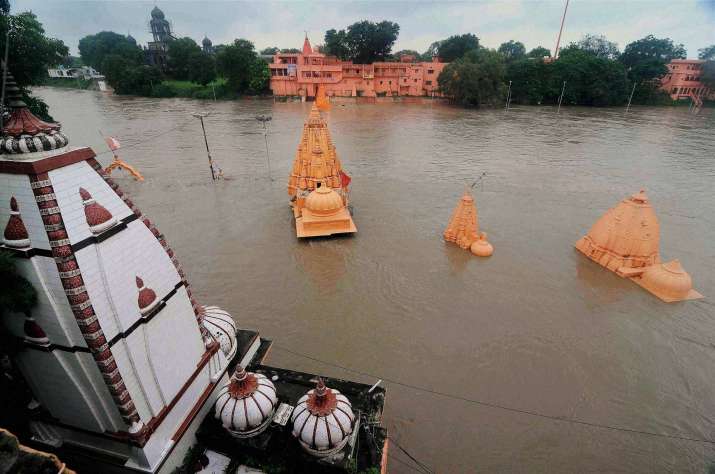 A jeep carrying two persons was swept away in the swollen Betwa river as it tried to cross a bridge in Raisen district. 
Three bodies were recovered from a nullah this afternoon in Chhattarpur district. The victims were in a car which was washed off a bridge on the flooded nullah last evening. 
Aneesh, a three-year-old boy, was killed yesterday when a thatched house collapsed in Bahoriband tehsil in Katni district, police said. 
In Rahatgarh area of Sagar district, thatched house of Mehtab Shilpkar (59) collapsed amid heavy rains at around 2 am Saturday, Additional Superintendent of Police Vivek Agrawal said. 
Uttar Pradesh 
In Uttar Pradesh, rising water level is being reported from the eastern parts. Water level in Ganga river is rising in many places, including in Allahabad, Varanasi Ballia and Mirzapur districts.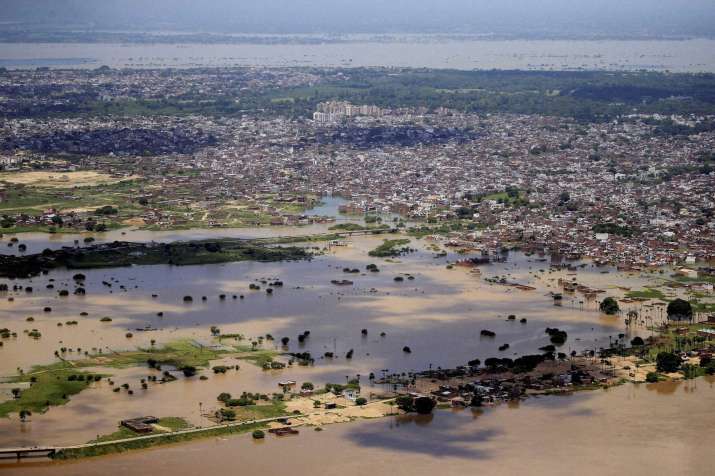 Both the Ganga and Yamuna rivers are rising continuously in the district and people have been told to vacate their homes and move to safer places.
The army has been kept on standby for rescue and rehabilitation efforts in Allahabad.
The National Disaster Response Force (NDRF) is also engaged in rescue operations in several districts of the state after receiving information on rising water levels.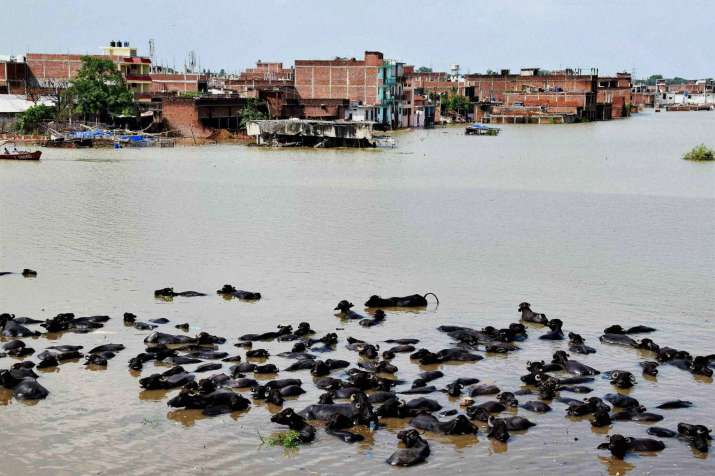 After the release of water from the dam, the Betwa river is also on spate in Hamirpur district.
Rajnath speaks to CMs of UP, Bihar, Rajasthan on floods 
As floods ravaged some parts of the country, Home Minister Rajnath Singh today spoke to chief ministers of four flood-hit states -- Uttar Pradesh, Uttarakhand, Bihar and Rajasthan -- and assured all central help in dealing with the disaster. 
Singh had a telephonic conversation with chief ministers Akhilesh Yadav ((UP), Harish Rawat (Uttarakhand), Nitish Kumar (Bihar) and Vasundhara Raje (Raje) this morning and took stock of the flood situation in their respective state. 
The Chief Ministers briefed the Home Minister and the flood situation and the steps taken for rescue and relief of marooned people.  
The Chief Ministers also told Singh about the operations carried out by the National Disaster Response Force and State Disaster Response Forces in affected areas. 
"I assured the Chief Ministers of full cooperation from the Centre in the flood mitigation drive launched by the states," an official statement said.